In this post, we list the Best Android Tv Box Apps that are essential for your streaming device. The apps we list here are more like fireworks needed to get the best from your tv device.
We have categorized the apps based on the type of activities which you'll perform on your android tv box. These apps form the channels that are available in the Canadian region.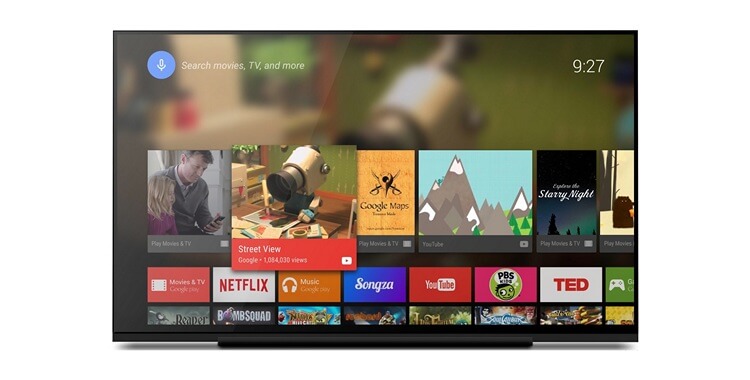 You can also view the Best Android Tv Box Remote – Canadian Edition at this post.
Best Android Tv Box Apps – Channels Listing
Let's begin our post on the best android tv box apps for the Canadian market. We have divided in our post in few sections that will help you in understanding the needs to get the relevant android tv box Canada channels.
This will help you forget your costly cable subscription.
You can check out the top android tv box available for the Canadian market, along with its detailed review, before you can proceed with the apps information.
In case, you have any doubts about the android tv box and its usage, then refer to our post at:
https://www.wittyedge.com/android-tv-box-questions/
You can also go read more about reviews on
---
Best Streaming Apps
Read our post on Nvidia Shield TV Canada Edition Review + Buying Guide for the best streaming TV box.
1. Kodi
Kodi – a great media center for your android box. This app is a free and open-source developed platform that allows you to stream rich media content online. It is a all-in-one exclusive entertainment hub for all your digital media needs.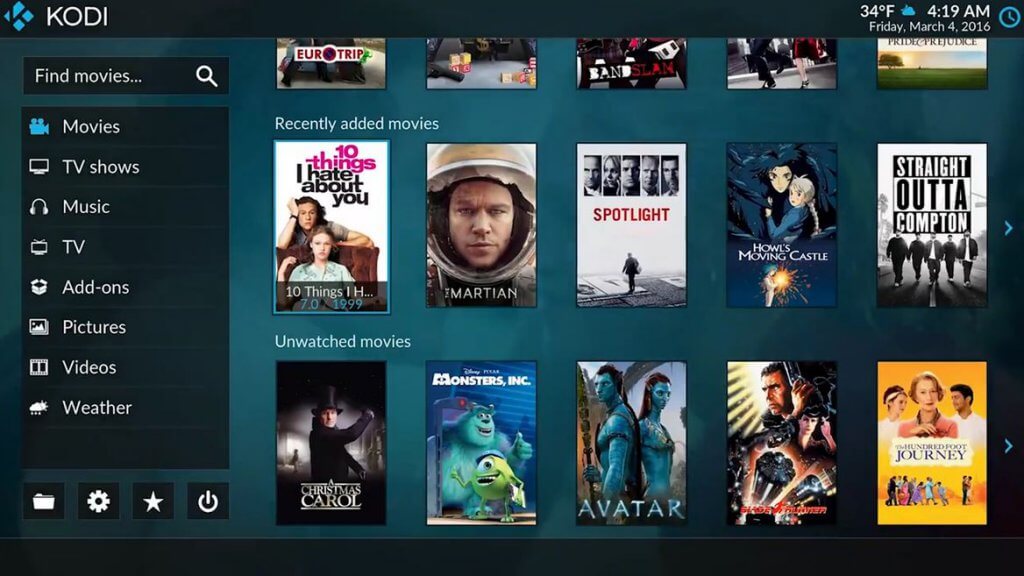 Kodi comes with a standard GUI allowing you to easily browse and view videos, photos, music, and podcasts from your local storage, including hard-drive, local network or over the internet using your remote control as the primary source of input.
You can also try a few streaming repos, where you can view the best movies & shows at no-extra cost.
You can also read our post on: Roku Streaming Stick Canada Review 2018 + Great Deal Inside
2. Plex
Plex is an award-winning media entertainment system, that will help you stream content from your local storage or over the internet easily and effectively.
The Plex app arranges all your streaming content easily that you can play using the app. However, the free version adds up many limitation for which you need to opt for the paid version of the app.
The Plex Pass is a cost effective subscription-based service, that allows to view movies, music, tv-show and live news available all on your Tv device.
The Plex also consists of a live TV feature helping you to say good bye to your cable subscription.
3. YouTube
Everyone knows the YouTube app. An all-in-one device that streams rich-multimedia content across the world, right at your android tv device. You can watch variety of user generated videos, starting from recipes, funny vids, DIY, music videos, etc.
YouTube has also paid subscription for movies and music.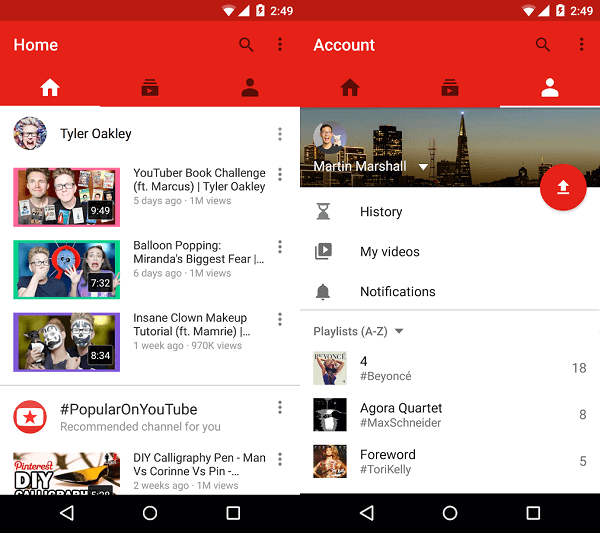 Enjoy all the videos, and music that hits your taste buds, and share with your family and friends, and to the world using YouTube app. You can also upload and showcase your skills through videos to the world.
4. Twitch
Twitch is a live streaming or video on demand service app, streaming video games across the US and Canada. This app is extremely popular amongst various online gaming communities.
You can watch live stream of video games and various gaming social activities, and chat with gamers, across the world, at any time using the Twitch app.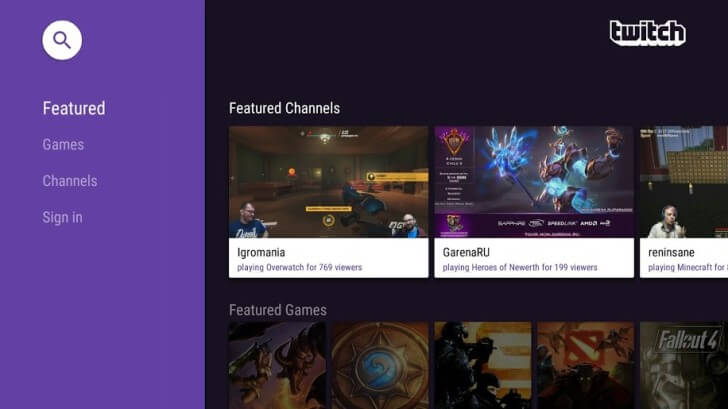 5. Mobdro
Mobdro is a new streaming app, just like Kodi. But unlike Kodi, that we use to stream live TV shows, movies, music, etc. through illegal addons, Mobdro works in a different way.
This app is a great alternative to Kodi, giving you a complete source of various streaming channels and sources.
Mobdro scans the internet and finds the best available free video streams for every media content that you need to view. It is an indexation tool that searches for streams, which are available on the internet.
This gives you a complete list of available media content across the world, filtered across different categories like genre and country.
You can try out various categories, based on your genre. The collection is really massive and we loved the streams, provided for free.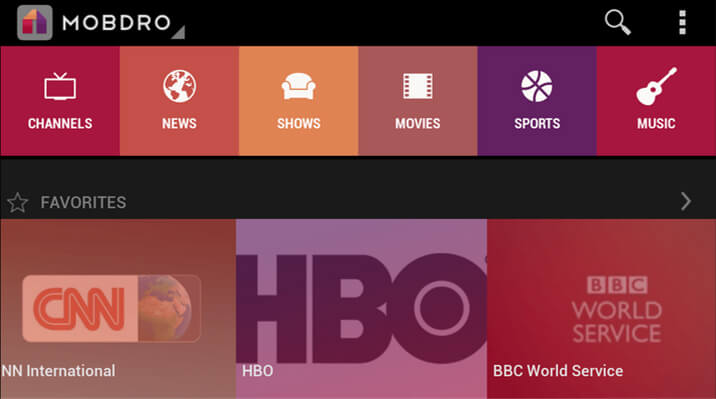 The Sports and Shows section had a great collection or sitcoms and sporting events. You can directly select the required episode or show, and it starts immediately. You can also view live stream of official sports channel like the ESPN.
The performance on the Mobdro was great, you only need a faster internet connection to stream all the media, or you will end up with choppy or laggy performance.
6. USTV Now
USTV Now is a leading television streaming brand from the USA that allows your to watch the best American channels from Canada. The USTV Now app has a lot of channels from different countries like India, Pakistan, UK, etc.
Popular channels from the USTV Now are NBC, ABC, CBS, FOX, POC and CW TV.
If you love the American culture, then USTV Now is the must watch app for exclusive streaming for USA channels. The app interface is very easy and intuitive, with a detailed categorization for various genres.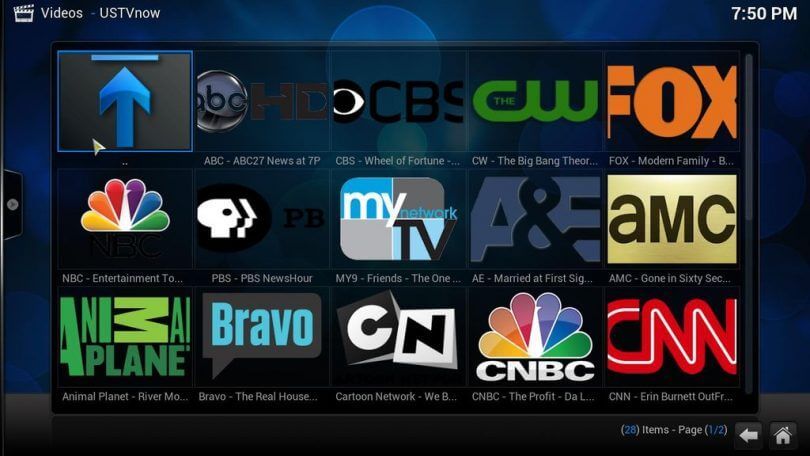 The streaming on the app was also quick, with limited buffering and we did not face any lags. The app size too is small. You can also pay a premium amount and get additional channels for a cheap price. This app is a great addition on our list of Android Tv Box Apps.
7. Crunchyroll – Best Streaming app for Anime
Crunchyroll is a one stop destination for viewing all the animation streams, from over 25,000 episodes and 15,000 hours of the best, latest and greatest anime series to choose from.
You can easily view all the latest episodes plus previous episodes from several seasons of your favorite shows such as Naruto Shippuden, One Piece, Dragon Ball Super and Attack on Titan.
Crunchyroll features on our best anime streaming app on our list on the Best Android Tv Box Apps – Canada Edition.
Crunchyroll has evolved as the best anime site for streaming and start accessing your favorite anime collection for free, or sign-up on the 14-days free trial for the premium subscription.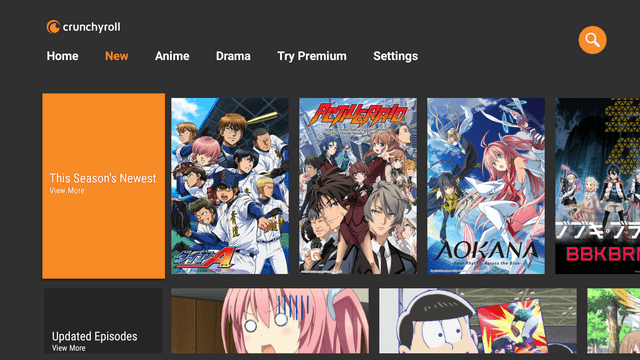 The Crunchyroll premium subscription offers you:
View and stream brand new episodes immediately after their TV broadcast in Japan
Watch all shows without advertisement and complete in high definition quality across all available devices, including Chromecast!
Buy, download, and read manga content at the all new Manga shop, including favorites like Fairy Tail, Attack on Titan, The Seven Deadly Sins and more!
You can join the anime community of Crunchyroll https://www.facebook.com/Crunchyroll and https://www.twitter.com/crunchyroll.
The best part of the Crunchyroll service is the ultimate location to view all the anime content legally.
The brand has exclusive rights to the most shows, playing at the present, including hit TV series like Hunter X Hunter, Cowboy Bebop, Fullmetal Alchemist, Samurai Champloo, JoJo's Bizarre Adventure, Blue Exorcist, Bleach, Sailor Moon, Yuri On ICE, and more interesting anime TV shows.
---
Best Apps for Live Tv
View the best wireless keyboard that can be productive and superb for your entertainment needs at Leelbox Mini Wireless Keyboard
1. ShowBox
ShowBox is an excellent free to view movie and live-tv streaming app for smartphone and tablets, including IPTV box. The app allows you to watch any latest movie or TV sitcom for free.
Simply, go ahead and download the ShowBox app and begin your entertainment experience by watching unlimited amount of movies, music, TV episodes across various genres for free and without cost.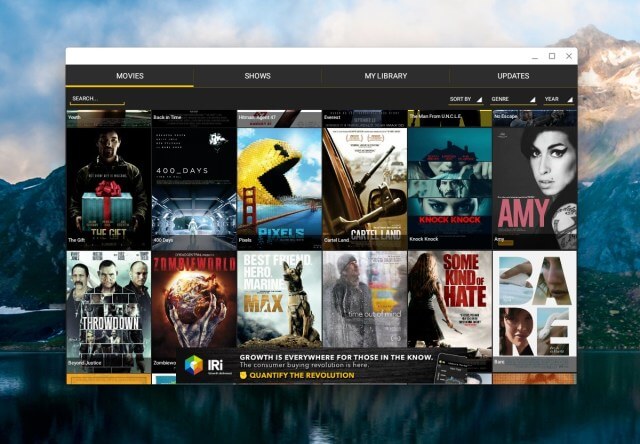 You get the benefit of searching through a huge list using the available filters. You can easily and quickly find the movie or tv show you looking for and start watching the media in HD quality.
The sources through this device is pretty quick and can stream without any buffering or lags. You just need an android device with the Android version of 4.0 and above.
Now, you can control your Android smart TV using the Best Android Tv Remote Control App – Replace Your Remote Now!
2. TVPlayer
TVPlayer App allows you to watch over 77+ free live UK TV channels for free through the web browser or through the android app. You can also try TVPlayer Plus service to get access to over 29 premium channels.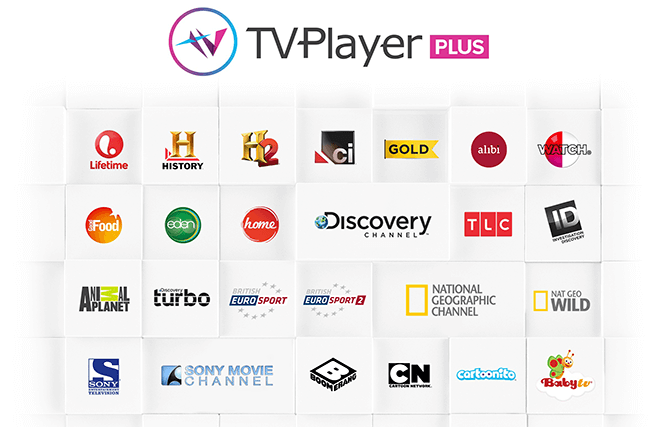 The free channel list can be found here: TVPlayer – Channel List
3. Film On
FilmOn App offers over hundred of free channels, live radio streams and free on-demand content to satisfy all your entertainment needs.
With over 700 channels and 45,000 on-demand video titles to choose from, this app acts the ultimate digital platform for your android tv box.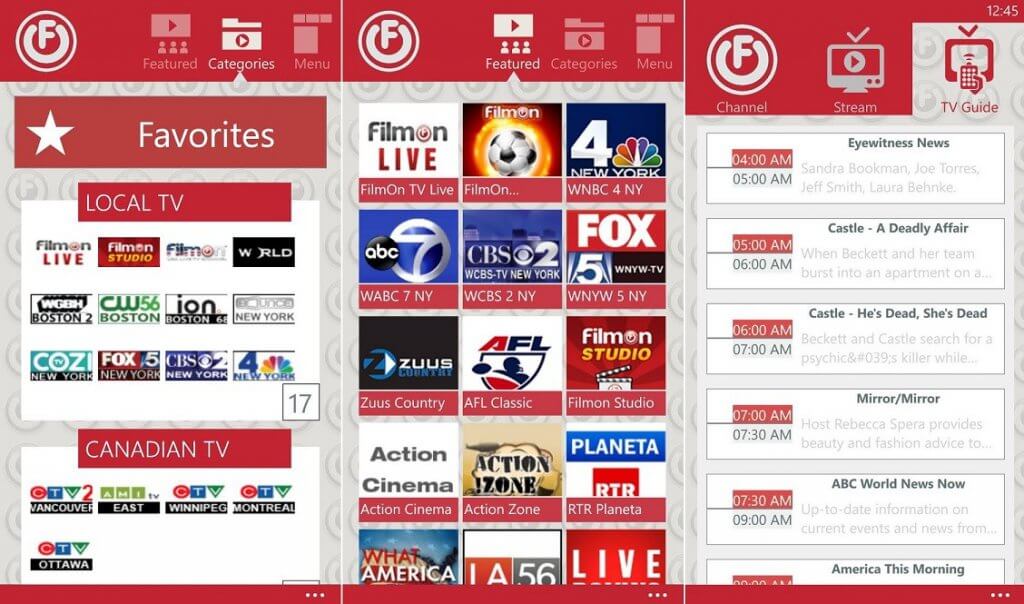 The app also offers premium services at the price way less than your subscription.
4. Tubi TV
Tubi TV provides free popular movies and TV series that you can stream in full HD on your android tv box The services by this app is absolutely free, and is supported by occasional ads. You can watch any digital content at any time on your TV screen.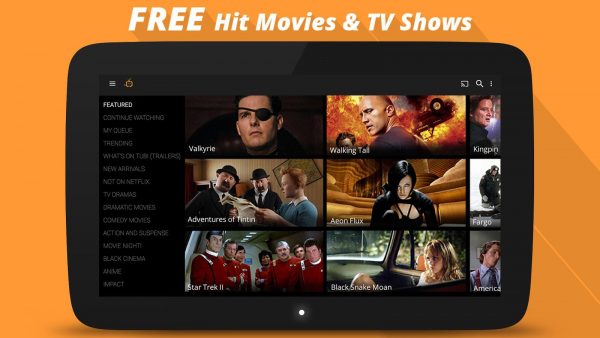 Free new shows and movies are added every week, and the app has a great collection of legal video content that you can view, without any subscription, providing you a great service, without any dime.
5. CBC TV
CBC is Canada's leading digital content provider, showcasing the best CBC programs such as Heartland, Dragons' Den, Murdoch Mysteries, Schitt's Creek, X Company, Rick Mercer Report, etc. all for free and on-demand on your android tv streaming device using the CBC app.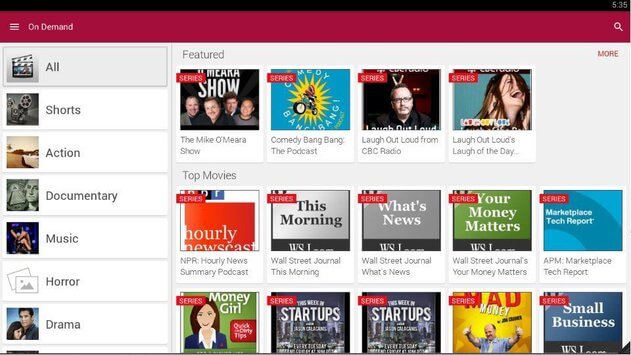 The app publishes full-length episodes that are updated every week, with many more legal documentaries for your liking. You can also catch-up ad free programs for kids, with live streams of your favorite shows.
6. BritBox
BritBox is a great media streaming app created in collaboration with BBC and ITV. The application claims to bring the best and the largets collection of British streaming media from British TV, all available through the application.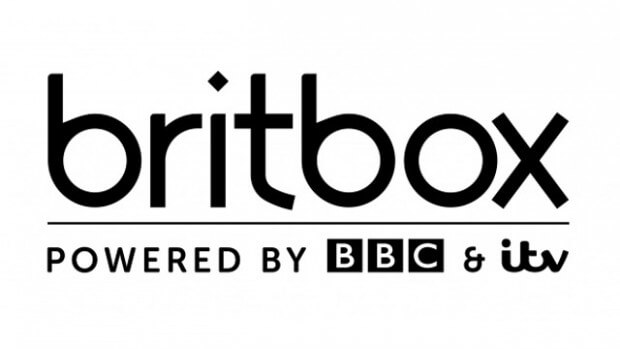 You can try out the BritBox app with a 7-day trial, anytime, with no commitment and can be cancelled anytime.
Through the BritBox application you'll receive:
Thousands of classic comedies, drama, mystery, documentaries, lifestyle, historic broadcasts, Tv soaps, all available on-demand and ad-free
Access to premium releases, tv serials, and specials episodes from Britain's broadcasters, that is, the BBC and ITV
Complete viewing access to the entire Doctor Who collaboration
Many hit tv shows like the Keeping Up Appearance, Mum, Cold Feet, Poirot, Are You Being Served, etc.
Super-hit shows that are streamed right after their timing at UK
Do try out this Bristish-styled video streaming service, bought to from UK. Plans start low as $6.99 per month, after trial.
Download BritBox App
7. CTV Television
CTV has a great collection of latest television shows that you can watch for free. You can also catch-up on the latest previews for shows that are yet to be released.
This gives a complete insight about the latest happenings in the entertainment world.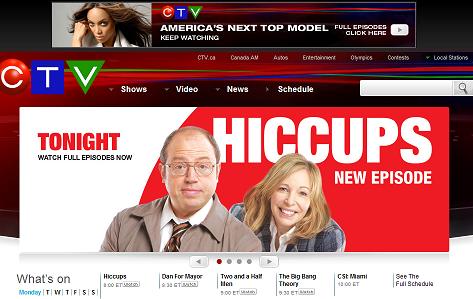 The CTV also allows you to watch live shows on their two dedicated channels on their site, through your tv streaming box.
Do try out this great app, presenting from the Bell Labs, making it completely legal to watch all your tv sitcoms with ease and worry-free.
---
Best Apps for Movies
1. Netflix
Netflix is world's premier subscription-based service that allows you to watch TV episodes and movies through your android tv device at anytime, anywhere.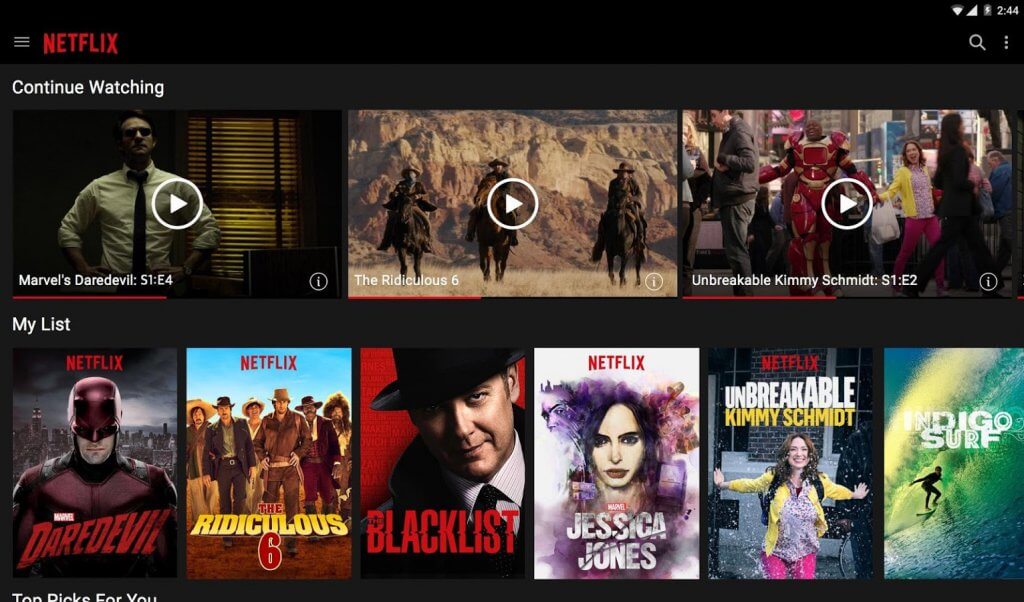 The app offers a free plan that allows you access to over thousands of TV episodes and movies at your fingertips. So what are you waiting for, go ahead and download the Netflix app to view award-winning Netflix original TV series, movies & documentaries.
You can also read our review on: Apple TV Canada Review 2018 + Price | Great Deal Inside
2. Google Play Movies & TV
The Google Play Movies & TV presents over thousands of movies and TV shows that you can directly purchase or rent through the Google Play app. This is immensely popular and readily available in every android tv box.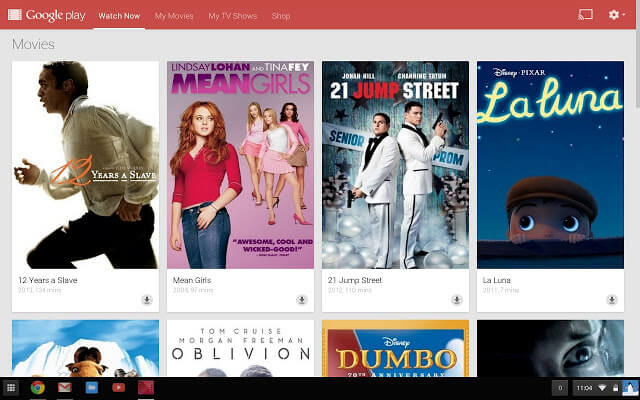 You can also wish-list movies or videos that are unavailable to receive the availability for rent or buy. Most the movies/shows are very cheap and thus, helping you save a lot of money.
Download Google Play Movies & TV
3. Amazon Prime Video
Amazon Prime Video app presents a collection of popular movies & Tv shows that you can stream and download from your Android streaming device.
To name a few, The Grand Tour, The Man in the High Castle, and Emmy award winner Tumble Leaf are few of Amazon-exclusive videos that you can catch-up on your device.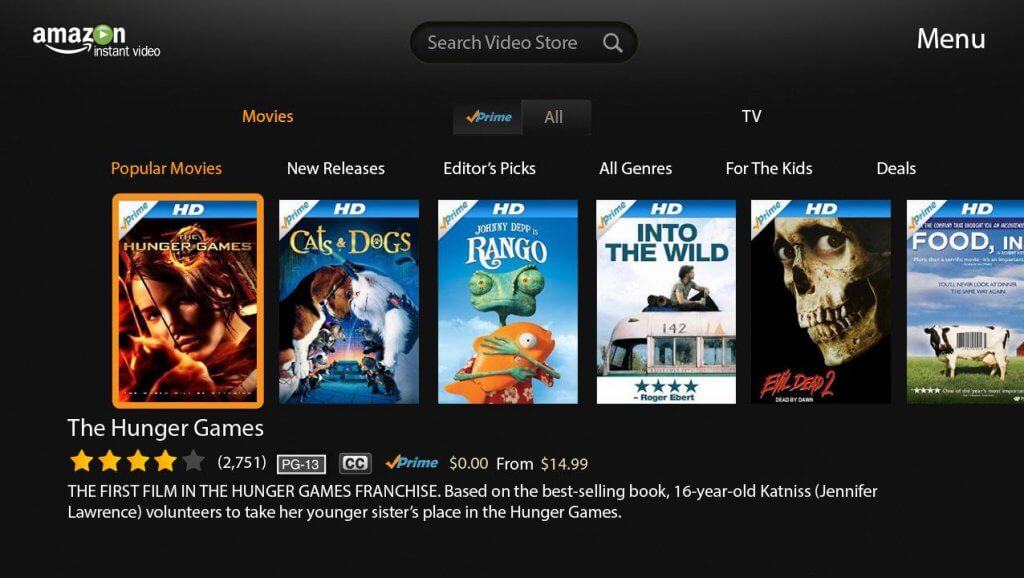 In addition, you can also subscribe to the Amazon Channels that include over 100 premium channels, helping you save a bomb over cable subscription.
For optimum performance of your android tv box, ensure to read our post on 10 Tips – Android Tv Box | Increase Performance by 70%
4. Kanopy
Kanopy is an excellent on-demand video streaming app, made specially for public libraries and educational organization, to provide users, students, and faculties with a great range of films.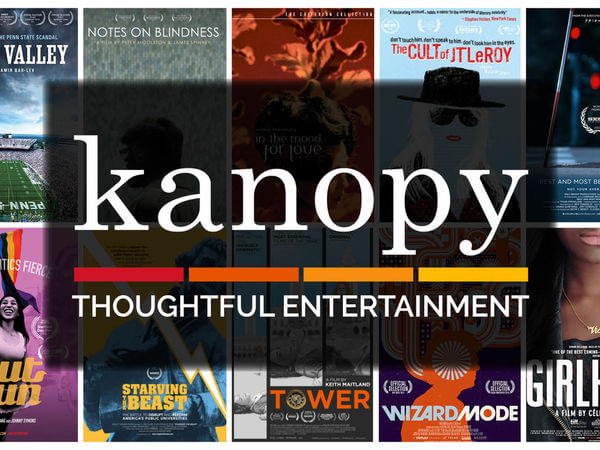 Kanopy provides a public library, where students at participating universities & colleges can view the collection for free for personal and academic purpose.
Registered institutions pay for these films for their faculty and students, based on per-view basis.
Kanopy gives a superb collection of classic films, across diverse genre like from famous film festivals, indie, world cinema, and various award-winning documentaries, with over 30,000 film titles, all in one app.
All film titles are available for free, if you are part of the library, that too, without any commercials or advertisement.
5. HBO Now
HBO Now is the more famous streaming service that offers exclsuive cable subscription for HBO service. You also get on-demand content fro previous shows like Game of Thrones, John Oliver Tonight and many more.
The streaming content also includes current TV shows from an exclusive and latest line-up. The quality on the content is excellent. The subscription service is also economical on the offering that you get.
HBO GO is the standalone app, just like Netflix, HULU that brings you a wholesome entertainment for your entire family.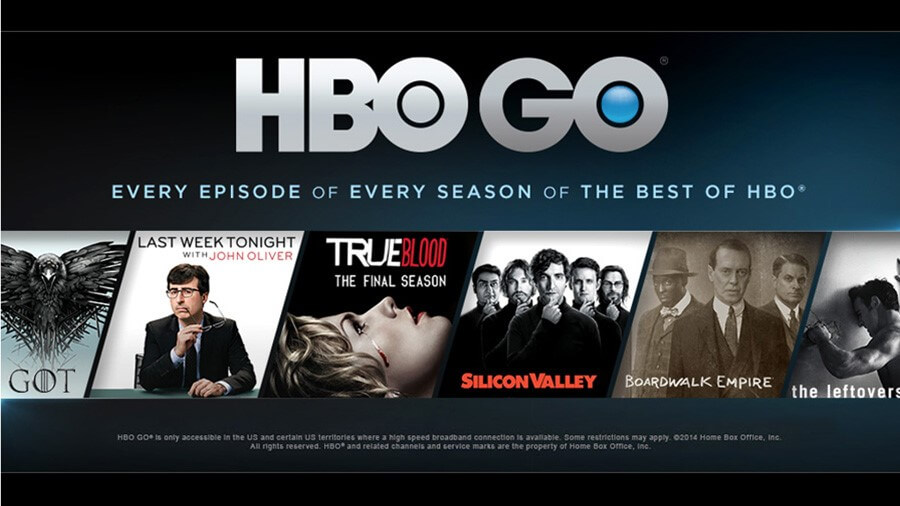 You can get a collection of movies and TV series across various genres and makes up a much watch, while you lay on the couch.
---
Best Apps for Music
1. Soundcloud
SoundCloud is the largest music and audio streaming service with over 150 million tracks under the brand and growing. The app is a community driven platform that houses budding artists and musicians who contribute their collection to the app.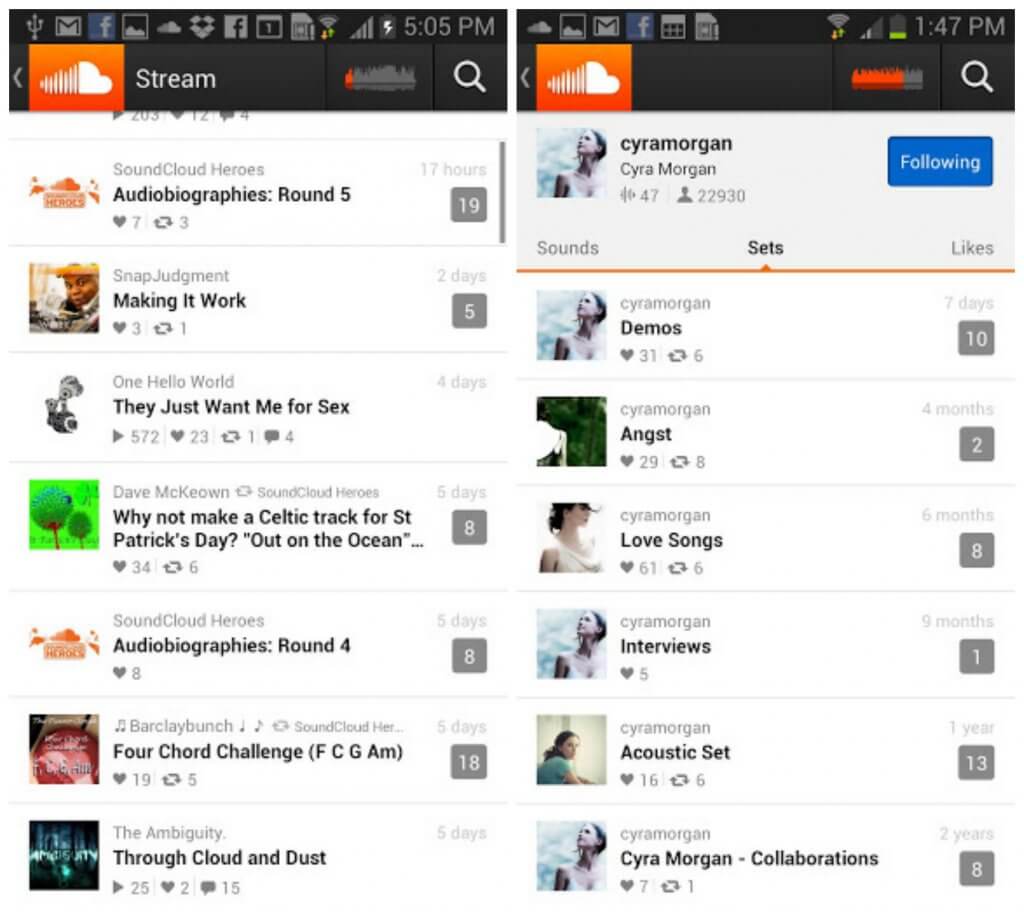 You can listen to wide range of audio genre ranging from hip hop, electronic, rock, classical, jazz, podcasts and more. Most of it, the service provided is free of cost, with a social pinch to the platform.
2. Shazam
Shazam is the oldest audio app, with millions of users across the world identify music, which is playing and buzzing around by other individuals. All this for free.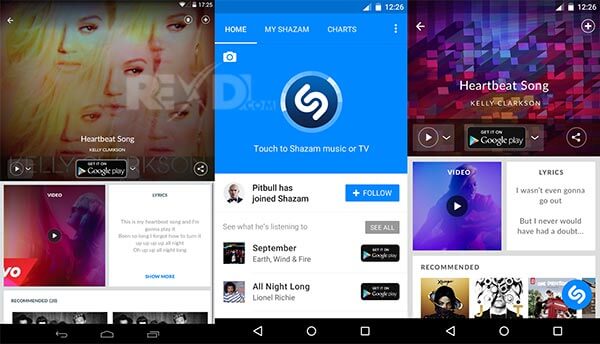 You as a user will have access to wide range of music from top artists, video clips, songs lyrics, and streaming tracks to choose from the collection.
You can also buy music available for offline listening.
3. Spotify Music
Spotify is free on-demand music player that allows to listen to music over the internet at anytime, anywhere. The app has a great collection of music, with different genres to choose from.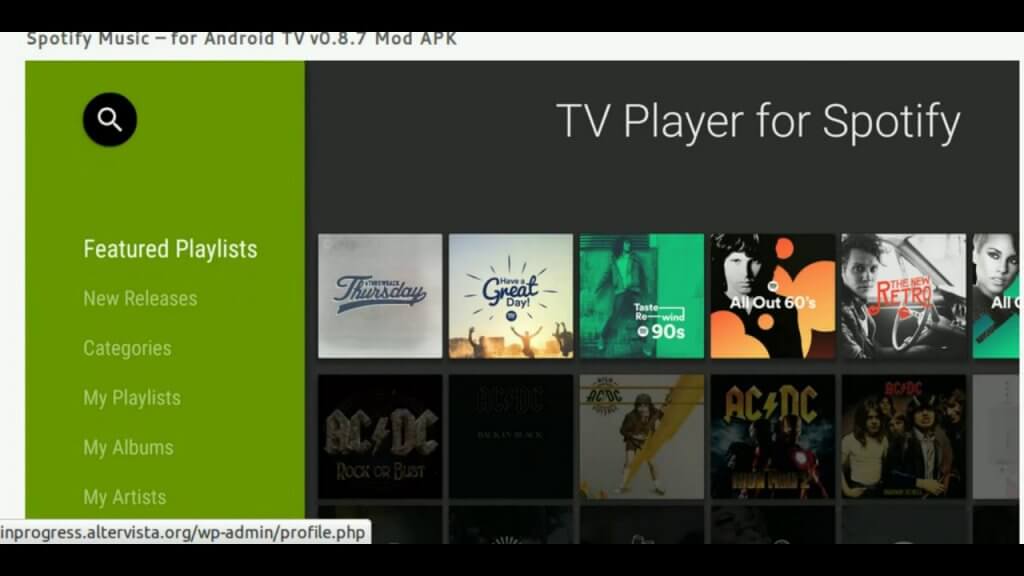 You can listen to artists, and albums, and also create your personalized playlist of your favorite songs.
You can also use the discover feature to shuffle between new songs, based on your mood.
4. Google Play Music
Google Play Music provides free radio services, with support from advertisements. The app has a great collection of radio stations, which includes latest songs, artists and albums. You can browse the collection based on the genre, mood, or decade.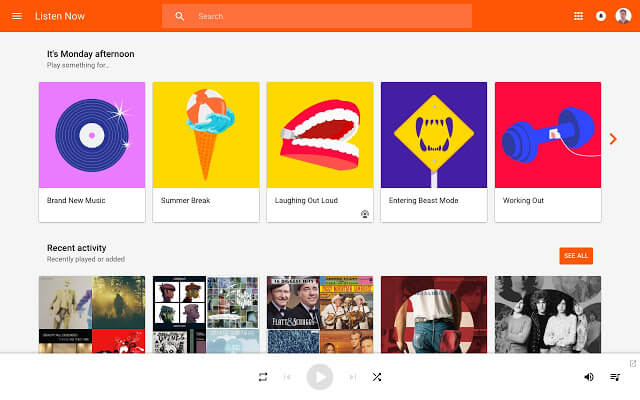 You can also subscribe to the paid subscription to download the required song for offline listening.
Download Google Play Music App
---
Best Apps for TV Shows
1. Hulu Plus
Hulu Plus is an intuitive app that provides the greatest streaming library with over 50+ top line and on-demand channels. You can select any plan that suits your needs and opt for the subscription.
Popular streaming shows includes Seinfeld, Fargo, South Park, Fear, the Walking Dead, the Handmaid's Tale, Harlots, The Mindy Project, and Casual.
Out of the channels listing, the FOX, NBC, Disney Channel, ABC, CBC, ESPN,FX, NBSCN, FS1, History Channel, TNT, Cartoon Network, FX and A&E are available. Limited and commercial-free options are available for Hulu plans without Live TV.
Most of the plans under Hulu plus are free or ad supported or paid. Make a move and select the best plan to view the great content online.
2. Crackle
Crackle is a free app that allows you watch latest Hollywood movies, TV shows, and exclusive original episodes that are rich in comedy, drama and action, fandom entertainment.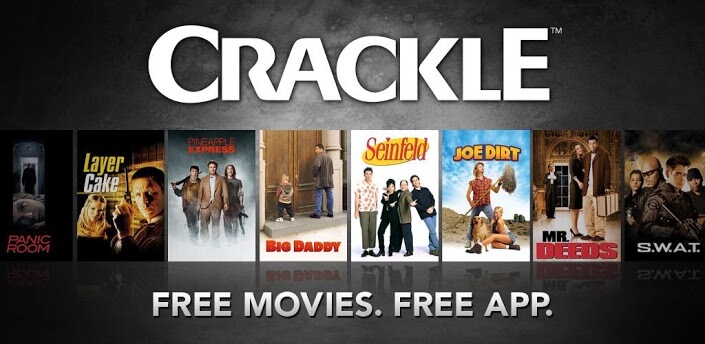 Crackle allows you access to its premium movies and TV shows library, all for free. With many original shows such as Snatch, Start Up, Super Mansion, Joe Dirt 2: Beautiful Loser, and more to watch out for.
No cable subscription (or money) needed, ever.
3. CHCH Local Canada
CHCH is the most popular and independent channel from Ontario, Canada. The channel brings to your authentic drama from Canada, giving you a glimpse of the lifestyle enjoyed by the Canadian.
More info: https://www.chch.com/morninglive/
The most popular TV show known as the Morning Live giving you an exclusive glimpse from fashion, beauty, parenting, food, tech, money, books, etc.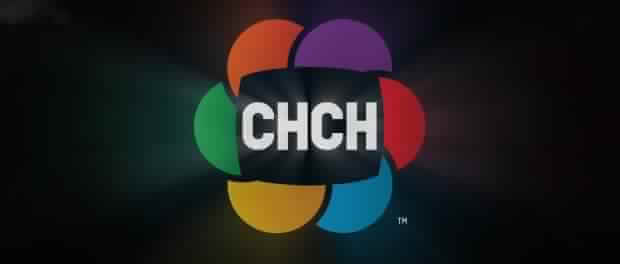 CHCH is the oldest channel, bringing to you an excellent package, all the way from Canada, with the local flavour.
4. Terrarium TV
Terrarium TV is an alternative Kodi, presenting you with various sources, through which you can view latest movies, and TV shows for free, and that too in full HD quality.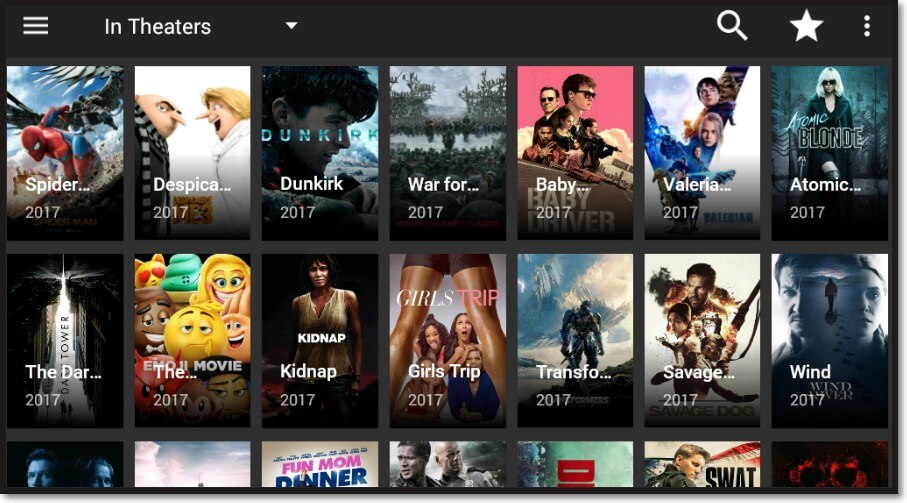 More information on this superlative app, can be found through the following links:
5. Sling TV
Sling TV is an a-la-carte tv platform that allows you select the leading TV channels, all for a cost-effective price of $5 per month.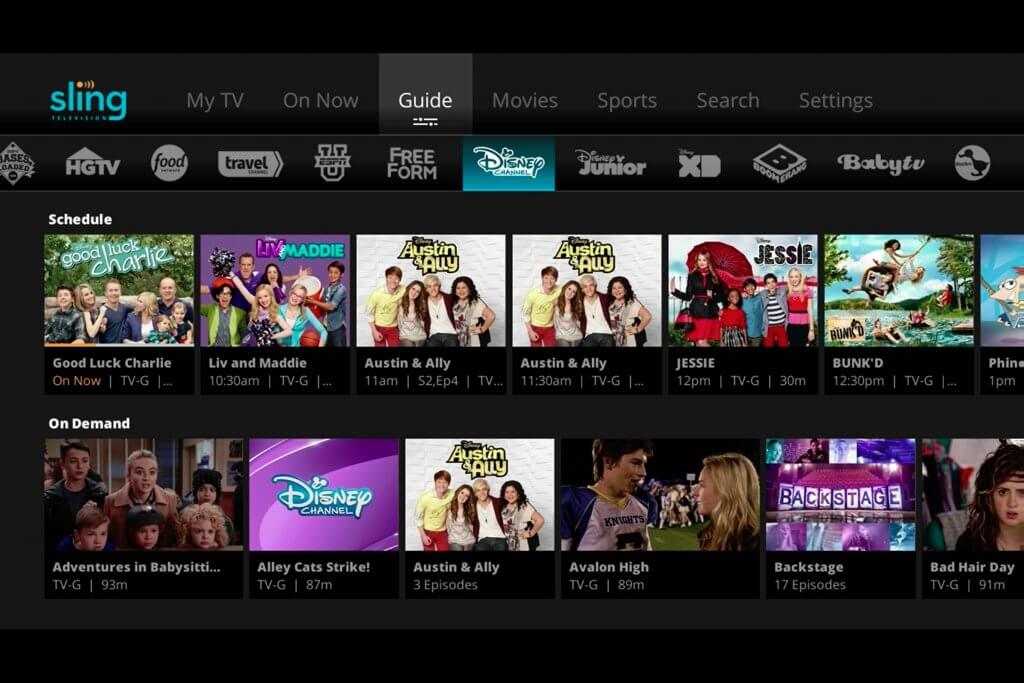 This is the only live streaming app on our list of the Best Android Tv Box Apps that allows you select only those channels that you need to view.
Try out the Best Performing Box Remote to view the great tv shows, while you relax on your couch.
You can also read our detailed post on SlingTV at: Sling TV Canada Review + Get Cheap IPTV Alternative (Bonus)
---
Best App for News
1. Haystack
Haystack is award-winning news app that streams local and world-wide news across major news sources such as BBC, Fox, NYTimes, CNN, etc.
You use the app and watch regional, political and sports news all for free on your android tv box.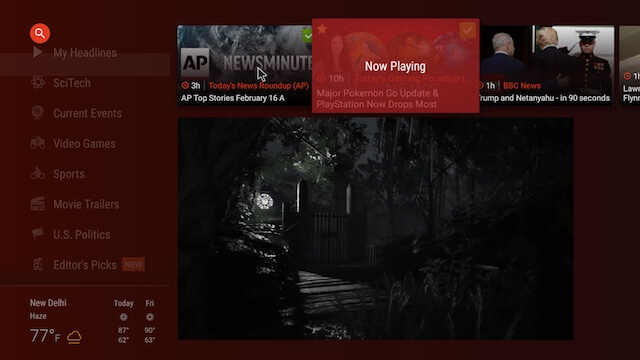 2. CBS News
CBS is the leading news broadcast channel from America, bringing to you all the latest news and sporting information across the world, including radio services.
You get a 24/7 news broadcast with minimal breaks to enjoy your news viewing.
You will enjoy and get the best information, with a casual listener to get the updated news from the nation.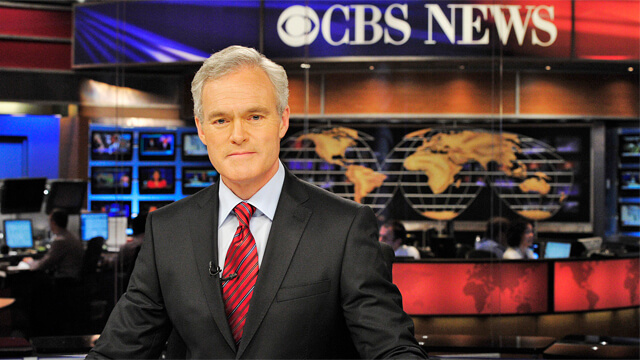 CBS news broadcast is known for shows like CBS Evening News, CBS This Morning, news magazine programs CBS Sunday Morning, 60 Minutes and 48 Hours, and Face the Nation – Sunday morning political affairs program.
You can also view the News Radio service to get hourly newscasts through radio stations and through CBS News podcasts like Takeout. You can also view the 24-hour digital network called CBSN.
---
Best App for Playing Offline Video
1. VLC Player
VLC Player is one of the most powerful media playing app for your android tv box, which is fully-free and without any ads. The app can play any video and audio files, including network streams, drives, DVD ISOs, etc., just like the desktop version.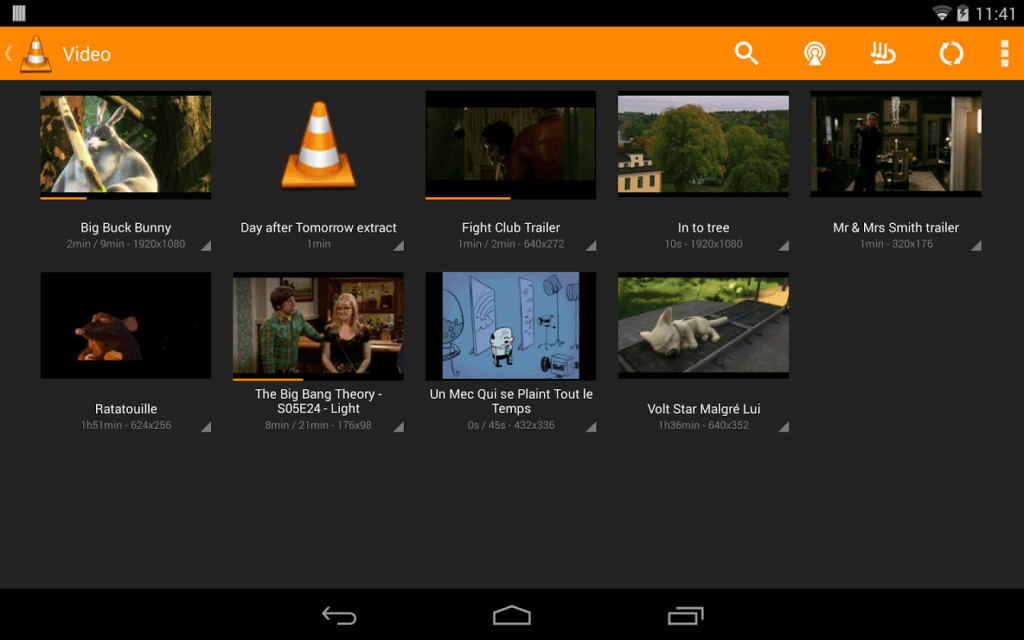 The player also is a full fledged audio app that plays major audio formats.
Major formats supported, including MKV, MP4, AVI, MOV, Ogg, FLAC, TS, M2TS, Wv and AAC.
2. MX Player
MX Player is a powerful video player with hardware acceleration support that is capable of playing 4k videos, using the new multi-core encoding technology. The MX player also has support for subtitles. The app supports a wide range of video playing capabilities.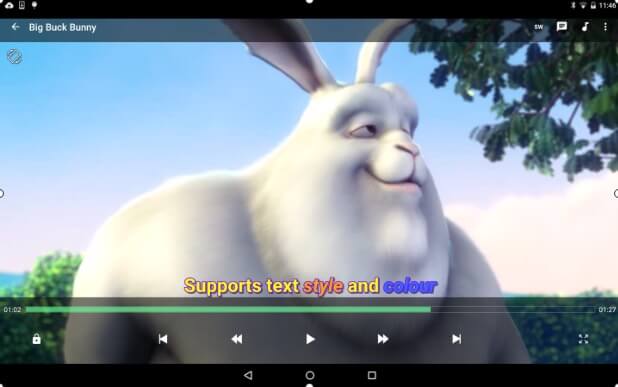 ---
Best VPN Apps
Tunnelbear
Tunnelbear App is one of the best and free VPN app to browse the internet and to view online digital content securely and protect your privacy. You can use the VPN app and explore a varied range of apps that may be blocked in your region, especially Kodi.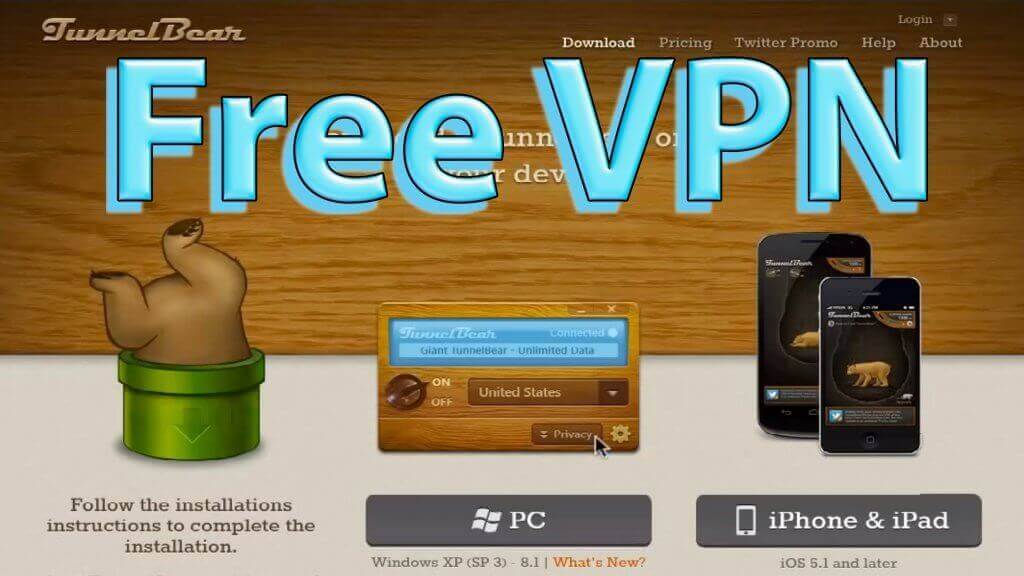 ---
Conclusion – Best Android Tv Box Apps
With this, we have covered most of the android tv box channels list, especially collated for the Canadian market, where you can freely do away with your cable subscription and use the internet to stream the best TV shows and Movies through internet at the most nominal cost.
You can also read more guides on:
---