This post talks about the Best Android Tv Remote Control app that you can use to replace your standard non-functioning IR remote for good.
We all love simplicity and our smartphone is one of the most used device in our daily life. Be it even to bed, we always carry along our smartphone.
Wouldn't it be great that we could use our smartphone as a remote and control our smart TV?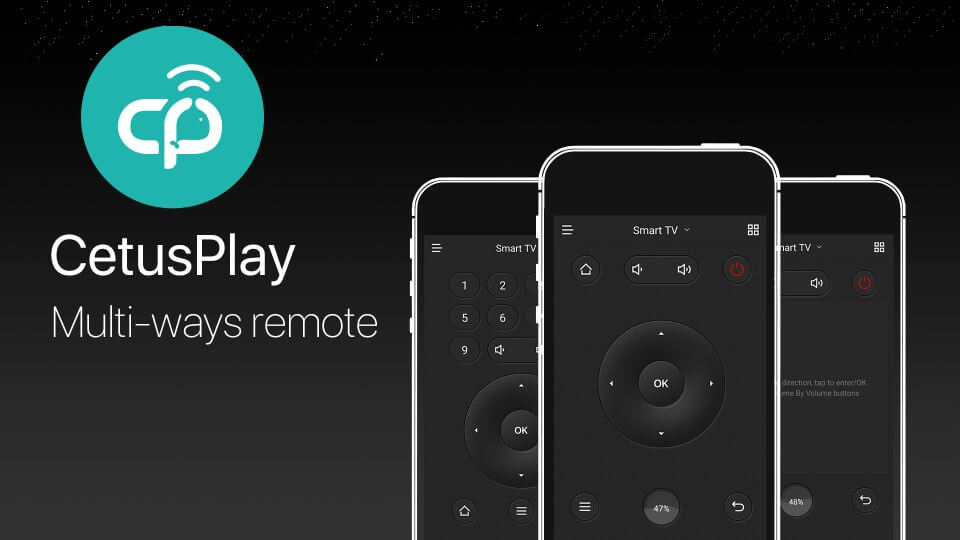 Yes, it is possible and CetusPlay is the app that you looking for.
This app offers a intuitive and simple feature of replacing your standard android IR remote for your Android TV, Fire TV or KODI box.
It doesn't offer a bloat-load of features, but a simple click functionality, and you can use your smartphone to control your TV.
Coming to the setup, CetusPlay is very to easy to connect. You just need to Google PlayStore and download the app on your smartphone and on your android TV box.
Next, open the CetusPlay app on your smartphone, and configure the easy to do walkthrough on screen.
Download CetusPlay for Android | Download CetusPlay for iOS
Do the same on your android TV device. Next, enter the code you see on your smartphone on to your android TV screen.
This should pair your android TV with your smartphone. Now, you can fully control your TV device, from your smartphone via the CetusPlay app.
Read more android box tv reviews at https://www.wittyedge.com/best-android-tv-box-canada/
On the CetusPlay app, there are different remote control modes available. The default and most simple on is the Dpad Mode. This emulates your standard IR remote very efficiently.
Coming to the Dpad, you get button at the top, middle and at the bottom. You will find the home, volume control and power buttons at the top of the app. At the bottom, you will have buttons for the menu and for going back to screen.
The middle section have the standard directional buttons, aiding in navigating through apps on screen.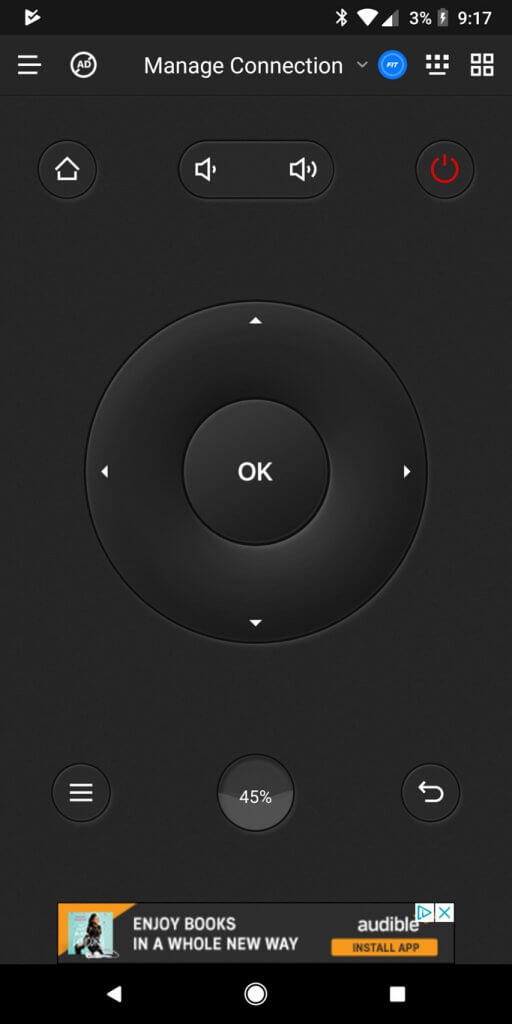 You can activate the cool Touchpad Mode. This helps in swipe your phone, like you would normally do on your smartphone, and control your TV screen. This a very cool way of navigating through this app.
In addition, you also get a few other modes. Once is the Mouse mode, through which you can use your smartphone like a mouse and access the apps and features on your television.
There's also the Numeric Keyboard, which gives you a numeric keyboard at the top of the screen, and a directional pad, with the menu/back buttons at the very bottom.
Finally, you get the Game Mode. This turns your CetusPlay app into a full fledged gaming keyboard, with the landscape orientation.
You also get the standard gaming joystick with the A, B, X, and Y keys and the select, and start buttons on either side of the app.
We tried out the Game Mode on our . The performance was mediocre for simple games, while high intensive games like the Gears of War, was a bit buggy, since the app is still in the beta stage for this mode.
You can also check out our post on the Best Android Tv Box Remote For Kodi – Canadian Edition if you love a joystick-powered fully functional keyboard.
CetusPlay also allows you to do more than mere navigating on your TV screen. One of the interesting feature that it possess that it allows you to cast media from your local smartphone on to your television.
Simple, hit the Play on TV option and you directly play your local media or online YouTube content on your TV box, just like the Google ChromCast feature.
You can also search for the desired video that you online to cast on your television. All this, and you don't even the YouTube app.
Coming to the settings pane, the CetusPlay by default vibrates when you press a button, or hit the volume keys or access the remote control widget.
You can also use the screen lit feature, that keeps your screen open, whenever the app is in the running mode. However, this may degrade the battery life of your smartphone.
You can also configure the floating widget remote panel, that will be on, as soon as you power the app on.
Another interesting feature is the widget control. After you enable the widget control on CetusPlay, you can see a small pop-out floating on your smartphone.
Through this, you can quickly pop open the CetusPlay app for quick navigation of the remote control and access the remote feature, without opening the CetusPlay app.
This helps in faster and easy to use feature to control your television, via your smartphone and your android Tv box.
Major downside of the CetusPlay app is that it occasionally shows advertisement for monetization. However, you can pay a fee of $5.99 to get rid of the app, a small fee for major comfort for your television and to replace your standard IR remote away.
You can also check more such interesting apps for your android tv box on our post on: Best Android Tv Box Apps – Canada Edition
CetusPlay Review – Best Android Tv Remote Control App
CetusPlay is the Best Android Tv Remote Control App available on the market. It is a pure gem that you need to control your Android TV, using your smartphone.
The app is a very accommodating and can easily support various set-top boxes and platforms, including Android and Amazon.
You can use the CetusPlay app on any device, be it your Kodi TV box, Android Box, IPTV Box, or Amazon Fire Tv, simply install the app and you are good to go.
All this without having multiple accounts for various device. Do try out the CetusPlay for a warming replacement for your android IR remotes.
CetusPlay - Android Remote Control
Summary
Pros
Very easy to setup and use, after installation
A very good replacement for your standard IR android box remote
Excellent Google Cast feature
Zero input lag in coordination between smartphone and the android TV box
Works with most Android devices, like Kodi, Android Box, Amazon Fire TV, etc.
Cons
Not entirely free, comes with ads (can be removed through in-buying option)
Few features like the screen capturing doesn't work on few TV boxes
No voice control or search feature available
Has a few problem in filling the screen, after removal of ads
Does not have great viewing angles on AMOLED device
---