In this post, we list the Best IPTV Box, especially designed for Canada. IPTV Canada has grown considerably and finding the best IPTV device is becoming a very challenging task.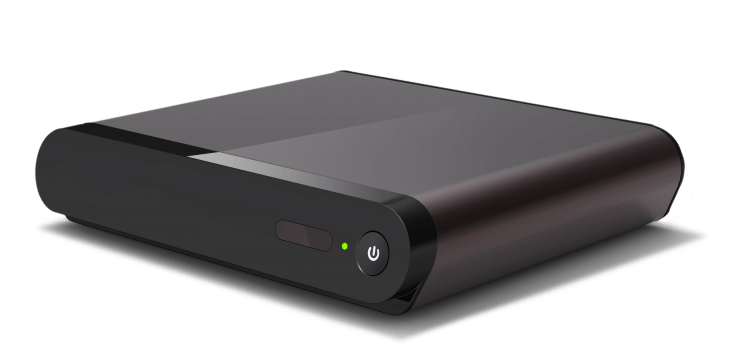 We have researched and reviewed the best available IPTV streaming device, specifically working for the Canadian province. Thus, helping you in your journey on saving from costly cable subscription.
Best IPTV Box – Canada Edition
IPTV Canada has evolved in many ways, with many providers popping up in the market.
Our list on the Best IPTV Box, will help you to filter the best from the rest and help you in the process of buying the cost effective IPTV streaming device.
You can check out the following posts that will help you understand the concept of IPTV:
---
You can also read our our post on the Best Android Tv Box Canada – Buyer's Guide 2020.
Now you can buy your Best IPTV Box Canada from Aliexpress and GearBest. Read our guide to shop securely from Chinese shopping site: How to Shop on Gearbest Canada – Buying Guide | How to Shop on Aliexpress Canada – Buyer's Guide
---
1. MAG 254 IPTV Review
Best HD IPTV Streaming Box
MAG254 is a powerful IPTV set-top box with much more improved processor and increased RAM performance. This device is the best solution, you'll need for your IPTV/OTT projects. Read quick review on this HD IPTV Box.
With the cost of cable and satellite subscriptions increasing dailly, many consumers are moving towards the new-age streaming service provider to help save on cost and enjoy the ultimate entertainment, all at your home.
Today, we look at a solution, which ruling the market, and that is the MAG 254 IPTV box, from Infomir.
Infomir specialise in IPTV over-the-air and video on demand solutions and have offices based in Russia, Germany, Estonia, UAE, United States.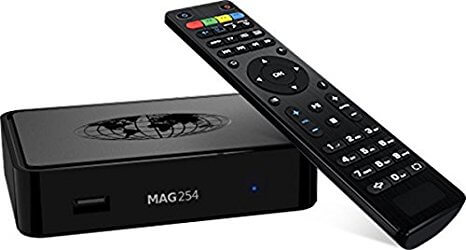 The MAG 254 comes neatly packed inside a small rectangular box that includes a full-featured remote, power adapter, RCA audio/video cable, AAA batteries and instruction manual
The MAG 254 is a light-weight, small looking IPTV box that can easily fit at any place, with elegant design. The tv device is very compact and does not consume any more space on your desk.
The MAG 254 is a linux-based and supports a wide variety of audio and video formats including Full HD at 1080p. On the front, you get a single USB port, IR receiver and indicator light.
The back of the device has the USB 2.0 port, optical port, HDMI, 3.5 composite video and stereo output. You also get a 10/100 ethernet port, RC and power adaptor port.
The only downside is that you do not get the WiFi connection. You have an option to use a portable USB wireless Wifi adapter.
The MAG 254 comes with a full-featured remote control, which includes options for changing the audio mode setup menu, context menu, quick TV access and virtual keyboard. You also get different player controls for all the standard media.
Next, to begin the IPTV system, we simply connected the LAN cable, connected the HDMI cable to the TV and powered the MAG 254 on. The device booted very quickly and you could see a great looking home screen with the menu options.
On the top-left side, you can see your network connection, whether you are connected using the wired or wireless network. You also get the weather widget giving you a glimpse of the temperature outside.
Next, we quickly browse through the media section, where most of our media contents were waiting for us to explore. You also get various in-built apps like YouTube, Picasa, and built-in internet browser, settings, download manager, and few games.
We opened the Home media app. You can browse through all the media content available on the network. We tried a full HD movie, and the picture quality was really sharp with surround sound audio, which felt great to hear.
Next, we tried the YouTube app. The app was responsive, and we played a couple of videos too. The streaming was really great, without any lags or buffering.
You can also use the internet browser to access things over the internet. Use the keyboard with the remote to go to the specific page and surf the internet. You can check out our post on Best Android Tv Box Remote For Kodi – Canadian Edition
Another interesting feature is the record manager. Record manager does a great job in recording IPTV broadcast. Simple select the show you need to record, and the file will be saved to the USB device, connected to the USB port.
You do not get any internal storage on the MAG 254.
You do not get a wifi on this device. For wifi, you will need a USB wireless connector, which you can easily buy at Amazon.ca.
Next, coming to the IPTV connection, go to the Settings > Server > NTP Server, enter the IP + url + port that you receive from your IP service provider. and, restart your mag 254 box.
After you have restarted your set-top box, the device give you a complete different UI with the Tv icon, where you can view all the channels that you have subscribed for.
We tried running our private IPTV server on this device. The channels ran fine. We didn't have any hiccups in streaming the media on our television.
The streaming was smooth, without any lags, and the image quality was HD-like, with great sound quality. Overall, we were satisfied with the outcome of the device.
Try out the David's Tech Store! – with over 500+ Canadian channels and plans starting from CAD $1.99.
In addition, you can use the password protection feature to lock channels that are not suited for kids. There's also a feature to load external subtitle (.srt) for your favorite movie/tv show.
Lastly, the IR remote does a basic job in operating the IPTV box for us. The remote helps in navigating through channels and using basic features for accessing media on the device.
To conclude, the MAG 254 is the best IPTV box that we have on our list. This device has least amount of defects and does not need any repairs. The manufacturer simply reset the IPTV box, where any issues occurred.
The Mag 254 does not suffer from any overheating and runs stable, without any hiccups, most of the time. One major issue, we found that the internet connection on the device fails to connect. 99% a simple restart solves this issues on the Mag 254.
There's no WIFI connection on the device, but you can opt for an extra USB WIFI dongle to connect using the WIFI. This makes us conclude that the MAG 254 is one of the best IPTV box.
Package Contents
1 x Mag254 IPTV set top box
1 x TV HDMI Cable
2 x AA Batteries
1 x IR Remote controller
1 x Basic User guide
1 x 5V Power adapter
MAG 254 IPTV Review
4.6
Summary
Pros
Clean UI with ease of use
Lag free and stable IPTV experience
Faster connectivity through ethernet
Seamless IPTV streaming through URL and without any external app
Cons
No Wifi. Need to use an USB Wifi adaptor
Does not have Android, so you lose on installing various apps
Limited internal storage
Lacks bluetooth
---
2. GooBang Doo ABOX A4 IPTV Review
Made in Canada IPTV Box
Every IPTV box needs a great and powerful android tv box that can handle streaming of live TV channels, with ease. The ABOX A4 is a very superb looking and feature-rich tv box, made exclusive in the Canada province.
The box is suited best for the IPTV setup, where you can download the IPTV apk file and start enjoying your live tv channels through the box.
Let's quickly check out the review and see if the GooBang Doo ABOX A4 is worthy candidate on the Best IPTV Box – Canada Edition.
We love tv boxes that support IPTV Canada and we feel at home, from the Chinese models, available in the market.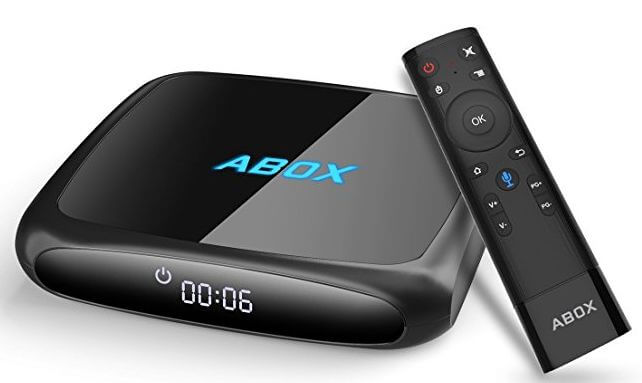 Coming to the design, the ABOX A4 ticks all the right boxes. The design is bang on, with good looks and suave design. The jet black looks makes it too beautiful and best suited for our smart TV. The A4 is very compact and tiny, and can aids up well in our IPTV experience.
Next on the hardware specs, the ABOX A4 comes with the Amlogic S905W Quad Core A53 CPU, clocked at 2GHz, with Penta Core Mali 450MP GPU. You also get a 2GB DDR3 RAM with 16GB internal storage. The specification are bang on to support various live TV channels with ease.
On the port front, you get 2 x USB ports, a single HDMI port, an DC adaptor, 10/100 ethernet support, and audio & visual external connector.
On the connectivity front, you get a 2.4GHz Wifi connectivity with standard ethernet port. You also get a bluetooth 4.0 support for your wireless keyboard, game pad, etc.
One of the interesting feature on this Made in Canada IPTV box is the IR remote that comes with voice capability. Now you can use your voice and control your IPTV using sound. This is one of the kind feature, present on the device.
Talking by remote, the performance was really good and differentiates itself from the rest of the IR remote. The voice capabilities are bang-on, and the mouse feature, that is, the air mouse was really good in controlling the channels on screen.
Next, the ABOX A4 comes with the latest 7.1.2 Android experience that is very stable and fluid in terms of performance.
The home screen was very pleasant and we loved the title based approach of displaying the application on screen. We loved that we didn't find much application in it, making it very lightweight and fluid in navigation.
You get all the basic application, in fact more that will help you stream content very well on your android tv box.
Coming to the performance, we tried a stream from the Kodi app, the media played out very well on the full HD resolution, with brilliant picture quality and sound quality.
The WIFI connection was very stable, and we could easily play out the media channels, without any buffering or shuttering.
We tried one of the live channels from the David's Tech Store IPTV service. The Canadian channels played out very well on the tv box, and everything went out smoothly, with proper streaming and sound quality.
Just ensure that your HDMI sound setting is high, or you will end up without any sound on the tv box.
We didn't try out any more apps, since the review of the box was only limited in running IPTV channels.
We did try out a few games, and we found that this IPTV box was very sufficient and could play any game we opened, very well at medium settings.
The company has done a great job in providing OTA support that will make your android tv box last till the future. The performance too will keep on increasing with every update.
Read Customer Reviews at Amazon.ca
Finally to conclude the GooBang Doo ABOX A4 is a worthy Made in Canada IPTV box with 1 yr warranty that will support you in case your box has any issue. The design of the box and the remote are the highlight of this tv streaming set-top box.
The hardware and software features too fall within the feature list of the tv box, making it a much more desired buy for every person in Canada that want to enjoy a cable free experience.
Package Contents
1 x GooBang Doo ABOX A4 IPTV Canada box
1 x HDMI Cable
1 x IR/Voice Controlled Remote controller
1 x Basic User guide
1 x DV Power adapter
GooBang Doo ABOX A4 Review
4.7
Summary
Pros
Elegant and unique design with good build quality
1yr after sales warranty and support
Latest and fluid Android experience with OTA updates
Best in class voice enabled IR remote
Superior performance on Wifi
Cons
Expensive but worth the cost
Lacks 5G dual wifi support
Does not support automatic refresh rate on resolution
---
3. BuzzTV XPL 3000 IPTV Box Review
Best IPTV Box with Android & TV Tuner
BuzzTV XPL 3000 is the new kid on the block and is creating waves in the IPTv industry, with its offering. Till date, the IPTV sector was dominated by pure Android TV box like pure android IPTV box and the Mag devices from Infomir.
Now, with newer technologies and fast advancement in science, we have the BuzzTV specially designed XPL 3000 competing in this sector of IPTV set top box. And, sure the XPL 3000 has generated rave reviews with its launch since last year.
You will be surprise with review and want to own the XPL 3000, rather than any one box we have on our list of Best IPTV Box – Canada Edition. Read through our detailed review to know about the BuzzTV XPL 3000 for making the right buying decision.
Starting with the specifications, the XPL 3000 is a quad-core TV box/IPTV set box, powered with latest Android. This device is quite powerful to transform your regular TV into a super powerful smart TV.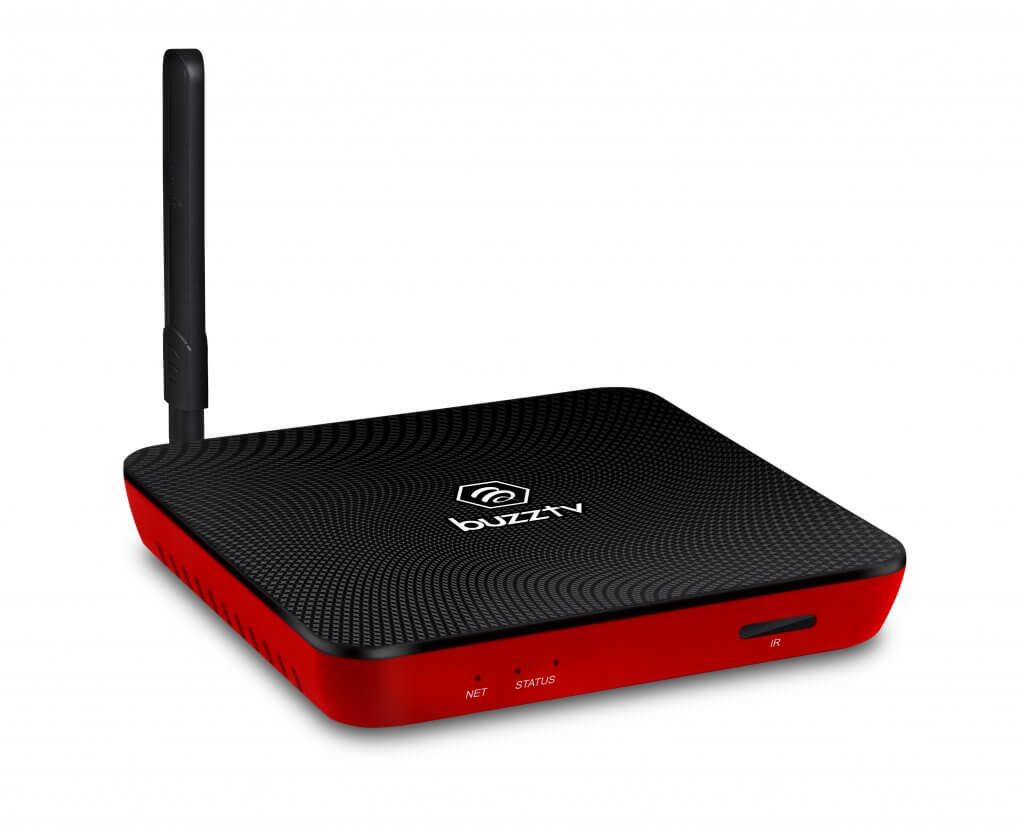 This tiny little device has all the power to give you the most desired cinematic experience, right at home.
Moreover, you can easily stream content using any IPTV service provider via the Stalker middleware, giving you the ability watch live TV, movies, TV shows, news, sports, etc. all in HD or SD+ category, depending on the service.
The BuzzTV XPL 3000 will surely help you save a fortune on cable subscription, by opting for the IPTV protocol. You also will get access to kodi and other android application available in the market.
BuzzTV XPL 3000 Product Overview
The BuzzTV XPL 3000 Box has been a more better improvement than the other version released. It is now more smooth, stable, and fast than the previous models.
Let's quickly dive into the feature offering and see what does the BuzzTV XPL 3000 offer and is creating the buzz in internet world.
On the design front, the XPL 3000 is much more compact and sturdy than the previous edition. A important change you will find is the presence of the external Wifi antenna.
This helps in maintaining a stable and faster internet connection through your Wifi router. Also, acting as a signal booster in case of weak signals.
The package comes with the BuzzTV XPL 3000 Android box, with the HDMI cable, power adaptor, and a handy remote. The overall package seems quite standard, than the ones we got on our list of Best IPTV Box – Canada Reviews.
On the upgrades in the OTT IPTV box, you get a all new quad core processor, Android 7.1.2 stock experience, HDR feature, improved PVR and a digital TV tuner card support.
From the specs, the BuzzTV XPL 300 clearly beats everyone with its extraordinary offering.
The digital TV tuner card helps in connecting to local TV channels, in addition to enjoy the streaming content over internet.
If you talk about performance, then the BuzzTV XPL 3000 does not disappoint, all thanks to the fast and quick Quad-core A53 processor, clocked upto 2GHz.
You also get a very pure Android experience, which is updated to the latest and stable Android 7.1.2.
This makes it even more fast and responsive. You get more than you want using the Android powered IPTV box that has access to every IPTV Android apps, including Kodi, SPMC, and other various popular streaming apps.
This is not possible on the older Linux-based IPTV set top box.
This Android-powered upgrade on the BuzzTV XPL 3000 is giving every competitor on our list a run for their money, giving you the right amount of flexibility when it comes in viewing or streaming media content.
Coming to the design, we tried the red-colored carbon fibre body of the BuzzTV XPL 3000, which is very light and looks very elegant on your television stand.
BuzzTV Product Description
Starting with the tech specs of this device, you get 2GB DDR3 RAM on the BuzzTV. This makes it equal to an Android TV box, yet a powerful and full fledged IPTV box. Most of the device, we had listed comes with the basis 1GB, outdated RAM that has known to slow down the system.
The BuzzTV XPL 3000 will never slow down, all thanks to the efficient RAM management and software optimisation.
The internal memory is plain 8GB, which we feel is quite inadequate for people that love to record their favorite streaming media, cause the amount is soon going to get exhausted.
But, the amount of memory is more than you receive from any IPTV box you get or even your set top box, that only gives you approx. 512MB.
Another feature here we loved is the ATSC digital tuner, that allows you to receive television signal onto your TV box and play it on your television. You can also record your online content on to your hard drive.
The BuzzTV XPL 3000 comes with bluetooth and A/C Dual-Band Wifi support. You also get the HDR performance for your video file, giving you a full-HD 4k playback support.
In addition, you get 6+ stalker middleware support with 4+ DRM support, making it a complete IPTV package you need for your streaming experience.
All this, with 1 yr warranty and after-sales support from the company.
Performance
We tried using the BuzzTV for one of our IPTV subscription provider. The login was quick and the loading of channels were very fast. The device could easily stream over the internet.
The interface is very easy to navigate, given that it is next-to-stock experience. We loved how the channels zapped through very quickly. The picture quality of the stream was great, with studio-like audio quality experience.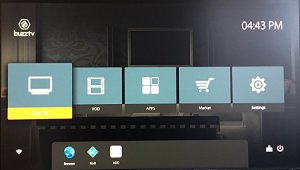 We also loved the Catch Up TV feature that allows to watch streams, from the past week. The 4k playback and experience was great with minimal buffering and quick loading.
BuzzTV also has support for the following DRM: Marlin, Widevine, and Verimatrix. Hence, playing on Netflix or mirroring content using Google should be easy and comfortable.
Customer Reviews
Customers are always the right people to take any review about a product, cause they have used the product before. Since, not many people know the BuzzTV brand, you won't find a large customer base.
But, there are a couple of descent review on Amazon, which you can read and know more about the product.
Read Customer Reviews at Amazon.ca
The reviews clearly state that people love the BuzzTV XPL 3000, given the features and performance that it brings to their life. The picture quality is great, the UI is unique, and the speed is terrific, with fast channel switching.
The product looks great in the red and black outfit and the build quality is also superb.
The first boot was quick with easy to explore installation and setup process, thus building up its credibility in its brand and quality as a product.
The BuzzTV XPL 3000 is making its mark in fierce IPTV competition and is becoming one of the most sought premium media streaming IPTV device.
BuzzTV XPL 3000 Pricing
Pricing is here the concern for the BuzzTV XPL 3000. Every good things does come with a hefty price tag, and the BuzzTV surely falls in the above $100 segment, which surely isn't budget friendly.
We feel that the BuzzTV is indeed priced at a proper segment, given the features and service that it is to offer. Remember, the BuzzTV is not a Chinese made device, which you can easily find in the market.
BuzzTV is a premium made IPTV box that conforms to media license of many service providers. Hence, we feel the investment in the device is worth every penny, as the volume of praise you will experience with the device is completely great.
BuzzTV XPL 3000 Remote
One of the highlight of the BuzzTV box is the remote. The remote control for this IPTV box is really simple to use and very quick in changing of channels or to perform any standard features on our TV box.
Everything is so simple and self-explanatory on operating the remote control. The keys on the remote control are nicely spaced out and are intuitively placed, just like your television remote, making it very convenient to use.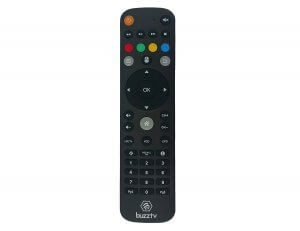 Many customer's have loved the remote, since it is more better than the previous BuzzTV version. The menu button to access the PVR section is the ultimate cherry on the cake feature to the standard remote.
The responsiveness of the remote clearly help solidify the UI of the BuzzTV XPL 3000.
What We Didn't Like
No product is perfect. Everyone has certain flaws, and we need to understand and acknowledge them.
The first flaw we found that you cannot create multiple favorite category, which only restricted to only one. So a family of 4 needs to maintain a single Favorite section.
Also, we found the screen a bit jittery, while watching our stream, making us do frequent reboots. This should get fixed in the next update.
This also kind-off make us think that if the BuzzTV XPL 3000 can survive our media streaming experience consistently for at least 2 years.
In addition, we found that sometimes, the pause, stop, rewind and forward buttons do not work. You have to bring the menu to pause the video stream.
To get back again, you have to access the menu section, this makes it difficult and sometimes question the PVR feature of the device.
Another complaint here is that a newbie may feel lost in setting up the entire UI, as there isn't any information to use or follow to operate the TV device.
Our Verdict
We find that BuzzTV XPL is a very great device. The review we done so far has been really favourable and is an excellent device, worth every penny.
The all-new-design is quite handy and sturdy, coupled with the great features, makes it one of the best IPTV boxes on the market.
You will not get a complete package, other then the BuzzTV. This IPTV set top box is the only TV streaming device that comes with the regular streaming setup plus the android system, that you can also plug-in the internet streaming media, in case your main cable fails.
Another feature is the automatic updates that the company takes care. So you do not worry about fixing bugs/issues on your IPTV box. The company has got everything covered.
The feature too have created a wave in its offering. Truly, the BuzzTV XPL 3000 is amazing device, made specially for today's internet age.
We therefore recommend the BuzzTV as the must buy, if you looking a TV box only for streaming over IPTV plus on your cable TV.
Package Contents
1 x BuzzTV XPL 3000 IPTV Canada box
1 x HDMI Cable
1 x Standard Remote controller
1 x Basic User guide
1 x DV Power adapter
BuzzTV XPL 3000 IPTV Review
4.8
Summary
Pros
Superb looks with superiors hardware specs
Great performance with stock & stable Android experience
PVR recording feature with digital TV tuner card
Strong Wifi support
1 yr support with brand quality
Quick channel switching with easy to use remote
Comes with Stalker middleware with media licenses
Cons
Difficult to newbies to setup the device
Glitchy performance sometimes
PVR feature needs to be controlled through the menu
---
4. Goldenbox Desi IPTV Box Review
Best Desi IPTV Box
Desi TV Box is a new generation android tv box device that you can use to stream content over the internet. This box is made especially for people for India, Pakistan, Bangladesh, Nepal, etc.
To put in context, this android TV IPTV device is more focussed on the south Asian communities where the channels are not that easily available in Canada and the USA.
This IPTV box comes with a full-fledged IPTV subscription for life. You just need to buy the box with a one-time fee and you get a complete IPTV service on your device.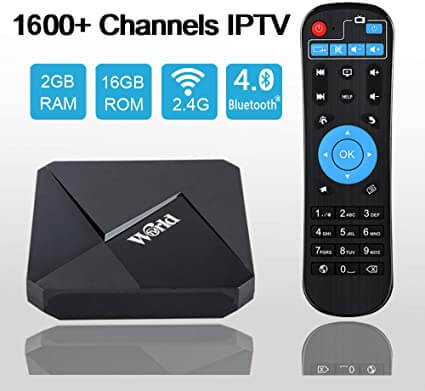 We have sourced the Amazon collection and found the right desi tv box for the people in Canada and the USA so that they can enjoy this favorite TV channels from their county right through their TV box.
Today in our review we look at Goldenbox 2020 edition IPTV box that comes with a complete IPTV service with the entire desi channel collection in various regional languages for everyone.
The Golden box 2020 edition is a generic android tv box that comes with 2GB RAM, 16 GB internal storage, with 2.4G wifi connection and 4.0 Bluetooth support. It has the standard HDMI 2.0, AV port and LAN cable support.
In terms of the processor, you get a standard unknown Quad-core processor with Mali 450 GPU that is quite capable of playing 4k content on the device with H265 encoding thus saving your bandwidth.
Again the hardware specification is quite outdated, but given this is more for the service that you get, the box is more than sufficient to play all your desi channels.
You get a decent IR TV remote that should be sufficient for browsing through the channel list.
In the box, you get a power adaptor and an HDMI cable that can be used to connect the box to your television.
We quickly move to this desi tv box interface. You get the Android 7 software which is not quite new, but sufficient for the usage.
We quickly browsed the interface and we found the interface was quite smooth, there was no lag or any freezing while browsing through the apps. We do get preinstalled app, but not a lot of bloatware which we anticipate in a Chinese IPTV box.
Next tried the GOTV app which you need to install from the Google Playstore. The seller had provided the login info to view the desi tv channels.
The app installed quite quickly and the UI was quite different than the one we used so far. It viewed more like the cable tv as we used.
Anyways, we quickly checked the channels collection. We were quite surprised that we got a massive channel collection from India that caters towards the desi demographic of the county of USA/Canada.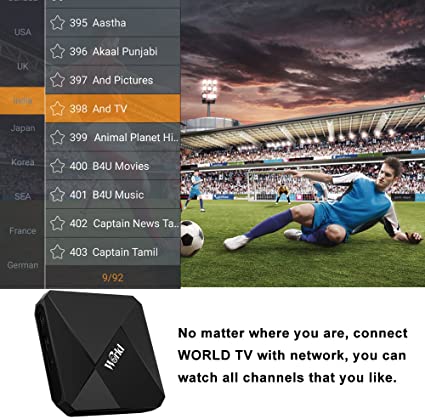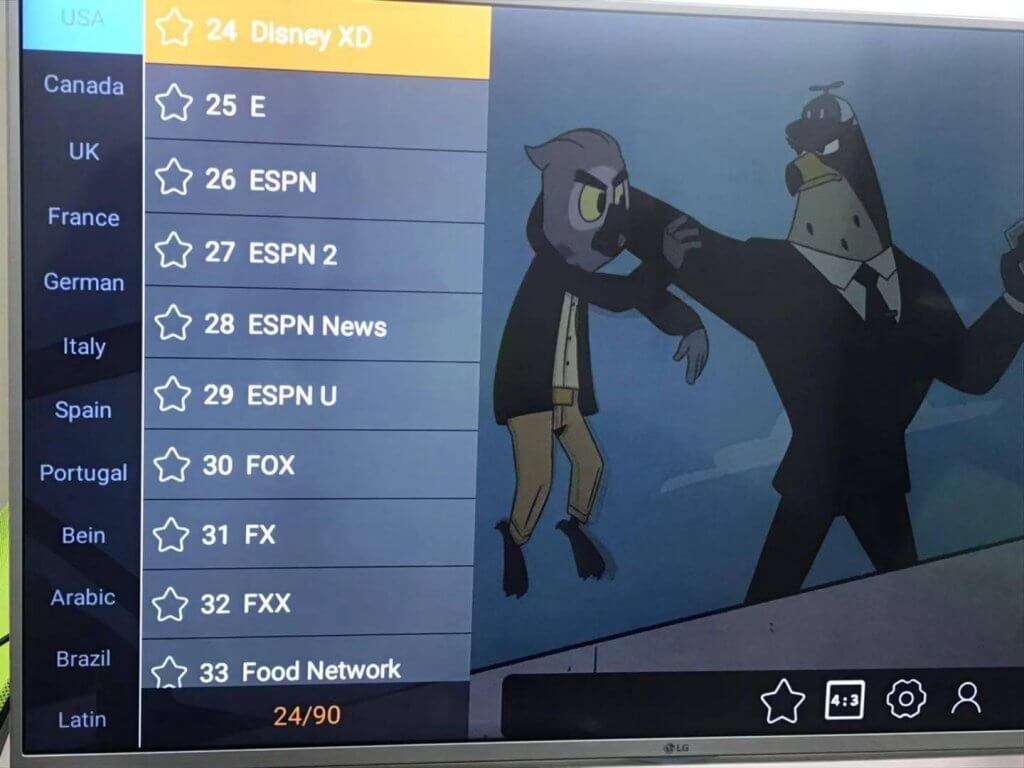 You also get a massive 1600+ Live channels from Asia, Europe, USA, and CA that you can use along with your tv box.
The performance of the channels was descent given that you just pay a single subscription charge for all the channels for life. We just tried out the various channels from India and it played quite well, no issues with that.
However, the performance tends to become questionable as we played along, but given the cost and the service box provides, it does seem to be a value for money product.
Read Customer Reviews at Amazon.ca
One thing we didn't like was that there wasn't any EPG, so we were unable to see what is playing on the channel. The manufacturer did say that they are working on an update to provide EPG support for this desi tv box.
The channels, however, were in the HD quality and played quite frequently. We got most channels from India, making it a great saving on the device.
To conclude, the Goldenbox 2020 Edition is the best IPTV box for people that are seeking desi channels. It fits in the right budget and helps you get the entire IPTV package you looking for.
Baring the outdated device capability and EPG, this IPTV box Canada was more than capable of playing out the channels we tried.
Do have a look at this IPTV box for desi on your shopping list once you decide to buy a TV box for your home.
You can also find many more desi tv options at: Amazon.ca
Package Contents
1 x IPTV box
1 x HDMI Cable
1 x Standard IR Remote (Without Batteries)
1 x Basic User guide
1 x DV Power adapter
Golden Desi IPTV Box Review
4.6
Summary
Pros
Compact design
Lifetime IPTV Subscription
Easy to use android interface
Lag-free and decent desi TV channels
Cons
Performance sometimes can freeze
No EPG service
Questionable seller warranty
---
This section is aimed at helping those who are less familiar with IPTV.
What is an IPTV?
Internet Protocol Television is a method of streaming media channels through internet connection. You do not need cable or satellite subscription. Simply, install the application or use the url provided by the IPTV service provider. All this, at a cost that is very cheap than your cable tv.
Why use IPTV?
Access to channels and content from all over the world. You only need a high-speed Internet connection and IPTV subscription
No need for satellite dishes or cable installations. In many cases you can use it anywhere in the world
Very inexpensive compared to using satellite or cable
Using a subscription service gives you reliability and quality and support when needed
What do I need for IPTV?
A television, a method to decode the IPTV and stream, the content, a high-speed Internet connection, a subscription.
There are several ways to view IPTV: by using a smart TV, an android TV box or fire stick, and PC or Mac for enigma.
Therefore, using IPTV could be even cheaper than you think to set up Smart TVs.
This is becoming a very popular method to watch IPTV. Currently, only certain Smart television have the capability and your IPTV provider will advise you if they support this method.
Installing IPTV
Installing an IPTV is usually as simple as installing an app. The app will need your device MAC address, which you will give to your provider to activate.
In addition, your IPTV provider can also provide you with the m3u file, which you add to your smart television, to view the channels on your Android TV box or fire stick.
These android tv boxes are very inexpensive, but it is advisable to do your research and not just purchase a box based on price.
You can also view a video on How To Set Up A MAG 254 IPTV Box.
Methods of Accessing IPTV
There are three methods of using IPTV:
With Android. Your provider will give you an app to install. This is one of the most reliable and simple ways to watch IPTV like Smart TVs.
You use Kodi and install an admin which is provided by your IPTV provider.
You use Kodi and use of PVR clients such as simple client to access IPTV. Your provider will give you details to use this method.
You can read our post on the Best Android Tv Box Kodi Canada Edition – Buyer's Guide 2020
You will also be able to configure your channel lists and access a TV Guide, PC or Mac. You can use the VLC media player using a m3u list.
Enigma satellite box, which you may already have, is a great way to add IPTV. It will require a little more knowledge than other methods, as you will have to use putty or FileZilla to configure your box.
You give your MAC address to your provider and they activate your subscription, you can access TV Guide etc.
Which is the best IPTV provider?
Well, as already stated, it is highly likely you will have a android tv device already in your household. So try it on that before you commit to IPTV.
Ask your provider for a trial before you commit. Many will give you a 24 hour trial.
Many providers offer extensive video on demand and catch-up TV, so ensure you weigh up all the benefits of each service.
You can read our detailed post on Best IPTV Subscription Providers Canada 2020 – Review so that you choose the best IPTV service provider.
Where do I find a IPTV provider?
This is a very good question and the answer is word-of-mouth search on social media, Google search as IPTV is becoming more popular by the day.
More and more people are using it, so the chances are friends, family or colleagues will be able to offer you advice on this.
What is the best IPTV box to buy?
BuzzTV XPL 3000 is the best IPTV box on the market today. You get the Android OS support plus a digital TV tuner, making it a dual-purpose TV device, to stream offline or online using various Android apps.
Read the detailed review on BuzzTV XPL 3000.
BuzzTV XPL is not a Chinese manufactured device, but a premium streaming TV box, with 1 yr warranty from the company.
The performance on the BuzzTV is really amazing, with better hardware and software specifications, with 4k HDR playback and support.
You also get 4+ streaming licenses and stalker middleware, making it a must buy and hot IPTV box today.
The looks are also very engaging and pleasing.
Cons of IPTV
If you don't have fiber broadband or your connection is poor, then don't bother to opt for an IPTV subscription. If you broadband goes down, so does your ability to watch television.
If your provider has server failure or network issue, you lose your television. A good advice is if you use only IPTV, then think about using multiple providers just in case one goes down, remember to think about your needs before you purchase, as you may want the ability to watch on more than one device.
At the same time, many providers offer subscriptions which offer multiple connections. This can be a lot cheaper than purchasing separate subscriptions. Pick a provider where you can view their support pages. So you know you have support there.
The cheapest is not always the best. Check out social media to check out what people's opinions are on the service before you commit to any IPTV service.
IPTV Quebec
Quebec is one of finest region in Canada. With the rising cost of cable subscription has fast increasing, a search for a great alternative to cable TV in the form of IPTV is really needed.
Since most of the folks from Quebec are French speakers, your need for entertainment is also in the form of Canadian-French channels that is available on the cable but at a very expensive cost.
You can check out the Canadian French Channels – Quebec on the above link. The channel listed are more than 20+ Canadian-French channels, exclusively for people in the Quebec region. Do try out the collection from the provider for a great IPTV Quebec experience.
You can also check out the cheap android box Qubec & Calgary region.
David is a great premium IPTV service provider with over 500+ plus channels, made exclusive for the Quebec province. The IPTV service provider provides stable IPTV channels at a cheap price of CA 1.99 only.
IPTV Toronto
Toronto is known as the capital hub of Canada and is famous for its diverse people living in the city. A hub of entertainment and a need to live with entertainment, while you are at home and away from work.
Now you can relish the media of your taste, right from music, movies, and live TV channels at your home, through David's – IPTV service. The IPTV service provider gives you a complete package of channels that you want to see, all over Canada.
The provider has over 500+ channels from Canada & USA, which you can check at Canadian & USA Channels – Toronto
The IPTV Toronto is set and try can get your hands on this experience that is not too expensive on the pockets and worth every penny you need for your entertainment needs.
You can also check out the best android TV Box, specially designed for Toronto province.
IPTV Montreal
Montreal is another most populous region in the Quebec province, that has mix crowd of people, falling in the French colonies, and the modern English-speaking people that love entertainment.
David provided a mix of great collection of live TV channels from the English Canadian channels, Canadian-French channels, and exclusive French channels to satisfy the needs for every person in the province.
You can check out the entire collection at David's Tech Store Channels Collection – Montreal.
IPTV Montreal is a hub that will fulfil all your entertainment needs for latest movies, music, live tv, etc., all streaming to your home from the service provider. You will not get such a offer ever again. Do try out the offer from the provider.
Watch TVA Streaming Canada + TVA Sport Streaming
TVA is a very famous French-focused television provider from Canada. It is a privately owned network, setup by the Groupe TVA, which is a subsidy of Quebecor Media.
The short form of TVA is "Téléviseurs Associés" or "Télédiffuseurs Associés", meaning "Associated Telecasters".
TVA was founded in the year 1962 and have grown quite popular over Canada, specially for the Canadian-French colonies set in Quebec (Montreal), New Brunswick, Ontario, New England etc.
TVA and its specialty channels have a 69% share of revenue in the French speaking marke
You can view the website at: https://tva.canoe.ca/
Some Famous TVA Channels
Addik
If you love suspense and shows that give you a Adrenaline thrill, then addikTV is sure to fulfill your friction and thriller needs through Quebec and American sitcoms, in French language.
You also get a wide variety of films, which will surely give you a complete action-packed entertainment package.
CASA
CASA is more like oriented towards lifestyle entertainment that is meant for every people in the house and everyone can enjoy the shows, ranging from reality competition and big series on renovations, cooking, decoration, real estate, animal shows, etc.
A complete entertainment package meant for everyone.
Le Canal Nouvelles (LCN)
LCN channel is known for providing the latest new reports, at 24×7 during the day. The channel had started in the year 1997, showcasing many news shows, relating to the public affairs.
MOI AND CIE
This channel brings to you real life true stories, with fascinating and elegant characters, building up daily life that we face in life.
Documentary on real-life scenarios, series and films that are very intriguing, invoking your thought, captivating and at the same unforgettable.
Sur *Prise 2
Prise 2 brings to you the latest and most popular Quebec channels, blockbusters and new sitcoms, right from the past, till updated for the new latest generation, building sentiments for everyone in the family.
TVA Sports Streaming
TVA Sports is one of the premium sporting channel that brings you large sporting events from the world, catch-up games, news updates from the TVA network, with a great team of French commentators, and analysts.
The experts round-up on various sporting events are completely unbiased and real, with elegant statistics.
Do check out the service at David's Tech Store, and view live TVA Sports Streaming on your television.
YOOPA
YOOPA TV is specially made for children, giving you quality entertainment programs, which you child will enjoy, yet learn from every episode. You also get a dedicated web shows for parenting guide and for children. The show is a favorite for very child in the age group of 2-10 years.
Click here to watch TVA Streaming Channels
---
How to catch CBC Live Streams in Canada?
CBC also called as the Canadian Broadcasting Corporation is the oldest and the Canadian's national broadcaster that serves various channels to the people in Canada via radio and television.
The company has grown with English and French channels under the entities, CBC and Radio-Canada.
CBC is popularly known as Société Radio-Canada in French.
CBC was first started in November 2, 1936, making the oldest and largest stream provider in Canada. CBC offers many popular streams in English, through Radio-Canada French streams and also 8 different aboriginal languages for the domestic market.
It also has developed international radio service, and the very popular Radio Canada International.
The network of CBC includes:
Radio Services: CBC Radio One, CBC Music, ICI Radio-Canada Première, ICI Musique, and Radio Canada International. More info: https://www.cbc.radio-canada.ca/en/explore/services/radio-services/
Television Services: CBC Television, ICI Radio-Canada Télé, CBC News Network, ICI RDI, ICI Explora, Documentary Channel, and ICI ARTV. More info: https://www.cbc.radio-canada.ca/en/explore/services/television-services/
CBC has its wings spanned across the Canadian Arctic regions with name as CBC North and Radio-Canada Nord.
CBC has also ventured in various digital services like CBC.ca, Ici Radio-Canada, CBC Radio 3, CBC Music and Ici.TOU.TV
More info: https://www.cbc.radio-canada.ca/en/explore/services/digital-services/
One of the highlight of the CBC service is that radio streams, including CBC Music, and ICI Musique are alll advertising or commercially free to watch.
Important CBC Digital Services Links
We have sourced the web and have generated a list of important links that catch up upon new, drama, sports, and other happennings in Canada across different regions, which you can find below:
CBC also has a dedicated sports channel that brings to you the latest and international news about various sporting events happening in Canada and from the world.
You can also have access to the live streams of several sport actions like CBC's Hockey Night in Canada.
How to catch Radio Canada streaming link?
Ici Radio-Canada also known as Télévision de Radio-Canada is a famous French-Language television network, part of the CBC group, which the Canadian national public broadcaster.
It is specifically developed for the French Canadian provinces of Quebec, Montreal, and is a direct equivalent to the CBC TV.
The Ici Radio Canada channel is quite popular than even CBC TV. It does not have any direct competition from any US network. Ici Radio Canada also faces competition from TVA, but it is quite popular than the CTV streams.
Ici is quite famous for its offbeat serials and the very famous Tout le monde en parle. You also get the famous show like the ever running Sunday night arts series Les Beaux Dimanches.
Another popular shows on Radio Canada is the Le Téléjournal, which also has many local news programmes as Téléjournal Montréal and Ce Soir.
Watch Radio Canada Streaming Here
---