This post talks about the latest trends on the Internet TV Canada Edition, that supports our blog – WittyEdge in reviewing various android TV box on the market.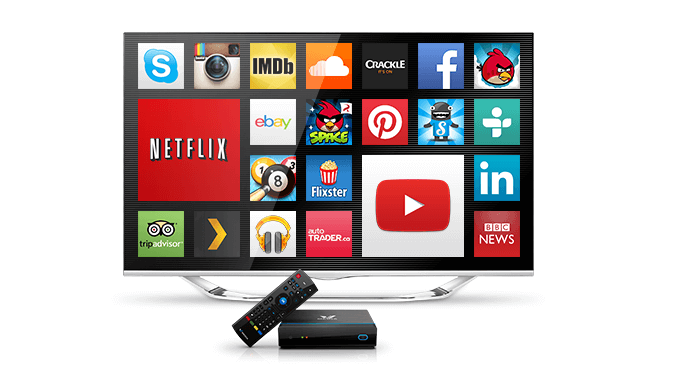 We have also gone ahead to give you the very desired clarity in using the Internet TV at your homes.
Cable television seems passé, all thanks to the internet.
People are creating new revolution in the internet age, and with advancement in technology, coupled with cheaper, yet faster internet connectivity, smart devices are going to explode in the near future.
This stands for the cable subscription as well, due to the growing threat from iTunes, Spotify, and various OTT providers, including Netflix, YouTube, Google Play, etc.
Internet TV Canada boxes are seriously going places to everyone's home in the coming days.
And, it makes complete sense, cause just with your internet connection, you watch a hell-lot of movies, TV shows, and live TV for an amount that is just about one-third of your cable subscription plans, or in some cases also free.
These TV devices are already available in the past through jailbroken apple TVs, but with mass-manufacturing of Android TV boxes from China, these tiny android box are slowly and gradually entering into the house of every person in Canada.
So much so that many cable companies have started a massive crack-down on sellers that sell fully-loaded Internet TV boxes.
What are Internet TV boxes?
Internet TV boxes are plain smart devices that have a superior hardware, just like the one found in your smartphone, and a Android-powered OS that controls the hardware and help you operate the device.
These devices are specially made for television. You connect the Internet Boxes, also known as Android TV Box, to your TV using HDMI, and use the power of internet to view/stream media content from OTT providers.
The concept is just the same like the Apple TV, but with a budget-friendly cost. Based on what we wrote, Android TV Box is nowhere illegal, like the hype it is surrounding due to the various legal notices.
The problem lies with buying or purchasing loaded internet box have copyright content already available on the device.
If you buy a pure stock android box, without any "copyright infringing" content, then you are absolutely safe and nothing to worry.
You can go ahead and install Google PlayStore and find various legal apps to stream content on the media.
Canadian TV stations like CBC, CTV, Global, City TV, etc. have all migrated to the internet to attract the people in watching their shows.
Many content online just needs a monthly subscription that is very cheap. Also companies have began offering content for free trial options, supported by ads.
Our advice is to stay away from the widely-publicized free internet TV, which is none, and even you get the free service, you will have to deal with ads and popups, that may be malware.
What do you mean by Free Internet TV?
When you hear the sound of "free", just beware, cause there is nothing free lunch in this world.
When people mean free internet boxes, it refers to android TV boxes that comes installed with the famous Kodi application that allows you to stream media online through various addons and repos.
You get unlimited supply of local and internal television channels, including live TV, where it seems very genuine.
Here, a problem lie, where streaming content without paying license to the provider, can create legality problems. However, as a buyer your android TV box is completely legal, and watching online streams, as per the law is safe and legal.
Hence, the cable TV providers are after the retailers that offer access to unauthorized content.
Also, read about more about the Kodi boxes at: Best Android Tv Box Kodi Canada Edition – Buyer's Guide 2019.
Where can you buy an Android Internet TV Canada Box?
These boxes are so famous in Canada that you can get them any place, where you buy electronics from. You can also choose online retailers like Amazon, Best Buy that offer faster delivery and 1 yr warranty service. The cost online too is less with a lot of variety to choose from.
These android TV box comes with pure Android experience, just like your smartphone. You will need to install any software like Kodi, IPTV, etc. to stream content online to your television.
Our firm belief is to stay away from retailers that sell loaded or programmed TV box, with a promise of free television. Such TV box have non-approved apps that can cause harm, then help you watch content.
Also, buying such android boxes are illegal, specially after the injunction from the court, regarding their sales.
Always opt a pure Android experience TV boxes and then load the relevant streaming application from renowned IPTV subscription providers.
You can also try out classified sites like Kijiji and Craigslist, where you can get a better deal on used Android TV boxes, given the trends, many Canadians prefer to change their TV boxes quite often.
It is always best to buy out the android TV box in person, by visiting sellers in their shops, which you can find in any shopping centres in the city.
This will help you know what sort of android box you are buying, and also check if the internet box works well as per your expectation.
If you do any online shopping, be it only through trusted brands that assure guaranty on android tv box and have evidence that no such tampering with the device has been done.
It ships completely factory-fit, sealed and unpacked to your home.
If you encounter any problem with your Android TV box, use the following posts:
How does Internet TV work?
We have already covered this topic in detail at our post on here: How Does an Android Tv Box Work?.
But just to summarize, you an external streaming application like Kodi, any IPTV app that provides you a complete search engine to every media content on the internet. The app also houses a media player to play the content online on your television.
You can also use external players like VLC and MX player for better compatibility.
Most popular addons or source on Kodi include Exodus and 1Channel for movies and television, cCloudTV & ZemTV for live TV and sports and DC sports for live sports streaming.
While using Kodi and viewing stream content on the internet is completely legal, but we do not promote or encourage you to opt for services that stream illegally without paying license fees to the content providers.
This is completely unauthorized and illegal. You can read this letter for more clarity. Click Here.
Another issue here is that many Kodi sources, like said lie in the grey area, hence you may loose your streaming source at any time. Here, you as the user has to go about the process in updating the source on Kodi and keeping track on the source that are down.
The Kodi solution is not complete plug-and-play. But, you can also opt for more convenient IPTV apps that stream content, without worrying of streams doing down, with wide server capabilities in handling HD streams.
What else you need other than Kodi or IPTV app?
An important factor that connects you with the stream is the internet connection. Like our post on Internet TV Canada edition, we are focused on educating the masses that internet TV needs faster internet connection.
Since most content on the web is available in high definition, you need strong internet speed. This helps you overcome problems like slow buffering of media content and loading of channels.
You also need a Kodi remote, which you can read here: Best Android Tv Box Remote For Kodi – Canadian Edition
You definitely need an internet connection of about 25 mbps to experience the experience with interruption.
We prefer that you use the ethernet cable to directly connect the internet with your TV box, rather then the internet connection on wifi, as the wireless signals though strong may cause interference and give you a stuttering experience.
Is the Internet TV legal and Should I buy one?
Here our opinions quite differ. We have written various post on Is Android Box Legal? that can answer more in detail.
Just to summarize, you are the user of the Android TV box are completely safe, and as per the Canadian law, it is completely legal to stream and watch media content from the internet.
You do not infringe any copyright of any media contents. Here is another post to support our claim.
The law exempts temporary reproductions of copyrighted works if completed for technical reasons. Since most streaming video does not actually involve downloading a copy of the work (it merely creates a temporary copy that cannot be permanently copied), users can legitimately argue that merely watching a non-downloaded stream does not run afoul of the law.
However, as we know laws always keep changing, and the complexity with the copyright is extremely high. Hence we always suggest you to opt for a VPN that will hide or cover your tracks, while watching internet TV.
Also, try and opt for service that are completely legal like the Netflix, Hulu, etc.
But, your choice of media content get very limited and you will not have access to local live TV content, thus dropping the entire purpose to replace your cable subscription.
With all the legal injection against reseller going on the market, we still advice you to opt for the Internet TV Canada, which we feel is the future.
The OTT market is bound to increase, and with competition, event the official cable companies will be forced to lower their cost and provide the same service over the internet.
The android TV box is a must buy to save on your cable subscription and opt for a more focussed plan. Simply pay for what you really want to watch, and join in the revolution of cord-cutting.
The cost and cheap IPTV subscription, with cost of the internet box will surely be recovered, rather than spending thousands of dollar every week on cable subscription that is only limited to local content, while you get global, HD-like content for a cheaper price.
---