This post will provide you with steps to access Kodi CBC channels from Canada on your Kodi device. The source we use is completely free and legal and is provided through public links.
The Kodi CBC channels mentioned in this post are quite stable as they are from the main source and will never go down. Moreover, the source is provided for free without any cost.
Any online blogger charging fees to access the source is a scam and their only aim is to cheat you of your money.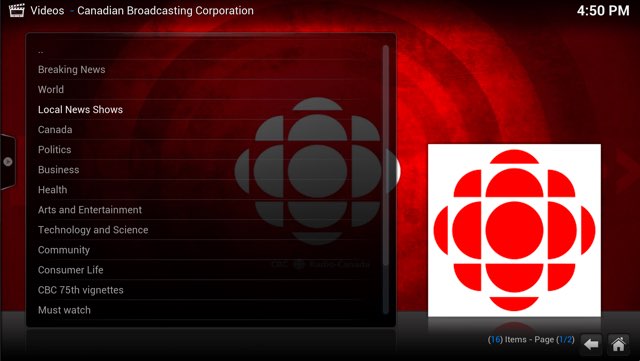 CBC Television is Canada's largest English-focused broadcast network. The channels from CBC are streamed across regions of Canada and have evolved into the official national public broadcaster of Canada.
It also provides service to the French-speaking regions of Canada through its sister concern ICI Radio-Canada Télé channels.
Over the years, CBC Television has become quite popular as a single source of entertainment for Canadians, ranging from providing News, Current Affairs, Sports, Entertainment Drama, and Kids programming.
CBC television Canada has something for everyone, right from CBC News Network, CBC Sports, CBC Kids, and the very popular CBC Network channels, which include popular shows like 72 Hours: True Crime, Anne With An E, Heartland, Coroner, Burden Of Truth, Workin' Moms, The Detectives, Kim's Convenience, Murdoch Mysteries, Schitt's Creek, etc.
CBC Television on our Kodi CBC channel package includes the following TV channels that play across all regions in Canada. Along with the list, you also get the popular CBC Sports, CBC Olympics and CBC Radio channels.
CBC Calgary, Alberta | CBRT-DT
CBC Charlottetown | CBCT-DT
CBC Edmonton, Alberta | CBXT-DT
CBC Fredericton, New Brunswick | CBAT-DT
CBC Halifax, Nova Scotia | CBHT-DT
CBC Montreal, Quebec | CBMT-DT
CBC Ottawa, Ontario | CBOT-DT
CBC Regina, Saskatchewan | CBKT-DT
CBC St. John's, Newfoundland and Labrador | CBNT-DT
CBC Toronto, Ontario | CBLT-DT
CBC Vancouver, British Columbia | CBUT-DT
CBC Windsor, Ontario | CBET-DT
CBC Winnipeg, Manitoba | CBWT-DT
CBC Yellowknife, Northwest Territories | CFYK-DT
Great, now that we know what package that we provide in the Kodi CBC channel collection, let's see how to configure the package on the Kodi device.
Additionally, our source also includes the CBC Olympics channels which you can view for free on your Kodi device through our playlist.
If you are also looking for Made in Canada Kodi addon, you can read more info at: How to Install Made in Canada on Kodi – Updated Guide
How to access Kodi CBC TV, including CBC Sports, CBC Radio & CBC Olympics?
Before you begin, ensure that you have the kodi app installed on your device. You can find the internet on the steps to install Kodi on your device. More info: https://kodi.tv/
You can also check our post on – Best Android TV Box Kodi Canada Edition – Buyer's Guide – to read on the latest Kodi Boxes available in Canada.
Let's Begin!
How to Install Kodi CBC using PVR IPTV Simple Client
Open the Kodi app on your device.
From the home screen of the Kodi app, use your remote and select the Settings icon (The gear icon at the top).

On the next screen, select Add-ons.

Next, select the Install from repository option.

Scroll down and then select PVR clients.

On the PVR clients screen, scroll down again and then select PVR IPTV Simple Client.

On the Install UI, select Install to install the PVR IPTV Simple Client for playing Kodi CBC repo add-on.

Wait for the PVR IPTV Simple Client add-on to install on your Kodi app.
Once the installation completes, you get a notification at the top. The installation takes about 1-minute.
How to Setup and Use Kodi CBC Canada Channels
Next, we will see how to configure the PVR IPTV Simple Client on Kodi to use the Kodi CBC custom Live TV package and use it as an IPTV service.
Before you begin, there are a few things you should be aware of:
The PVR IPTV Simple Client does not provide any content. It requires an existing IPTV subscription or the Kodi CBC playlist to function.
It is only compatible with IPTV subscriptions that support CBC Canada Playlist or XMLTV EPG.
The M3U Playlist or XMLTV EPG URLs must be obtained from the link we provide, or you can use your IPTV subscription.
If you are looking for more Canada local channels, then do read our post on – Best IPTV Subscription Providers in Canada | Reviews – for more information about various service providers in Canada.
The instructions below will teach you how to use this add-on to broadcast your favourite CBC Canada channels on your Kodi device:
On the home screen of the Kodi app, select Settings and then select Add-ons.

On the next screen, select My add-ons.

Next, select PVR clients.

Select PVR IPTV Simple Client.

Select Configure button at the bottom.

Select the General tab on the left side, then select the M3U Playlist URL.
Enter the Kodi CBC m3u link: https://cutt.ly/YnhdCXE

For the CBC Canada TV Guide, select the EPG Settings on the left and then select XMLTV URL.
Enter the CBC TV Guide link: https://cutt.ly/WnhfS6T

Finally, select OK to close the settings.
Select OK to restart the PVR IPTV Simple Client and load the Kodi CBC channels.

Go back to the home screen, select the power icon, and select Exit on the popup.




Reopen the Kodi app, and on the startup, you will see that the PVR IPTV Simple Client is starting up and loading the CBC channels on Kodi.

The notification on the right will keep on loading, and it will show you the number of channels loaded on the Kodi device.
Once the channels are loaded, select TV, select Channels on the top side, and start streaming Kodi CBC Canada Live TV channels.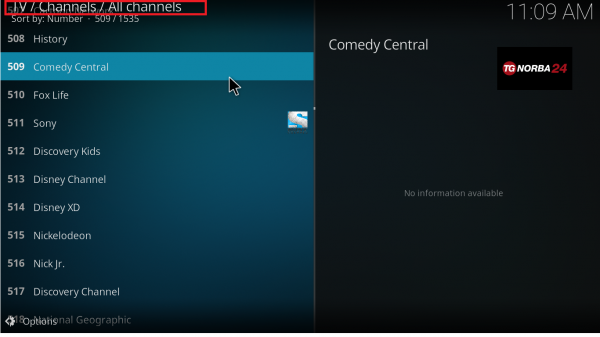 If you have set up the TV guide, select Guide to view the channel information for each channel.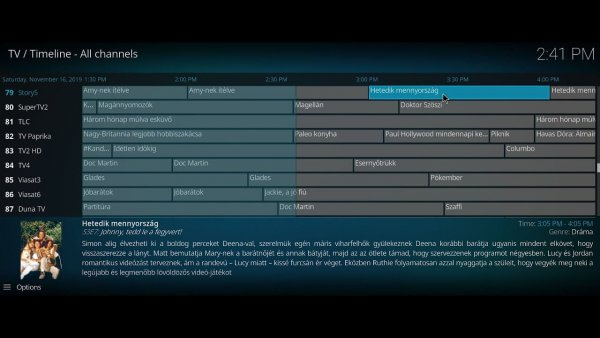 Features of Kodi CBC Addon
Here are some of the important features of this add-on:
The following are some of the essential features of this add-on:
It is accessible through the official Kodi repository, the Kodi Add-on Repository. As a result, no sideloading is required. You can easily download the Kodi CBC app to view Live TV CBC Canada channels on Kodi
It is simple to set up and much simpler to use.
Setup is through m3u playlists and XMLTV EPG.
You can also use an IPTV subscription to couple with your Canada playlist and make a streaming channel collection.
Summary
So that's how you set up and utilize the PVR IPTV Simple Client to view the CBC channels on Kodi. If you don't have an Android device and can't install the APK, this add-on is a terrific method to watch minimal Live TV channels from Canada. The playlist and EPG support ensures that you can quickly access your favorite TV stations without any issues.
Related Reads
Disclaimer
: Kindly note that our website (
WittyEdge
) does not promote or approve piracy of any kind in any way. The information presented to you is for educational purposes, and the responsibility to use the information is your sole responsibility, and you will be accountable for any consequences. Also, we do not own any rights or have authority over the software, products, and external links mentioned in this post.
---