This post lists the 10 Best Roku Channels Canada Edition that you can watch on your Roku streaming device.
Roku stick we all know is the most inexpensive streaming device available in Canada.
This streaming stick is available in every home in Canada and is used by many people love to use this compact device to view entertainment channels over their TV.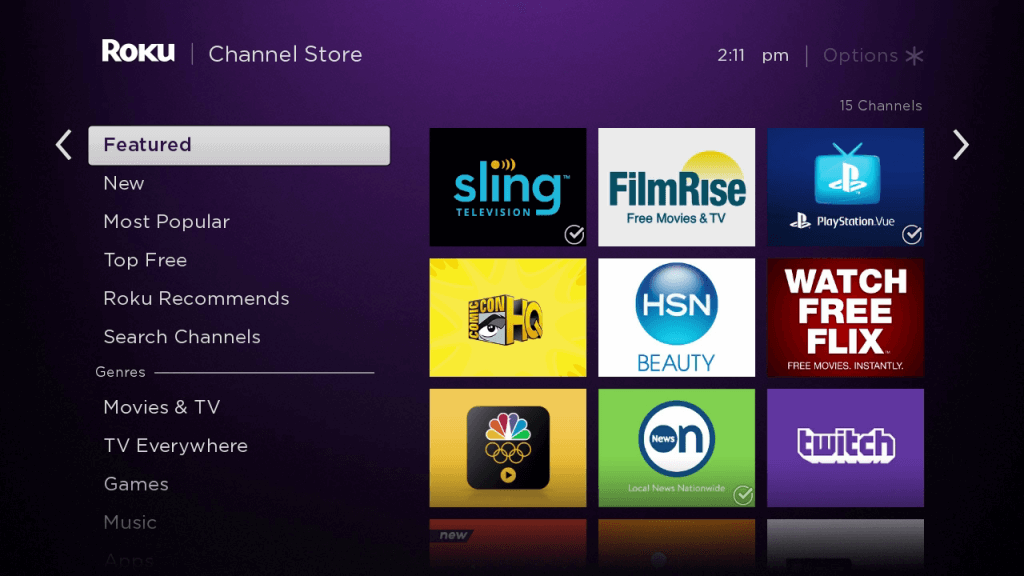 We feel that the Roku streaming stick is the most underrated device when you use them for streaming content through your television.
The following section will talk about the 10 best Roku channels that you can install on your Roku device for Canada regions.
We all know that streaming needs in Canada are quite limited, but we have found the below Roku channels 2020 specific for your entertainment needs.
List of Top 10 Best Roku Channels Canada
With this, we start with our list, where have reviewed the best and most important free & legal streaming services that will work for Canada.
The following streaming services are sourced from Roku that will allow you to watch entertainment streaming service including live tv and video-on-demand content on your Roku streaming device for Canada.
1. The Roku Channel
The Roku Channel is the most popular Roku channel that allows you to view free live and premium TV.
You get a huge collection of super hit movies, TV shows, 24/7 live news, sports channels, and popular movies and Tv shows for your kid. All this for free.
You can also opt for over 30+ premium subscriptions from HBO, Showtime, Cinemax, Starz, EPIX, and other popular platforms, all through a single app.
You just need a single login and pay fees only at one app to view your favorite entertainment streams from multiple platforms.
You can also get the Roku mobile app and continue watching your favorite programs, right from where you left on your TV.
Note here, at present you can only buy the premium subscription if you are from the USA. But to work around this, we just turn on our VPN, connected to a US server, and paid for the subscription using our Canadian card.
Everything worked fine and we could enjoy all the latest premium channels for Canada on our Roku device.
---
2. Stirr
On the Stirr channel, you can watch free live TV channels. You get a huge collection of free live TV channels where you can watch the news, entertainment, sports, movies, etc.
You also get a huge video-on-demand collection and the latest viral videos for entertainment.
The best part of the Stirr channel is that it is completely free and there are no hidden charges.
The collection is growing quite considerably and you will find a new channel for Roku on the list. Choose Stirr if you looking for exclusive local channels that show live news and programs.
---
3. Pluto TV
Pluto TV is one of the best channels and the must-have on your Roku channel list. You get more than 100+ channels for news, sports, movies, and most popular shows on the internet for free.
You also get a massive collection of video on demand collection that includes a variety of movies and full TV episodes.
Pluto TV comes with the most sophisticated cable-like experience, with the best UI and complete EPG support for every channel. We did not get any buffer or freeze on this Roku network channel.
---
4. Tubi
Tubi channel is one of another channel that gives you free movies and TV series that you can watch for free.
Tubi is a legal streaming service that does not need a credit card or any subscription to watch legal movies and series content on your Roku TV.
The best part of Tubi is that you get fewer ads than your TV cable. Tubi comes with the largest free for all streaming service that includes award-winning movies and TV series.
You get a massive collection from different genres, like comedy, drama, kids, war, classic and various Asia channels like Korean drams, anime, and British series. Get Tubi to view the old classic and new free video streaming collection.
---
5. XUMO
XUMO is another free Live and on-demand entertainment channel that you can stream on your Roku stick. You get about 160 different channels that will benefit everyone in your family.
Xumo regularly releases new movie channels, breaking news, epic fails, and stand-up comedy episodes that you can enjoy at home.
You also get a decent collection of sports and news coverage that can help you watch while you binge with your family.
Most popular episodes like the Funny or Die and celebrity gossip news from TMZ are a few of the popular shows that you can stream through the Xumo app.
---
6. Crackle
Crackle allows you to stream free Hollywood movies, TV episodes, and originals on your Roku device. The service is completely free and without any strings attached.
You get complete access to the premium TV show and hit movies, and you can select the popular streaming content through the library that boasts of the new and iconic collection.
The best part of this streaming service that it is free and has fewer ads compared to the other streaming services. You get the most amazing streaming entertainment experience for your Roku device Canada.
---
7. Hoopla
Hoopla is another digital content platform that has a huge public library of movies and television episodes that you can stream on your TV.
The service is completely free and we found that Hoopla is more focused on the older movies and episodes from the 80s-90s making an amazing experience for people that love nostalgic entertainment experience.
The public library is curated from the public and we see that many collection titles are been added regularly which you can stream through the TV.
---
8. YouTube
YouTube is the most popular streaming service for Roku and is the most curated streaming media on the internet. You can watch any personal videos or trending videos uploaded by many users worldwide.
We have also seen many popular news channels like CTV, CNBC, CNN, Al Jazeera stream live news TV over YouTube for free.
You get the best possible collection of latest music videos, movie collections, and TV series that you can either watch for free or subscribe through YouTube for a minimal cost.
The streaming through YouTube is completely smooth and you will never get any buffer or freeze issues. You can also sign up for the YouTube TV option if you use the USA VPN option to watch live TV channels from the USA in Canada.
---
9. Fawsome.TV
Fawsome TV is one of the rare streaming channels made specifically for Roku. You get over 10k+ HD movies, TV shows, and lifestyle content from the world. You get various popular genres like action, thriller, horror, comedy, and more.
You do not need to spend any subscription cost for your streaming needs over this service.
---
10. NewsON
NewsON brings to you live local news content for free. You get more than 200+ newscasts from locals news channels across the US and few from Canada.
You can watch local news plus international news from the world as live streaming channels.
You can also watch pre-recorded new shows from the last 48 hours in case you missed your favorite news stream. You can also watch the latest weather forecast to know how the weather holds for the day.
This Roku channel is completely free and you do not need a subscription for viewing the content.
---
With this, we complete our list on the Best Roku Channels for Canada, which you can directly stream through the Roku streaming device.
Roku too is improving over their ecosystem and bringing about a lot much legal streaming service for Canada that helps many to phase out their expensive cable subscription.
More channels can be found at:
Summary – Top 10 Best Roku Channels for Canada
1. The Roku Channel
2. Stirr
3. Pluto TV
4. Tubi
5. XUMO
6. Crackle
7. Hoopla
8. YouTube
9. Fawsome.TV
10. NewsON
---