This post gives you a complete overview on why the Brave Browser is our most recommended Best Privacy Browser 2020.
Brave Browser is the next-generation privacy-focused browser that is making waves in today's millennial age.
We have been using Google Chrome and the Mozilla Firefox as our most revered browser for many years now. But in the current scenario, where data is easily available, and our data being shared across different companies, snooping or our personal life being exposed is a huge risk.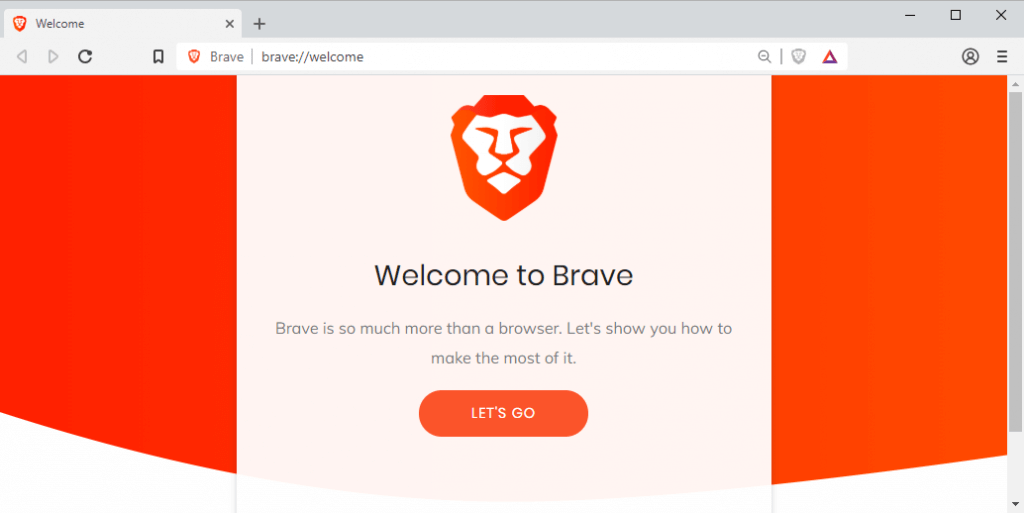 Moreover, all these different tracking consume a lot of our data network and add up to our daily cost.
One such browser that we experienced is the Brave browser that has been developed to change the current scenario and protect our data integrity, without compromising on speed or user experience.
Brave Browser Reviews
Summary
Brave is one of the kind browsers that has all the features for a standard browser, coupled with splendid performance, even for a device that has low specifications. Brave is an anonymous browser that helps blocks any service which tries and steal our data, keeping us completely secured from any unwanted entity that spy on people.
The various security feature like the built-in ad blocker, security shield, helps protect and block any malicious ad tracking service or cookies. It also gives you the tor mode for more anonymous browsing.
Pros
Easy to use and is quite intuitive
Superior security features
Privacy-focussed browser
Anonymous browsing style
Cons
Delayed updates
Few features need to be active against privacy
Let's quickly dive in on our post and see why we highly recommend the Brave browser as a preferred mode of exchanging data over the internet.
Overview – Brave Browser?
Brave is an open-source people's browser, powered by Chromium, the same project handled by Google and is the main framework for the Google Chrome browser. Brave is one of the forks from the most stable and light-weight build of Chrome and is now available across all devices and platforms like:
iOS
Android
Linux
Windows OS
Fun-Fact: Brave is founded by Brendan Eich – that had created Mozilla Firefox. Brendan has rich experience in technology and has also invented the JavaScript language.
The Brave project was mainly created on Basic Attention Token (BAT), which is a digital currency based on the Etheruem blockchain to decentralized the revenue sharing platform, and be an alternative to Google Adsense.
Features Summary
One of the major attractions of the brave browser is the ad-blocker feature that helps you prevent various ad-tracking sites snooping on your device. You also do not need to install a 3rd party extension to block the ads.
Another interesting feature which we loved is the Sync Chain feature that allows using your bookmarks across all the devices that you have.
Brave also allows you to signup on the account through just a simple one-time verification code, instead of filling a detailed sign form. For now, you can only sync your bookmarks with your different devices through your account.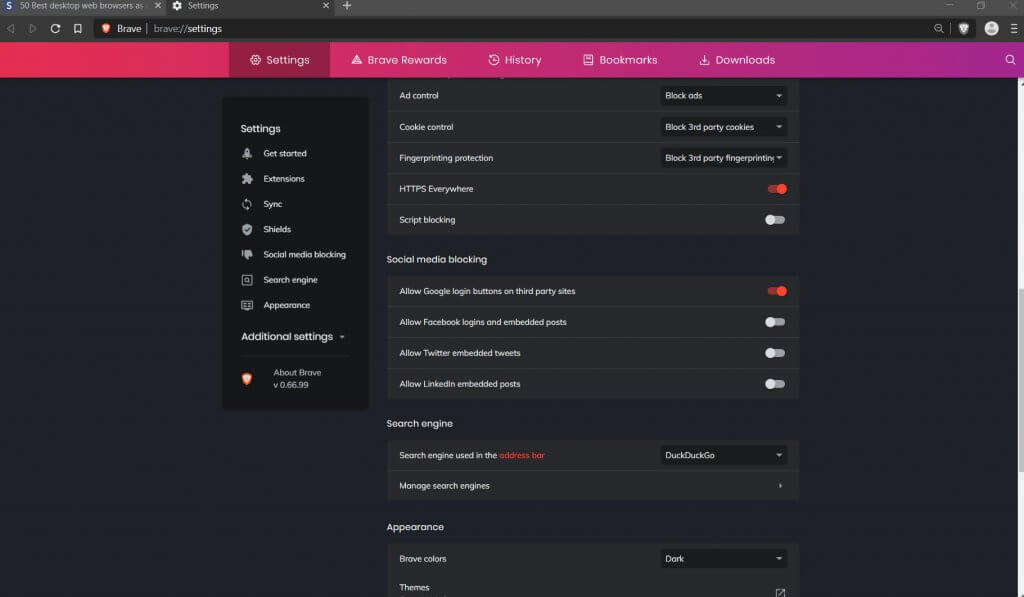 Brave Rewards is another interesting highlight of the browser that has taken up the approach to dismantling Google AdSense, by proving a new way to generate revenue for content creators.
It also allows users to voluntarily opt in to view ads and earn money in the form of BAT, which the users can then tip their favorite content creator.
Donations also can be set up for your favorite website to motivate them in providing you excellent content to read and explore.
User personalization for advertising is another reward that brave allows users to only see advertisements based on their local viewing history, only if they opt in to view advertisements.
By default, the system has disabled all means of advertisements for the users.
Features on Desktop
Brave is based on the Chromium framework, hence most plugins or extensions made for Google Chrome can be used in this browser. This helps you to easily migrate your plugin data which makes your life easy to the Brave browser.
Along with the portability Brave also has a great set of extensions that you can use. The WebTorrent extension is one such plugin that helps you to download torrents in your browser, without the need of a dedicated torrent client.
Though the functionality of the plugin is limited, it should solve your purpose, and in the long run also protect you from unwanted miners or adware, which brave browser effectively blocks off.
Other few extension that we loved was:
Google Hangouts allows you to receive notification and chat with your loved ones across tabs and continue your conversations while you browse or do any task over the internet.
IPFS Companion gives you the option to load content through the InterPlanetary File System, giving you the option to p2p file transfer or downloading a large file over a decentralized network.
A pretty unusual feature that we enjoyed is the ability to block social media snippets on the website that you visit. This allows you to get away from all the social media distractions and focus on your work. You can configure the settings for each account like Google, Facebook and prevent the loading of embedded posts from Facebook, Twitter, and LinkedIn.
Another interesting feature we liked is the Distill Page that removes away all the extra, fancy UI components and just keeps plain text, which is clean and easy to read. This feature is for more people that love to read content over the internet.
Features on Mobile
On the Brave mobile edition, we love the feature is you can convert an entire website or a specific web page into a pdf file. You can then read the pdf, more like offline viewing, in case you want to save data.
The PDF rendering from Brave is quite stable and efficient than most webpage translation mechanism. You can also do basic editing on the PDF file like adding annotations, adding a signature, etc.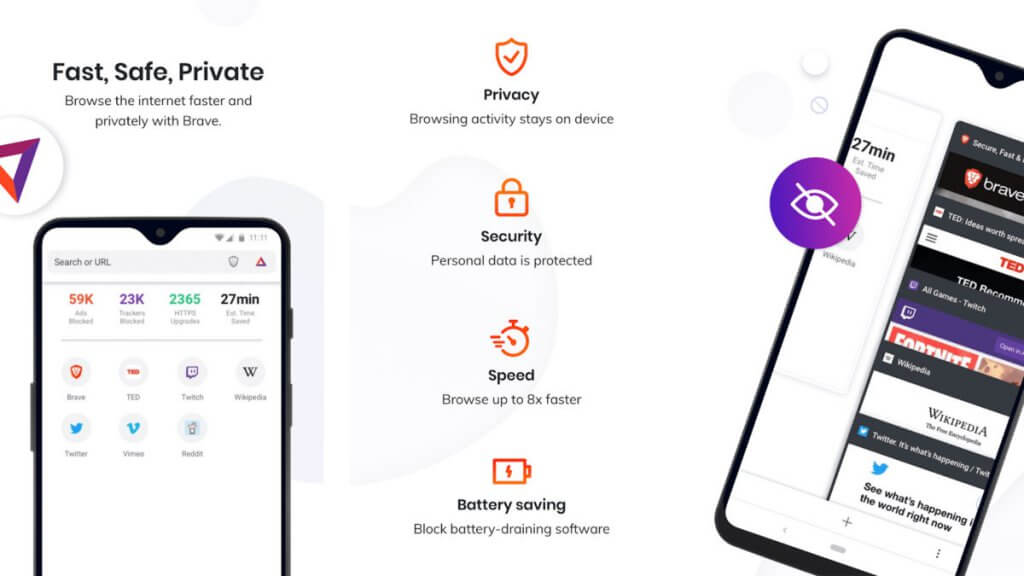 You also get the dedicated desktop mode like the Google Chrome to render a specific website in the full-fledged desktop edition of the web page, instead of the mobile one.
Finally, we get various search engines that can be added to both the desktop or mobile version of the Brave Browser, like Google, Bing, DuckDuckGo, Qwant, which is quite a decent and should be doable for most of our online tasks.
We also tried out the brave browser on our android tv box in Canada and the performance was unmatched. We really were surprised how well it performed on our Nvidia Shield.
Ease of Use
Brave is very convenient to use over the desktop and the mobile. It felt quite intuitive just like the many browsers used. The UI is quite sleek and is very responsive in navigating to each tab or to scroll through and across a website.
The UI of the browser is well-thought off bringing the right set of innovation in design for mobile and suits our taste.
On the other side, the user interface on the desktop just looks the same as we have on any Chromium-based browsers that we used, like Chrome Opera, etc.
You get the standard tabs on the top, next you get the address bar, including the navigation buttons and the settings icon.
You also the profile icon, Brave rewards, and the very specific shield feature. One of the features we felt we would have loved is to group tabs in a specific area, but we could easily pin a tab that we felt was important.
Coming to the customization part, you can easily go ahead and change the look-n-feel of the browser just like Chrome and you use any Google chrome theme on the Brave browser.
You also get to toggle between the light and dark mode based on the color scheme of your operating system.
On our mobile, the bookmarks, history and the settings option are at the top side of the menu, followed by the address bars. On the mobile version of brave, we found managing our bookmarks into folder was a very easy and pleasant experience.
We loved the Shield option, that can be easily be switched on to quickly disable all the ads, ad-trackers or quickly block any script that infringe your privacy. The setting is pretty simple with the On and Off toggle.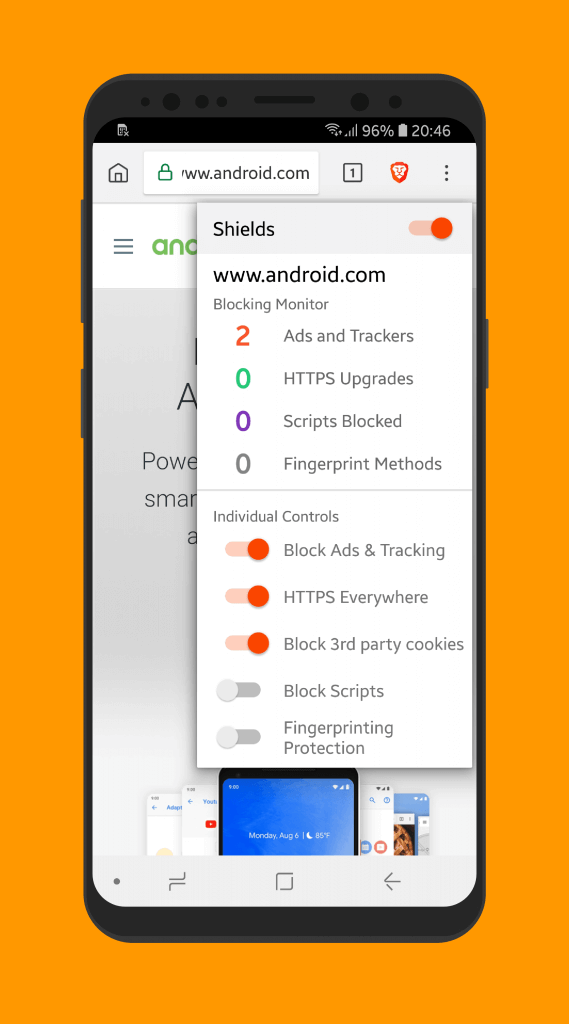 Another highlight is to activate the tab bar that comes just below the address bar. This is missing in most modern mobile browsers. You do not need to go into the menu to access your bookmarks. You can configure the bar to only show when in the landscape mode.
A great tip – just tap the tab menu button for a couple of seconds to quickly close all the open tabs.
Performance
Brave Browser is made especially for performance, oh boy, it is terrific. On the desktop, we found Brave could easily render webpages quicker than Chrome and Firefox a tad-bit slower than Vivaldi.
On the mobile, we found that the Brave browser was faster than any browser in the market across all devices and platforms.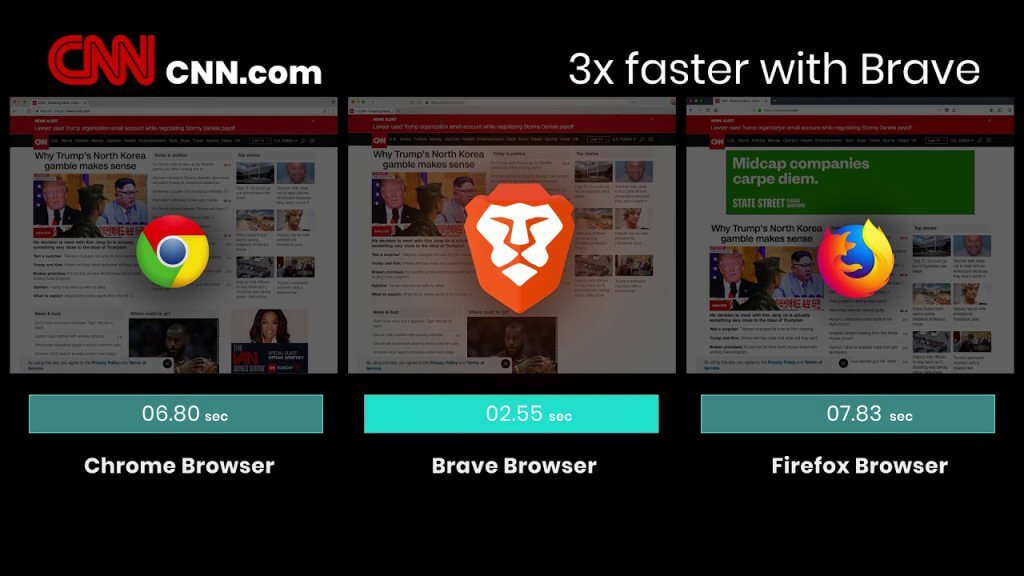 Brave Browser consumes far fewer RAM resources and does not burn your processor on most of the devices. We have seen in the past that most Chromium-based browsers like Chrome consume a lot of memory and processes which slows down our device.
We didn't find any such issue with the Brave, in fact on the mobile, we found that the Brave Browser consumed far less amount of battery power than most applications.
Even with a bunch load of android applications on our android kodi box, the performance of the brave browser was quite stable and didn't affect our medium sized configuration.
Security
Brave has transformed its most feature-offering towards privacy and security to protect your device from external intruders.
To make it easier, you get a one-click shield button that activates the shield protection and blocks adware, spyware, cookies, scripts or any ad tracking mechanism that intrudes your device.
You also get the option to force all website to HTTPS connection to help you conduct any transaction over secured means.
You can also control your security settings so that you can customize the security settings for each website that handles the tracking protection or blocking scripts or cookies, all this without any external plugins.
By default, the browser opens most websites using the HTTPS protocol that helps you prevent the sharing of any information with a server over an encrypted and secure connection.
If a website has the HTTPS not enabled on their end, Brave will show a NOT SECURE message for the website.
We also loved the in-build ad-blocker that prevented the loading of any ad popups or intrusive advertisements that block our content or force us to view ads without our interest to see your favorite content on a website.
This flag is very important to prevent malware or ad trackers.
You can also add a pin to your saved logins on your mobile and your desktop so that no-one can access your saved login data.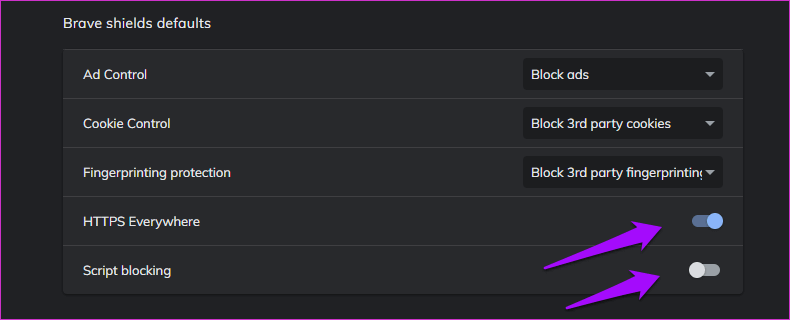 One of the features that are lacking is that Brave provides updates after every 3-4 weeks, where the updates on any Chromium browser is every 2-weeks.
But this is quite bad, and the current version is quite stable and secured against any cybercriminals available on the internet.
Brave also comes with the best-in-class Google Safe web browsing feature that helps to scan URLs you visit and warn you for any potential malware or phishing attempt by anyone.
We also view a lot of IPTV subscription services in Canada that want us to install streaming apps, but Brave does protect us against anything that isn't secured and we can continue to view our IPTV Service to watch USA channels without any issues.
Privacy
Unlike any Chromium browser that records and sends data back to Google, Brave is quite different as it does not collect any data and forward them to Google for any processing, which is quite good in protecting you from Google advertisements.
However, Brave does collect your data to help improve the service in blocking out adware or malware. Most of the data collection feature is disabled by default, including the Google Safe Browsing feature.
This feature is a trade-off between privacy and protection as this feature is powered by Google that analyzes every link you visit so that it can warn you for any unwarranted issue.
One of the best privacy settings is that Brave supports Tor. It does not give you any detail on which node you connected to in Tor relay or location, but it is more like a plug and play setup for anyone that wants to browse any website anonymously.
Brave is an advocate to free every customer from adware and trackers. And hence blocks any third-party cookies or services that try and access your browsing data over the internet.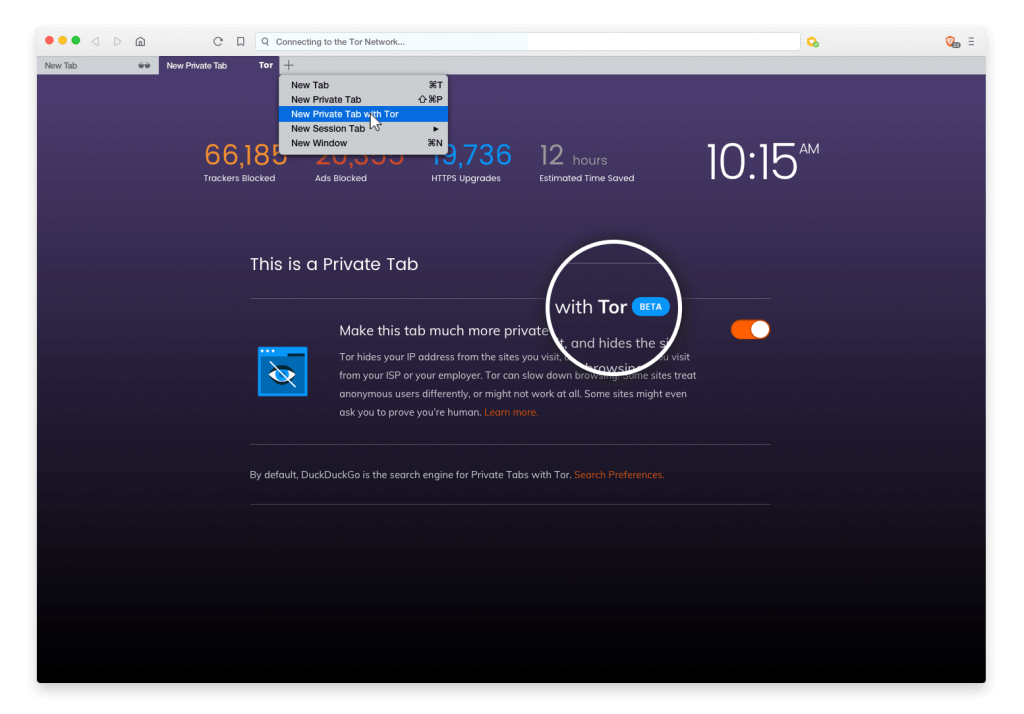 The shield feature is quite handy that can help activate or deactivate the protection feature easily because to view certain paywall sites, you need to turn off this feature.
Brave practices a mantra to never collect any browsing data for any purpose. It does collect safe browsing and prediction service data, but that too can be turned off, if you do not need them.
You can also opt-in for Brave advertisement a great program that allows you to view customized Brave specific advertisements based on your interests. You get a specific amount for every ad viewed and you can then tip your favorite content creator with the amount earned.
Here too, any data collected or processed is all done on your local machine and never leaves your system.
The Verdict – Best Privacy Browser 2020
Brave is surely a well-deserved and well-oriented browser that is easy to use, coupled with great performance, superb security, and privacy options. Though the updates may be slow, the browser does deliver quite well in all the areas needed during web browsing.
To read more about Brave Browser, see Brave Browser – Wiki Page and for more news and updates, see Brave Browser – Official Blog.
---