This post will explain to you the easiest trick to watch the entire Harry Potter movie collection for free and legal in Canada. You do not need to go to any scam sites that are filled with malware or spyware or need to provide your credit card information.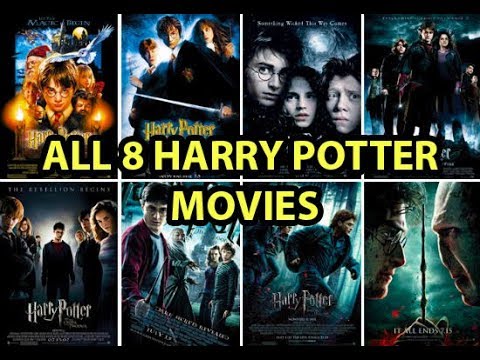 Harry Potter series has been the most-watched films in the history of film-making for kids and family and one of the excellent source of entertainment in today's time.
The Harry Potter movie collection is the most loved entertainment series in the world, specially during the Christmas holiday season where you can watch the movie with everyone, including kids.
To make your streaming experience more special, we have discovered this method that allows you to watch or stream the entire Harry Potter movies directly on your TV or even your mobile or tablet.
We'll be using Peacock TV to access our daily dose of Potter movies with minimal advertising for free, that is right, you do not need to even provide your credit card information.
You just need to sign up using your email and watch your favourite harry potter movie on the device of your choice.
If you looking for an IPTV service, you can check: Best IPTV Subscription Providers Canada Reviews
Let's quickly see the steps.
Watch Harry Potter (Entire Collection) for Free in Canada
Before you begin, you need a VPN, any VPN will do, but a paid VPN will be better as the streaming experience will strong enough for our internet connection.
Like we said before, Peacock TV is an exclusive service launched only in the USA, and as of today, the service won't work directly in Canada. But it is completely possible to change your IP with a USA IP using the VPN and then access the Peacock TV app.
The Peacock TV service will work directly on your computer or through the Android, Apple TV or Roku app. We prefer that you use the dedicated Peacock app on your device as many VPN providers have dedicated VPN apps that you can use.
You can read more informtaion about Android apps here: Best Android TV Box Apps – Canada Edition
You can find the various apps provided by Peacock TV on here: https://www.peacocktv.com/help/article/what-devices-and-platforms-are-supported-by-peacock
In case you find difficulty installing the app, just activate your VPN in the USA server and then visit the app URL to install the service.
You can also download and install the Android app, then move to the next steps to configure the app.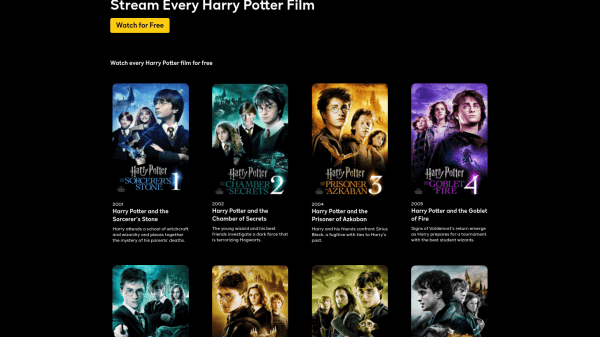 For simplicity of the steps, we can assume that you have installed the app on your device and have the VPN app ready too on your device. If you are using your computer, you do not need the app, just the VPN app should suffice.
IMPORTANT UPDATE:
This VPN trick to watch the Peacock TV service in Canada, only works on your browser using your desktop or laptop. You can also download and side-load the Peacock tv app on your Amazon Fire TV Stick, Android TV Box or your Android Tablet.
This trick will not work on Apple TV devices or on Roku (You can however use the casting feature to cast app from your phone to Roku, See post for more info: How to Setup Canadatv Roku Channel on Roku Device)
You can access the Peacock TV service for free movies and TV series at this URL: https://www.peacocktv.com/
Activate the VPN on your device and connect to a server in the USA. Select a popular city like New York.

Then open the Peacock TV app or the Peacock TV URL: https://www.peacocktv.com/

Click or Select Sign up for Peacock for Free.

Sign up for the service with your email address and your password.

You will receive an email confirmation. Go to your email and confirm your email.

With this your account is confirmed and verified. Then personalize your account, you can do that later as well.
Finally, go to Movies. Select the Harry Potter Collection.

Select the specific Harry Potter Series you want to watch.
The movie should start playing for you.
Keep your VPN active at all times while you watch the Harry Potter movie.
Which Harry Potter Movies are free to Watch from Canada?
As of writing of this post, you can watch all the Harry Potter movies for free on Peacock TV. The following Harry Potter series you can watch for free:
Harry Potter And The Sorcerer's Stone (2001)
Harry Potter And The Chamber Of Secrets (2002)
Harry Potter And The Prisoner Of Azkaban (2004)
Harry Potter And The Goblet Of Fire (2005)
Harry Potter And The Order Of The Phoenix (2007)
Harry Potter And The Half-Blood Prince (2009)
Harry Potter And The Deathly Hallows Part 1 (2010)
Harry Potter And The Deathly Hallows Part 2 (2011)
What's the Catch to watch free harry potter movies from Canada?
There is no catch or any hidden option to watch the movies collection. Peacock TV is a real and legal streaming service launched by NBC in the USA and have plans to expand the service in Canada soon.
For now, the VPN trick should help you to watch the collection. The free version of the app will show advertisements while you are streaming, but during our test, while watching the harry potter movie, we only experienced about 2-3 ads in the entire 2 and half hour movie watch time, which is incredible and excellent.
You can also sign up for the premium Peacock TV service options that will allow you to watch movies without ads with much more collection. Fortunately, the Harry Potter series is available to watch for free on their service.
What is Peacock TV? Can you watch Peacock TV in Canada?
Peacock TV is an all-new free + premium US-based video on content service, launched by the NBC group, that allows you to watch live tv, including news, live sports, and various popular TV shows, like 30 Rock, Two and a Half Men, The Capture, and more.
The service is only available in the US and Peacock TV is not yet available in Canada. But you can use any VPN service, connect to a server in the US and access the Peacock TV app to view the latest streaming content.
Few FAQs on Peacock TV Services for Canada
Can you watch Peacock TV in Canada?
We have already covered the question above. Just to quickly summarize again.
If you try to watch Peacock TV in Canada, you will get the following error: "This service is unavailable in your region". This error is because the service has not been launched in Canada yet due to the content geo-restriction policy. You can however use the VPN process and access all content on Peacock TV from Canada.
How to stream media content on Peacock TV?
You can use all the popular streaming devices to watch the Peacock TV service, including Windows, Mac, Linux, iOS, Android, Apple TV, Roku, Firestick/Fire TV, Xbox One, PlayStation, Vizio, Samsung, and LG Smart TV through the official website or use the specified Peacock TV apps. You can also watch Peacock TV Canada using Chromecast or on devices that have a built-in Chromecast feature.
Is Peacock TV service free in Canada?
Peacock TV is legal and free to use without entering your card information. Most of the content is free to watch in Canada. You just need to content using the US VPN server and access all the geo-restricted content. There are also paid plans that you can opt for if you wish to have more content without advertisements.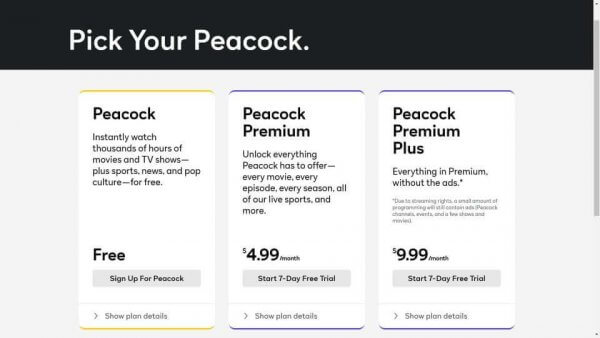 Where to Watch Peacock TV in Canada?
Use any popular VPN service such as ExpressVPN, NordVPN, and PrivateVPN and connect to the US server to access all entertainment content on Peacock TV outside the USA.
Conclusion – Peacock TV For Canada
Till Peacock TV launches in Canada, you will have to use the VPN trick to watch the entire Harry Potter movies collection from Canada for free with few ads or subscribe to the paid option on their website.
If you subscribe for the paid option, be ready to pay in USD which also includes international charges on your card.
Related Reads:
---