This post talks about the Dazn Canada Review, which one of the most sought sports streaming services in Canada.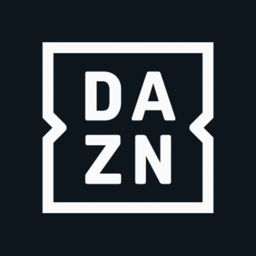 Everyone has heard of Dazn Canada. We have been paying the endless amount on cable TV service to watch our favorite sporting events. The cable cost is ever increasing and we have also cut the cord to only be limited to the channels we watch.
But we all feel the need to watch our favorite sports in action, which does not need to be very expensive and which is affordable for our limited sports viewing.
That's where we introduce Dazn service, a sports-focused streaming service that is quite affordable and brings back the excitement for watch any sporting event back to our life.
We have thoroughly reviewed the Dazn Canada service to see how Dazn ('da-zone') performs well in the live sports streaming category against those IPTV providers services in Canada, or even the more stable cable TV service.
Let's quickly dive into our Dazn Canada Review and see the results of the service.
The following article contains the following section:
Introduction to Dazn – Live Sports Streaming App
Dazn is an internationally renowned sports streaming service, based in the UK and is owned by the leading media group – Perform Group.
The primary focus of Dazn is to provide audio-video streaming services to customers across various countries like Austria, Germany, Japan, Switzerland, the USA, and Canada.
Dazn is a completely legal service and has exclusive deals with various sports leagues and brands from around the world to stream their sports games through their streaming app.
At present, you can watch over 8000+ sporting games throughout the year for all regions supported by Dazn.
The following section talks about the various sporting events supported by Dazn. Note this list is directly from the website and may change with time.
American Football – NFL Network
Baseball – MLB Network
Golf – PGA Tour
Tennis – ATP 250 | WTA
Basketball – NCAA, FIBA (International Basketball Federation)
Ice Hockey – KHL
Motorsports – MotoGP, MotoAmerica, SBK
Rugby – Six Nations, Pro 14
Cricket – Elite International Cricket Tournaments
Darts – PDC
Soccer – MLS, UEFA Champions League, UEFA Europa League, Premier League, La Liga, Copa Del Rey, Ligue 1, Coupe de la Ligue, Coupe de France, Serie A, EFL cup, FIFA World Cup Qualifiers
Other – Boxing Fights, Commonwealth Games, Snooker, Wrestling
Why you need to pay for a sports streaming service?
We all know that free live sports channels on the internet can be difficult to find. Even if we find them the streams will be in video quality that just spoils the viewing experience.
Additionally, you get a lot of advertisements and spyware on these websites that can infect your computer. The ad offers can get so worst that you end up watching an advertisement more than the games playing.
Also with many people viewing these free live sports events, most of the time the games will freeze or buffer to the maximum.
The need of the hour is to pick a paid streaming service that allows you to view your sports event in crystal clear video quality with minimal adverts, thus saving you money and helping you enjoy your gams completely.
Dazn has setup up its offering and is one of the most-watched live sports streams apps in Canada for everyone's sporting needs.
Why choose Dazn?
One of the important factors here is that Dazn Canada is a completely legal service and has all the necessary licenses to bring you the sports to your television.
The subscription cost for Dazn is also very cheap it is one-forth of the cist that you pay for your cable subscription.
DAZN just offers you a bare minimum service, unlike IPTV service you have to pay for the complete package that you may never watch.
DAZN just brings you the latest live sports events to your television of any device to be streamed across over the internet through their app.
The starting cost of CA$20 per month which is cheaper than any IPTV service provider in our list here – https://www.wittyedge.com/iptv-subscription-providers-canada/
You can opt for the yearly cost of Dazn that is around CA$150 per year, which you can split amongst your friends and family and all of you guys can enjoy the games all year round, without missing them.
Get Dazn Free 1-month Trial
Before testing any of the streaming services, we have always written in our blogs, is to test every service without any commitment or money to understand how the service works for you.
Though the server and your internet connection may be adequate for the streaming needs, various factors can hamper your streaming quality and experience.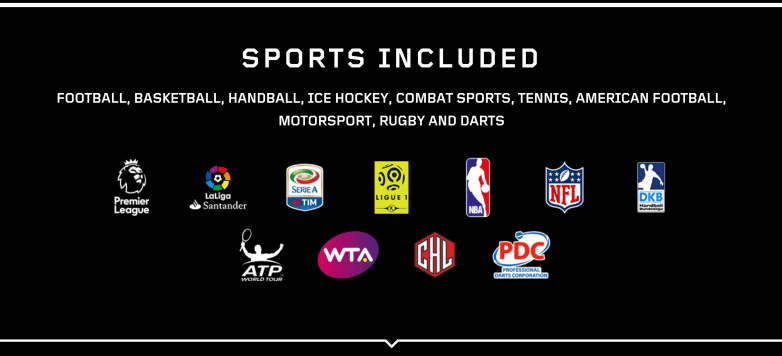 Dazn Canada provides an extremely genuine and fair 1-month trial service that you can enjoy to see how the service works throughout the month.
The trial is a full-fledged version of what you will get in paid plans. However, the trial requires you to have a valid credit card to authorize the trial, which is similar to Netflix follows so that no one can scam the system and bypass the servers.
To sign up on Dazn is quite easy. Visit https://www.dazn.com/en-CA/welcome/, and sign up with your email and password, next you need a payment method to verify the trial. They accept credit cards or PayPal account. You can also use their streaming app to sign up with their service.
Here are a few guidelines to follow during the trial signup:
Dazn provides a 1-month free trial, which means it will not charge your payment method during the first 30-days. However, once the month completes, it will immediately charge your card for the month. So remember to save the expiry date of the trial and remember to cancel your subscription within the expiry, if you not happy with their service.
Always use PayPal as the most preferred way of signing with any streaming app for security reasons
Use an easy to remember email and password so that you will find it easy to enter them in your streaming device, but always follow Dazn password guidelines so that your account does not get hacked.
How to use Dazn Canada App?
DAZN can be used on any device, even through the browser. You can also install the Dazn app from the app store for your supported device.
Next sign in to your Dazn account with your registered email and password, and then proceed to watch your live sports on your TV through the streaming player or on your smartphone or tablet or your PC monitor or Smart TV.
You just need a decent high-speed internet connection that helps you to streams any live TV sports within Canada. Try and avoid VPNs as Dazn have a tendency to block VPN access.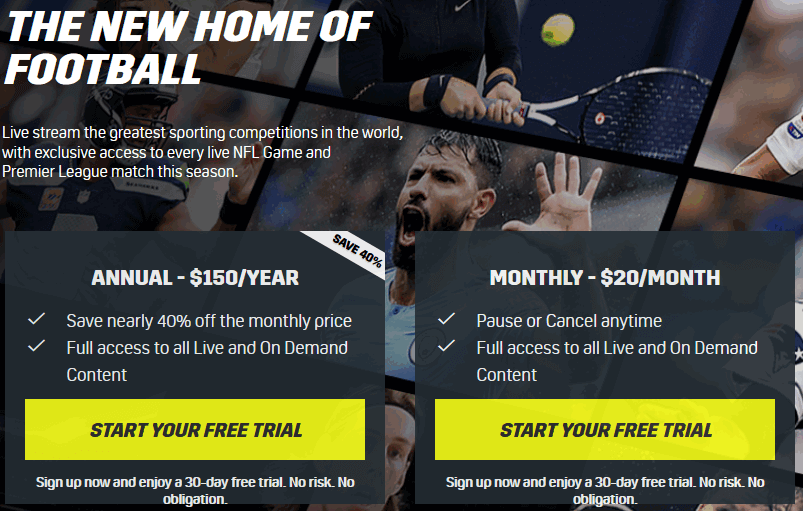 Based on our experience, we list a few tips that will help you in using the Dazn app more easily.
Do not sign out from the app, as you will have to re-enter the email and password information again to view the events. You can simply exit from the app.
On any streaming player you use, you will get frequent notifications from Dazn telling you when a new sporting game is about to start, preferable on your mobile device.
There is an option on the Dazn app on your mobile device to cast live games to a streaming or casting device connected to your TV.
Dazn app also works on the Roku streaming player which is a plus point for anyone wanting to watch streaming content on Roku
Avoid downloading or using the internet network, while watching a game. This will reduce your experience with the Dazn app and cause the video quality to reduce and cause buffer or freeze, additionally causing lag to the live games.
Dazn Compatible Device
DAZN works well on the following devices that we tested so far. You can still explore many streaming devices to choose from.
Desktop PC
iPhone/iPad
Android Smartphone/Android Tablet
Roku streaming player
Android TV Box
Amazon Fire TV Stick
X-Box
Our Dazn Canada Review
If you looking for an Best Android TV Box Canada or Best Android TV Box Kodi Canada Edition, do read the above posts for more information to stream the Dazn app much better.
Dazn Canada app is divided into categories in the app. One that channels that show the live games that are currently running or the upcoming games, depending on the live sports scheduled in Canada or across the world.
The most-watched live sports channels available for Canada are the NFL Network, MLB Network, and beIN Sports. Additionally, you will get access to the PPV events when a UFC game is running.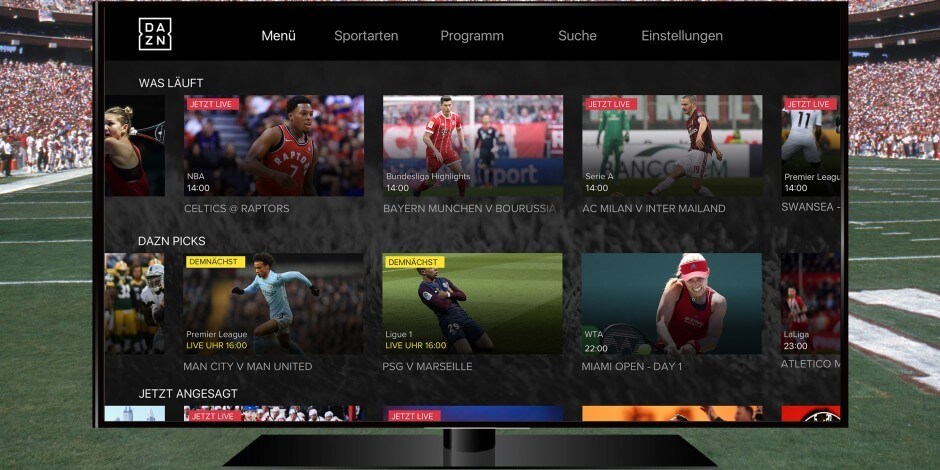 The other section has a huge collection of pre-recorded games that have occurred in the last during the last year.
One of the highlights of the Dazn app we loved was that even during the live games, the shows were being recorded. So you can easily rewind and see any of your favorite moments of the games.
You can also replay the games even the ones that are in progress.
The recorded section was structured and offered various choices like we wish to watch the entire game, highlights, or a few important moments of the live sports game.
A tip here is to see the condensed version of each game like the highlights with commentary walking you through each moment in the game.
The Dazn app menu was simple and fluid to use. As soon as you login you can see all the live games under progress or about to start on the main screen.
You can quickly switch to the Schedule screen to watch a complete chart of live games that are due in the next 14 days in advance.
Overall the app is completely user-friendly, but we did have issues navigating through the timeline while watching the recorded games. We were unable to skip or go the exact moment of the game through the remote.
But once we got a hang of the setup, we were able to easily use the application.
Dazn Canada Video Quality Review
One of the major pointers that come for any live streaming app is the video quality during the games. We are already anxious and excited about the games that such hiccups like freezing or buffering can kill any excitement that we have.
Unlike any free live sports entertainment channels or an IPTV service, Dazn is a legal service provider and has invested heavily in ensuring that they have adequate capacity like software, hardware, network, and stream encoding technology on their end so that they can support millions of users watching a game during prime time.
DAZN ensures that each video stream content from their server is encoded for every network, that is in case your ISP starts to throttle internet connection due to increase demand, then the Dazn app quickly shifts or downgrades the video quality so that you do not miss any action of the games.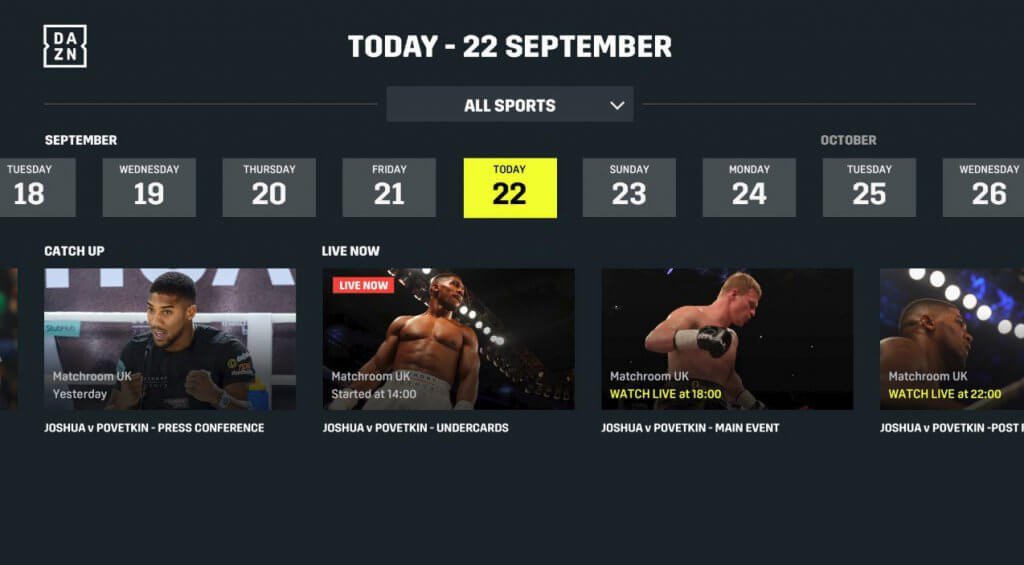 Once the network stabilizes, the app automatically reconnects to the video quality for your network.
The following are the results we found while testing a sports event through the Dazn app in Canada over 30 Mbps download speed. Yes, we did the test on a lower but adequate speed to fully see how Dazn performs for us.
All streams we played on our streaming player was completely smooth and loaded very quickly.
Every sports channel we played was in full HD and made specifically for our network, be it live or recorded games.
We didn't experience any buffering during prime time, even on our least powerful internet. Like we said, our network would drop during the demands, but we didn't get any freeze or pause. Just the video quality degraded for a few moments, till our internet got stable again.
Finally, the games returned to its original HD quality once the network came back to its original speed.
The Dazn app's UI was clean and easy to navigate. The app loads quickly and even a senior could easily start up any game from the app.
On an average, most sports channel would begin to play within 2-3 seconds on a pre-load cache like YouTube streaming. Once it loads, the streams would automatically adjust to the HD quality based on our network speed.
Dazn provides support for up to 3-device with the same subscription, and each device we tried ran smoothly and simultaneously on each device, making an apt streaming service for multiple user usage.
To further test the video quality, we tried downloading a movie to see if that affected the streams. We played a pre-recorded game, though the show took a few minutes more to load, the streaming quality was solid and didn't stop in between playing.
Overall we loved the Dazn app and it didn't interrupt our viewing experience while we watched our live game. Though a few hindrances are expected through the network, Dazn has done a great job to fallback or degrade gracefully so that we do not miss any minutes in the game.
Our Verdict – Dazn Canada Review
Dazn app has impressed us during the trial we had with them. Dazn offers a one-stop platform to view your NFL, MLB, PGA, Tennis, and Soccer games from around the world.
Dazn has signed exclusive partnerships with various sporting leagues to stream sports content across various games to people in Canada. They plan to expand more in bringing more content to everyone.
One of the biggest drawbacks for Dazn Canada is that it does not offer any games from NHL and NBA that has strictly been with the SportsNet channels all this long.
Also, even with multiple sporting actions, you can only be able to watch limited games from the NFL and MLB areas and it does not stream all the games on the app.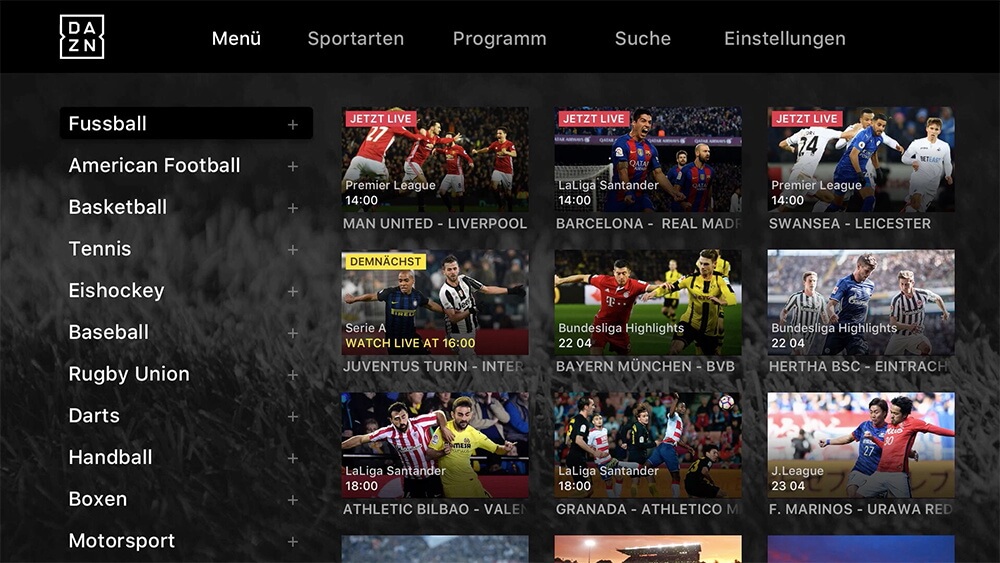 The video quality and service through Dazn streaming app was really good. The live streams including the pre-recorded games played extremely well even on the mediocre network that we had.
The streams were in most duration in the HD format and would degrade gracefully based on our network connection.
Dazn app worked well on 3-device simultaneously connected on the same network. The load time for each game on the apps was quick and we didn't experience any buffer or lag during the prime time games.
One thing we aren't sure that if the Dazn app would work well on internet connectivity that is of low bandwidth as we saw that the stream quality would significantly get poor if the internet speed dropped below 10 MBPS.
Nevertheless, if you are a fan of soccer, football, baseball, tennis, golf, or cricket games, then you need to try the Dazn app for your sporting and entertainment needs.
The month costs about CA$20 for a month or CA$150 for a year, which is quite a bit of saving at CA$12.50 for the month, making it a decent buy over cable subscription to watch live Canadian sports channels.
Finally to conclude, ensure you buy a decent and high bandwidth internet package from a reputed provider that will allow you to stream content over the internet much better. And, take the Dazn Sports app for your streaming needs, making Dazn the best streaming app on our Dazn Canada Review post.
Pros – Dazn Sports App
Value for money sports streaming serice that is much cheaper than cable subscription
You get get free trial for one-month to explore the service before buying
Simple and easy to sign up process
Streams available in HD video quality
Buffer-free or no freeze streaming when internet is fast
Sports from NFL, MLB, MLS, soccer, PGA, tennis, cricket and more
Allows to stream across multiple devices simultaneously
Easy to use and navigate Dazn streaming app, available for most devices
Ability to send notifications about upcoming games through the dazn app on the mobile device
Provides to watch replays during live games
Have the option to watch live games or highlights or condensed games for quick binge watching
Strong schedule guide available for upcoming games, up to 14 days in advance
Sports channels are available to view anywhere in Canada through WiFi and mobile data
Cons – Dazn Sports App
Yearly option makes it more affordable, but the monthly pricing is too steep, given the fact the popular games do not run throughout the year
games from NHL and NBA are not available
Limited 24/7 sports and PPV chanenls
Commercials still available on the live streams, making it sound almost like cable subscription
Streams may degrade to lower quality based on your internet connection and setting
Live sports channels tends to buffer or freeze if low internet speed is detected on the network
You need a streaming device to cast or stream content on your TV. You can use your mobile device. The streaming or casting device needs to be purchased separately
DAZN streams specific to the Canada region may not work outside Canada
Dazn can put a lot of stress on your internet plans. So you need to upgrade your internet plan accordingly for your streaming needs.
---