This post talks about one of Canada's oldest internet service providers – Altima Telecom Review and helps you understand the various services that Altima offers under its portfolio.

Altima Telecom provides a wide range of services for personal business needs like home phone, internet, and TV service. All the service portfolio under the Altima group is quite famous in Canada.
Let's quickly dive into our post below and see how Altima performs in its main service offering.
Introduction to Altima Telecom
Altima Telecom Service is Canada's leading telecommunication organization that internet and telephony services to customers in the personal and business categories across the country, including Quebec, Ontario, Alberta, Manitoba, and British Columbia.
Altima provides residential telephony service and tech-focussed communication services such as high-speed internet and digital internet-powered television services.
Altima Offerings
Altima provides the best communication service for the people at the most affordable cost.
One thing we loved about the products offered by Altima is that you get a combined combo for your internet, telephone, and television service, as a bundle, thus helping you save a lot of money.
Primarily the 3-major services offered by Altima are:
High-Speed Internet
Digital Phone Service
Internet TV Service
We will quickly cover each of the products in detail in the following sections below.
Altima Telecom Internet Review
Altima Internet service is one of the best we tried in Ontario. The internet connectivity through the newly developed fiber-optic service is superior and the need in today's network drop.
The few benefits of Altima Telecom Internet service are:
High speed internet speed starting for 15 mbps
High definition streaming quality service
Free installation with any selected plan
Unlimited data usage on any plans you choose
One of the best features of the Altima Internet service is the WiFi-based routers provided with the service that is very much capable of high-quality buffer-free streaming service.
The WiFi routers provided by Altima Telecom run on the latest 802.11ac technology, with dual-band coverage support to avoid network interference and great coverage for all your devices in your house.
The most economical Altima Internet plans starts from the 15 mbps plan for normal usage:
Month Fee: starts CA$39.99
Free: No shipping, No installation fee & No Setup fee
Speed: From 15 Mbps to 250 Mbps downloads and 1 Mbps to 10 Mbps upload
Monthly usage: Unlimited
Altima has recently started the fiber optic plans. Fiber Optic provides less network packet drops and is completely stable for any streaming needs, but the internet speed on the fiber optic FFTN network is a bit slow.
For overall and better streaming service, choose the traditional cable internet service, as you will get maximum internet speed which is a must for your streaming needs across multiple devices.
You can check our post Get Free & Legal Android TV Box Channels Canada | Best Android TV Box Apps – Canada Edition for stuff to do over the internet for your entertainment needs.
See the plans below:
Fiber Optic Internet
15 Mbps Down, 2 Mbps Up at CA$39.99 monthly – Through Fibre Optic
25 Mbps Down, 10 Mbps Up at CA$42.99 monthly – Through Fibre Optic
50 Mbps Down, 10 Mbps Up at CA$44.99 monthly – Through Fiber Optic
Cable Internet
30 Mbps Down, 5 Mbps Up at CA$39.99 monthly – Through Traditional Cable
75 Mbps Down, 10 Mbps Up at CA$49.99 monthly – Through Traditional Cable
100 Mbps Down, 100 Mbps Up at CA$39.99 monthly – Through Traditional Cable
150 Mbps Down, 15 Mbps Up at CA$59.99 monthly – Through Traditional Cable
300 Mbps Down, 20 Mbps Up at CA$69.99 monthly – Through Traditional Cable
The above cost does not include taxes. You will be charged additional tax over and above the internet plans.
One of the things that we didn't like was you need to pay rent for the internet WiFi modem. You can either pay a CA$5.99 per month or buy the modem at CA $100 or pay CA $10 per month till you own the device.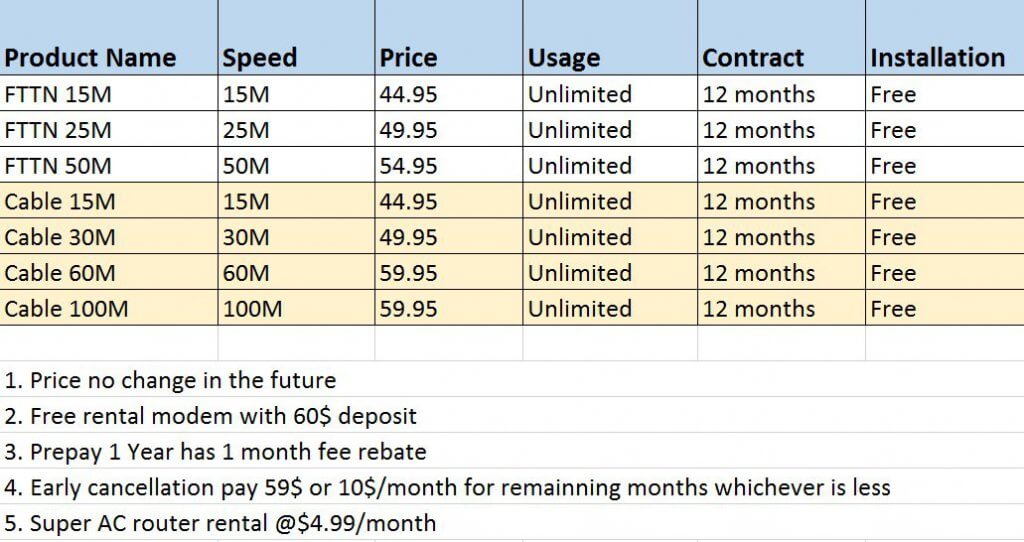 Another negative point is that there is an activation fee CAD$59 that applies to the plan. You can waive that fees if you prepay for a year of the internet plan.
Also, there is a one-time CAD$9.99 fee for shipping the modem to your address.
Additional to the above cost, you also get a 50% rebate on the activation fees, if you are migrating from Bell internet service.
For some reason, the entire pricing is quite confusing, but the online website gives you a complete breakdown of what plan you intend to buy.
You can buy direct from the online store at https://altimatel.com/shop/internet/ or call (514) 800 2266 for any sales inquiry.
Altima Telecom Home Phone Review
Altima Telecom also provides a home phone service that costs about CA$9.99 per month, which you can couple with any internet plan that you from the Altima service.
We covered a review on cheap VoIP service .
Similarly, Altima Home Phone service has the same list of features such as:
Unlimited calling and receiving service for anyone and anywhere in Canada through the voice over internet service
Free Caller ID facility to see who is calling you
Free Call waiting for service to notify someone calling you that you are on another call and allow you to put the first call on hold to attend the other call
Free Voicemail service to save up to 100+ voice messages to hear any message that someone has left for when you couldn't answer the call
Phone number porting service that allows you to keep your existing phone number
Free 911 emergency service over the phone number
We tried the VoIP service provided by Altima, and the calls were very crisp and of high quality. Again VoIP calls can be unreliable as it depends on the power and internet.
Negative again we found that the pricing gets too confusing as well. There is an extra cost of CA$4.99 for the phone adaptor. An additional cost of CA$9.99 as shipping & handling charges for the delivery of the phone adaptor.
You also need to pay a one-time CA$9.99 for porting your existing number to the Altima Home Phone service.
For some reason, the cost goes to CA$14.99 which again gets confusing. If you are looking for a descent and more professional VoIP service, you can read our post: Read: Fongo Review Canada 2020 – Cheap VoIP Service
You can buy the service online: https://altimatel.com/shop/home-phone/home-detail/?product=phone
Altima TV Service Review (Kino TV)
Altima has an IPTV service that you can subscribe to along with the internet package you buy from its website.
You can buy the Kino TV service along with the internet plan as a bundle giving you a CA$10.00 rebate on your complete plan.
Or you can simply buy the Altima IPTV service without internet service.
Additionally, you need an STB box that you used with your TV service along with the internet. You do not need any additional streaming device, which again seems like a negative pointer.
You can also see our post on https://www.wittyedge.com/best-android-tv-box-canada/ for more STB boxes, for your internet TV.
There is a rental cost of CA$4.99 per month, plus an additional CA$9.99 as shipping and handling charges.
The good part of the Altima TV service is you can choose the theme for your IPTV needs. You can choose from Music, Fair Child, Talent, Sports, Family Fun, Kids, and Entertainment.
Altima TV provides the following plans:
Altima TV Basic Plan – CA$19.99
Altima TV Basic + French Plan – CA$29.99
Altima TV Basic + English Plan – CA$34.99
Altima TV Complete Plan – CA$54.99
One thing we loved was the Altima TV service bundled with the Altima Internet service makes a great code-cutting option where you get a huge list of channels in the HD quality including locals CBC, CityTV & CTV, plus sporting entertainment.
You can buy a TV subscription on this link here: https://altimatel.com/shop/tv/
If you plan on looking for an IPTV service provider, check the following posts on more details:
Review/Feedback – Altima Telecom Home Phone, Altima Telecom Internet
We have sourced the internet to bring to you complete review feedback from various users on how they feel with the Altima service.
Positive Altima Telecom Review Comments
Rollan Zuniga
I have been using The Altima Telecom service for more than 2 years now and I have always been happy with their service. Though you may face a few disruptions, the technical and customer-care department has never disappointed. They have always been on top of things, whenever you need them. Thanks to the entire customer service team for excellent work on keeping the network going strong.
Steven Wilson
The internet speed provided by Altima has always been consistently good at 75 download and 10 upload speeds. The service would fluctuate between 68-72 Mbps (down) and 8-10 Mbps (up), but was stable and rarely went down. However, I do feel that the support needs to improve on the service they provide, given that we are seniors and have less technical knowledge.
Debra Jones
My previous Bell internet was not performing well, and with the sudden price rise, I was not satisfied with their service. A friend recommended me Altima Internet services and like I am happy and content with the internet and home phone service. The cost too isn't that expensive and hasn't increased for a year now. Thank You!
Walliyullah Ghanem
I'm using Altima's service for high-speed internet and TV service for over a year now, and I'm thoroughly satisfied with their service. The speed and their product are quite stable.
Altima provides the best internet service in Canada, I'll recommend their service to my family and friends.
Wen Yuan
A few days ago my internet router simply stopped working. No matter what I tried the adaptor failed to function. I spoke to the support on this matter. They were very concerned and offered me all the possible options to fix the issue. But it didn't work. And, I asked for a new router and immediately they processed my request and have received my router today. Really happy with their service and support. Finally, I was happy to use my internet service. Keep up the good service always.
Gabrielle Snowball
Altima's customer support has always been phenomenal. I had spoken to a support agent on the phone to share the issue with my device and to enquire about a new plan for my TV and internet. She carefully listened to my problem and was on it to troubleshoot the issue. She put me on hold a couple of times but was always responsive to give me thoughts that she was active online.
Finally, she rectified the issue and within minutes I could reconnect with my service. She also provided instruction and guidance on the new plan and how to opt for the plan. I also got a discount bundle on my current subscription. Great job guys.
---
Negative Altima Telecom Review Comments
Randolph Dismukes
I am a client with Altima for more than 4 years now. Their service had no issues and the internet connection has always been great. Suddenly, a few days ago, their service has been changed. I had made payment for my plan, which they confirmed that they haven't received it, even though I have an email confirmation for the payment made to them.
The payment was automatic and authorized for my card. But they seem not to answer or communicate over the support. I have no internet access due to non-payment and my service is down. Do not trust these guys.
Kristen Pooler
Altima Telecom Services has the worst customer service that I ever witnessed. I'm trying to their customer for a few days now, but I have always got disappointment in return without any service.
I had purchased their FTTN 50 deal service through their website for which I paid $18 for delivery and other charges. The next day, I received mail and call stating that the service is not available in my zip code and would require to sign up through Bell as the partner. This was a really strange response and wasn't communicated through their website either. They didn't get back to me about the charge made to my card. Finally, after making a call again, I was refunded the $18 back to my account.
I quickly moved to a new provider after this incident. After 2-3 weeks, my card was debited with $11 payment. I was puzzled and called the support as to what the payment was as I wasn't a customer even. The support said that my card was still active in the system and with the auto-debit mode on, the payment was debited. They apologized for the issue but didn't provide sufficient response as to how I was charged as I wasn't an active customer. The support said they will refund the amount and delete my card information.
Still, I haven't received my refund amount, also I'm now very skeptical to enter my card details on their website. You never know when you will be authorized for payment. I hope they improve their service.
---
Summary – Altima Telecom Review
Altima Telecom offers the best telecommunication service in the form of internet, television, and home phone service.
The quality and technology used by the company are really good, and we faced no issues with any of the services. Each was crystal clear and crisp and worked well for most of our needs.
The major issue is the pricing that isn't clear and involves a lot of hidden costs. You need to talk to the support for a better understanding of the product you buy.
All in all the service is good, and do try the Altima Telecom Internet service for better IPTV streaming needs.
---