This post will provide you great insight into the two most used streaming platforms that we have available in today's technology age – Apple TV vs Android Tv Box Canada Edition. Both the platforms are quite famous in Canada for their superior streaming capabilities.
Our post will help you make the right decision to select the best streaming device that supports 4K screen resolution with HDR quality for your television. We will compare the Apple TV 4K device and a popular Android TV box for their specifications and see which is better for your use.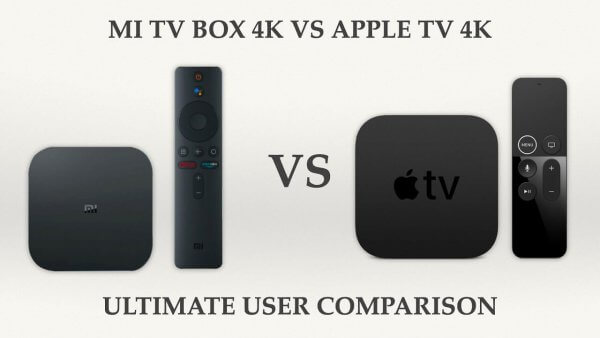 For our comparison and competition with the Apple TV device, we have the very popular Android TV Box – Xiaomi Mi Box that will be head-to-head to compete with the Apple TV device.
The Xiaomi Mi Box a very popular and similar to the Apple TV 4K device in Canada in terms of specifications, quality, and performance.
In our previous posts, we have already covered a detailed review on both the devices:
Both devices are capable of transforming an ordinary TV into a smart one, as well as ensuring access to 4K resolution and HDR content. The two devices meet the same needs but come with different platforms and more important – the pricing.
On one side, Apple TV 4K invests heavily in the integrated user experience of Apple's systems and services. On the other, Xiaomi focuses on Android TV, with a much lower price point than its rival.
Are you in doubt about which one to buy?
Below, we analyze the similarities and differences between the two products for you to find out which one is ideal for your use. And select the correct platform in our war on – Apple TV vs Android Tv Box – Canada Edition.
Related Reads:
Specifications
In the technical specifications corner, the advantage is with the Apple TV 4K device. Apple's device features an A10X Fusion processor, has 3 GB of RAM, and can be purchased in 32 or 64 GB data storage variants.
The Xiaomi Mi Box, on the other hand, uses a simpler processor: a quad-core with A53 ARM architecture and 2 GB of RAM. In terms of space, the Mi Box is also is more economical with 8 GB of capacity.
It is important to keep in mind that from the point of view of video and audio playback in 4K resolution, neither of the two datasheets perform badly: both the device supports the 4K resolution, deliver HDR playback, and can achieve high rates of up to 60 frames per second.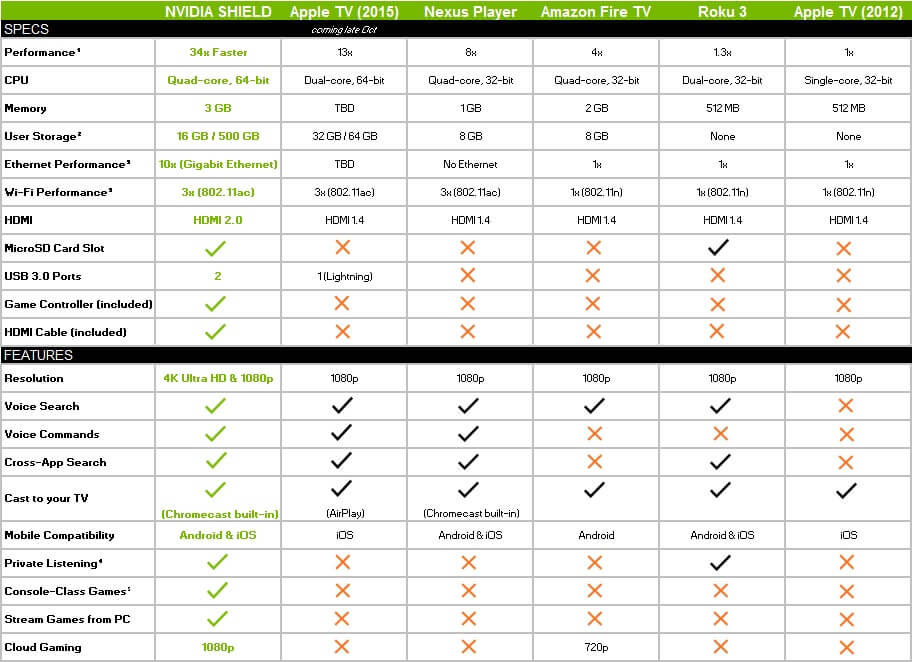 The real issue here is that the differences in data storage and support for more advanced features, which are more available on the Apple TV device than on Xiaomi's Android Box.
System
Apple TV uses the proprietary Apple's tvOS, an operating system dedicated to entertainment, deeply tied to the other platforms and services offered by the brand. Purchasing an Apple TV means that you can only watch entertainment content offered by Apple's stores and with iTunes, for example.
On Xiaomi's side, the operating system is an Android TV platform: just like Android on the cell phone, it gives access to Google Play Store from where you can download apps, games, and content to watch through the device.
If buying Apple TV means consuming content offered by Apple in its stores and platforms, investing in the Xiaomi Mi Box also involves adopting the Play Store.

In this sense, a good comparison criterion is to look at what you already have on hand: if you have a large number of games and movies purchased from the Play Store, migrating to Apple TV may not be very efficient from a cost standpoint.
On the other hand, if you already have a Mac or an iPhone, Apple TV tends to fit better into your routine and the way you consume content.
Features
Both the devices are equivalent in what they offer in terms of usability. You can stream, buy, and rent movies from the official stores, as well as find apps and games. Another tie is in the support for voice controls, which is available on both devices.
But, the Apple TV tends to be a better choice. The superior settings, plus Apple's recent focus on games for the device, make the Apple TV 4K option more interesting for those who intend to play games.
The Mi Box has access to games as well, provided they are compatible. You can play popular mobile titles on the device, even using your phone as a controller.
With a USB 2.0 port, the Mi Box is friendlier for people who download videos from the Internet. You can load the content from a USB stick or external hard drive, options that do not exist on the Apple TV.
Design
Both Apple and Xiaomi employ minimalist and very discreet designs to their products. The idea is that the device can live next to the TV without attracting attention, and both the platform manufacturers are successful in keeping a minimum yet aesthetical design metrics.
In terms of ports, the Mi Box is better equipped: in addition to HDMI 2.0, mandatory for 4K, the device has a USB 2.0 port, which does not exist on the Apple TV.
Apple's accessory, on the other hand, has an Ethernet port for network connection via cable, which is important if you are looking to do live TV streaming on your device.
Price and Availability
The Apple TV 4K is officially sold in Canada that makes it easier to find, translates into better support and warranty against manufacturing defects.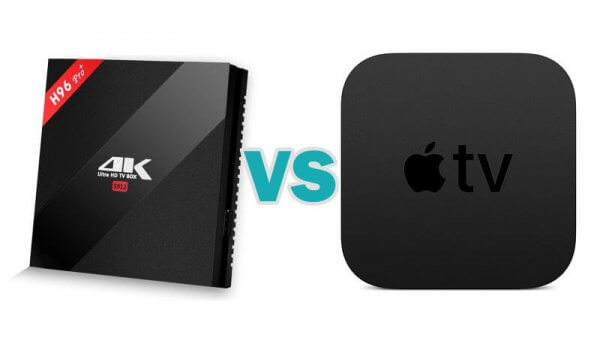 Xiaomi, on the other hand, is available on Amazon Canada through independent importers. You are protected by Amazon's 30-day return policy or exchange for any defects. The Xiaomi Android box does come with a 1-year warranty from the importer.
In terms of prices, the Apple TV 4K with 32 GB and 64 GB variants costs roughly about 3x times more than that of the Mi Android Box.
Check Price – Android TV Boxes on Amazon
Check Price – Apple TV 4K on Amazon.ca
You can check out the pricing on Amazon for both the boxes and you will understand the differences.
Cost Benefits
Amazon runs deals and sales for various Android Boxes that it lists on its platform, even the Amazon Fire TV Stick has various cost benefits coming from the Amazon staple. The only downside is that most Android boxes do come with a warranty but most are doubtful from the manufacturer.
Apple being Apple and brand powerhouse, known for excellent quality does not have deals or sale on the Apple TV, but in turn, offers replacement offer just like the Apple iPhone, and has service centers in Canada to help you out with any device defects.
Applications & IPTV Streaming
Android has a massive collection of apps that you can install to view streaming and entertainment content. The same can be seen on the Xiaomi Android box.
You can also externally load various third-party apps that are unable on the Google Play Store and stream content easily.
The Google Music and Google Play Movies have a great collection of movies, music, and TV series that you can rent at a minimal cost or buy and have access to all the entertainment options on your Android TV.
Few applications also allow you to watch free movies and series available in the public domain. You can also read about: Best Android TV Box Apps – Canada Edition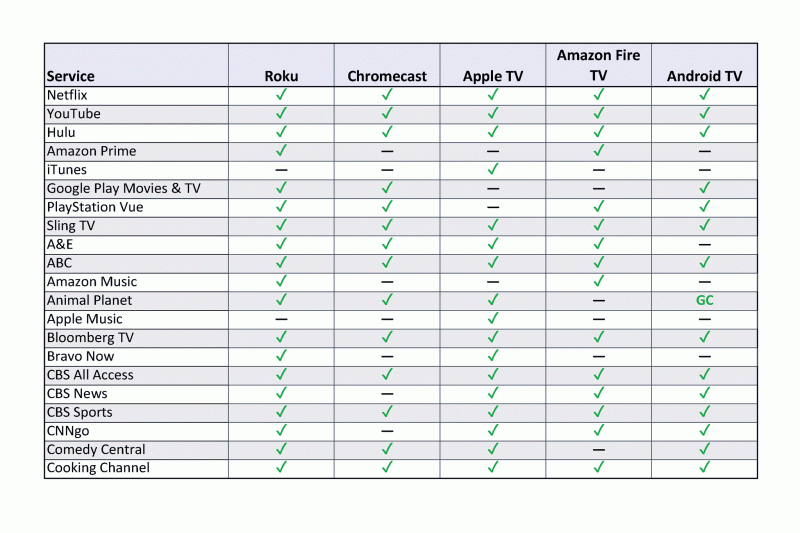 One of the major highlights of Android TV devices is the availability of live TV streaming apps to run IPTV services. You can install the Tivimate app that fluently runs the IPTV service and give you a cable-like experience on your UI.
The best part of the Android apps ecosystem is that most applications are free and ad-supported. Thus you can simply pay for your device and streaming service.
In comparison to Apple TV, most OTT providers are slowly porting their applications to the Apple Store. So in today's time, the scenario is completely changing and the most popular OTT applications are now available for the Apple TV ecosystem.
You can also have direct access to Apple TV+ that is one of Apple highlights where you can watch or rent the latest movies and TV series on your Apple TV device.
The collection is still growing but isn't massive like the Google Play Movies. So you can decide between the 2 devices.
With support for IPTV service, the Apple TV has an application to view Live TV channels, but the best apps are only paid, but still values money.
Related Reads:
Conclusion – Apple TV vs Android TV Box Canada Edition
Between the two options, which device you should pick for your streaming needs? The Android box or the Apple TV.
We would recommend that everything boils down to your need and comfort as both the device and ecosystem have a similar amount of features and specifications. Both the device provides 4k streaming with HDR support that makes entertainment pleasing to watch for everyone.
The user interface for both the ecosystem is also the same, it is smooth and we felt no lag between them. They also look similar in most aspects.
The difference is only in the pricing and brand guarantee. Apple TV is a tried and tested streaming device that is known for quality and Apple products like we have all use them is value for money with top-notch quality.
If you are comfortable with Apple products and you are an Apple fanboy, then select the Apple TV device Canada edition.
The same is with any Android TV box like the Xiaomi MI box, for example, the device is though Chinese make, but is quite popular and yet cheap for everyone's basic streaming needs.
Even the Nvidia Shield comes at the same cost as the Apple TV much lesser and makes a great buy for someone that is looking for an all-around Android streaming device.
We feel that an Android streaming device is a way forward, you can choose the right box for your budget and need and get a device that will at least last for a year or spend more on the Nvidia box and get a faster, speedier, and performance TV box.