In this post, we list the most popular and best IPTV apps for Apple TV,so you can easily and conveniently stream entertainment on your Apple devices.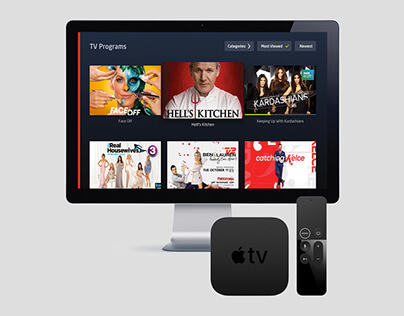 Apple devices are now available in everyone's home across US and Canada and they are widely popular for their ease of use and premium build.
Previously we had covered a review on Apple TV Canada Review 2023 + Price | Great Deal Inside which provided a great insight on how Apple fairs against Android devices for IPTV.
Since the internet is crazy everywhere, you can only imagine how popular IPTV applications for Apple TV have become. IPTV on these applications allow users to view live TV content over the internet very intuitively.
Look around you and you'll see a plethora of IPTV apps for Apple TV claiming to be the best at what they do. Obviously, not all of them are correct, but why worry about it when we have the solution right here?
Best IPTV Apps for Apple TV
Check out the best IPTV applications for Apple TV for an exclusive and entertaining TV watching experience like no other:
1. GSE Smart IPTV
This IPTV software is one of the best on the market. GSE Smart IPTV is a complete solution for users who want to get more out of their Apple TVs' streaming capabilities.
It is built with powerful tools that support the majority of file formats. It supports M3U, JSON, and database playlist formats, among other things.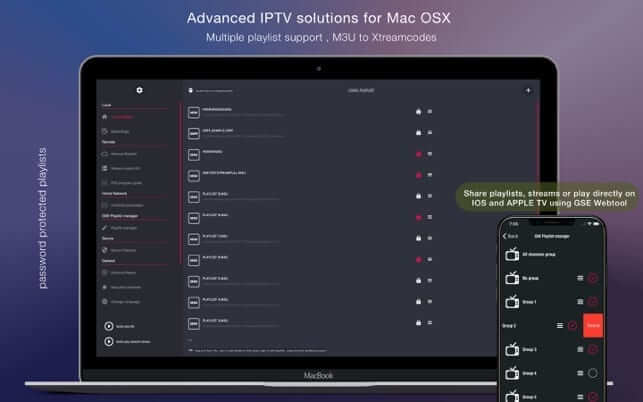 It comes with a full-featured player, and you would never need the assistance of third-party software to run any streams.
This is the best playlist manager app for iOS – you can add favourite channels, import a remote playlist, add a remote playlist to the folder, access the playlist's content, and so on.
With multilingual help, this app has everything you'll ever need to boost your TV viewing experience.
GSE Smart IPTV: Features
– Supports recording of live TV, Chromecast, XTREAM-CODES API, AIRPLAY, and other features
– Fully customizable advanced IPTV solution that deals with both live and non-live TV/streams
– Has a strong built-in player and supports all common playlists
– Advanced player supports all major formats, including RTMP, as well as token M3Us
Click Here for GSE Smart IPTV App
---
2. Cloud Stream IPTV Player
On the iOS app store, this is a very popular IPTV app. Because of the innovative IPTV solutions for live and VOD feeds, this app is ranked as one of the best IPTV applications for Apple TV in 2023.
The app includes a dominant player who meets all of the criteria. After installing this software, you would no longer need to rely on a third-party player to accommodate various formats.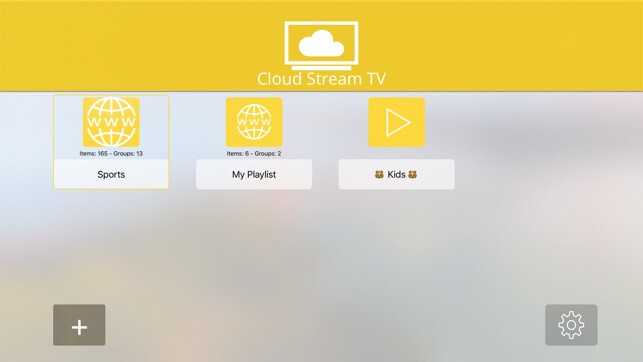 This quick and user-friendly IPTV software makes it simple to download account information. Furthermore, you do not need to install IPTV core with this app, making it a basic and powerful app.
Cloud Stream IPTV Player: Features
– Has parental controls
– Compatible with the everlasting player
– Syncs playlist for a unified user interface
– Enables you to play multicast streams with a UDP proxy, among other things
Click Here for Cloud Stream IPTV Player
---
3. iPlayTV – Most Recommended
This is a popular IPTV app for companies, with a new player, new analytics, immersive live streaming, and a slew of other enhancements. It's a one-stop-shop for all of your TV content needs.
It can broadcast live streams in 4K resolution and has adjustable bit rate support, which allows it to automatically reduce video quality depending on internet speed.
In 2023, this player can save you from excessive buffering time. This is the best online TV solution because it supports the following playlists: local M3U playlist, remote playlist, protected playlist, playlist organiser, and export library playlist.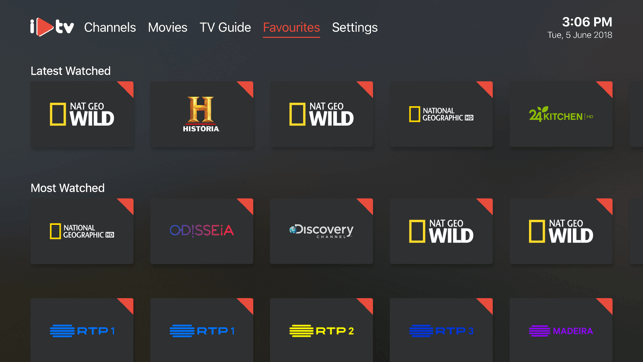 Moreover, it has a powerful built-in player that can run without the involvement of any third party applications.
iPlayTV: Features
– Automatically finds channel logos based on the channel name
– Provides a complete electronic programme guide service
– Compatible with all big IPTV playlists and stream codec
– Accepts EPG URLs containing gzip/tar content
---
4. IP Television – IPTV M3U
This is one of the best IPTV applications for Apple TV in 2023 because it allows you to watch television from everywhere on your iOS devices with worldwide coverage, thematic networks, global channels, and special channels on request.
This software is really easy to use and has a lot of fun features. It allows you to enjoy your favorite games, soap operas, movies, and cartoons.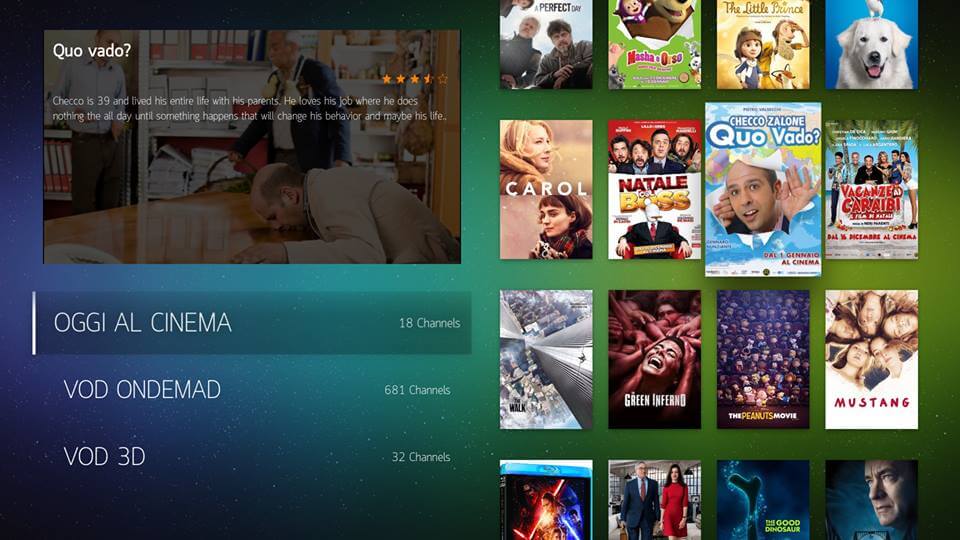 This is the best IPTV player because it is regularly upgraded and has several new features such as the ability to insert and monitor playlists, the ability to download IPTV via Chromecast, the ability to connect channels in various ways, an electronic program guide, the ability to delete commercials, parental control, and much more.
IP Television – IPTV M3U: Features
– Has an easy-to-use GUI and the most IPTV content available
– Enables you to add more playlists and access them more effectively
– Chromecast can be used to download IPTV
– Can remove ads and allow parental controls
Click Here for IP Television – IPTV M3U
---
5. IPTV Player Pro: Play M3U File
This is a smart IPTV app for smart consumers with a lot of cool features. This feature-rich IPTV player can support both local and remote files such as M3U, xspf, and jspf internet playlists.
This app, on the other hand, has an exclusive feature that automatically searches, loads, and previews channels in the playlist. You can also play videos on your Apple TV's computer using Chromecast and AirPlay mode.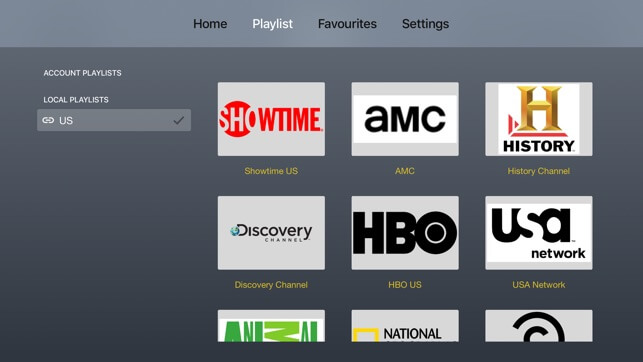 It comes with high-quality video player that does not need any third-party player support and allows users to match their existing playlist with your account so that you can use it on different platforms. This powerful player has a parental lock, but it does not have any television channels. To obtain channels, you will have to contact your IPTV company.
IPTV Player Pro: Features
– Lets you load all local and remote m3u, jspf, and xspf playlists from the Internet.
– With this app, you can enjoy a built-in high-quality video engine.
– Use Chromecast or AirPlay to cast some video to your TV screen.
– Provides synchronized playlist channels that can be used on different platforms
Click Here for IPTV Player Pro
---
6. TV Streams
TV Streams is one of the top IPTV applications for Apple TV, iPhone, and iPad to use in 2023. It runs flawlessly on all iOS devices and has an improved user interface.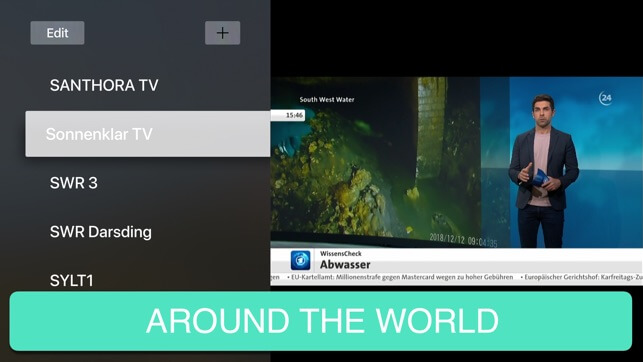 It improves the app's accessibility by incorporating native iOS, macOS, and tvOS features. It supports all standard file formats and functions as an Apple universal app. TV Streams has an easy-to-use interface and easy-to-import functionality.
TV Streams: Features
– Provides a simple way to download a list of your favourite networks
– Allows you to sync iCloud content through all of your computers
– Receives daily updates to ensure a consistent user interface
– Supports all major file formats such as.mov,.m3u8,.mpv,.mkv, and so on
---
7. rIPTV
Try this versatile IPTV player for Apple TV to watch all of your favourite multimedia entertainment on a single screen and in a single app. It adds on-demand television and streaming services to your iOS device.
rIPTV can be used to add an electronic program guide to any of your networks. It allows you to search showtimes, scan pictures, watch previews, and see reviews, among other things.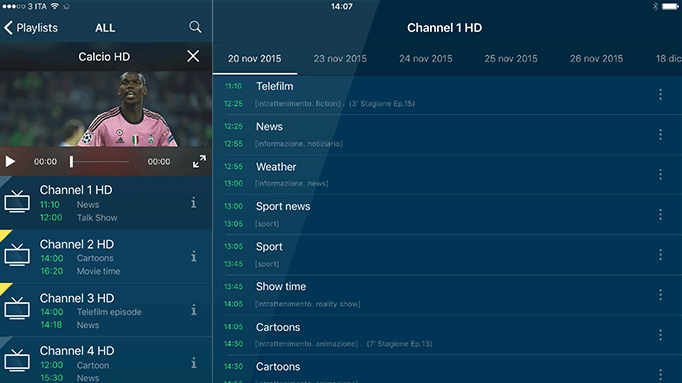 It is an excellent app for watching games, film, news, shows, children's programming and listening to music. It is also compatible with iPhone and iPad smartphones.
rIPTV: Features
– Supports various IPTV playlists and iPad multitasking
– Provides movie ratings and previews to help you preview what you want to watch later
– On supported hardware, it enables 3D Touch
– Makes it easier to find the software in Spotlight
---
8. SPB TV World
To watch your favourite videos on Apple TV, iPhone, and iPad, use this IPTV player.
It transforms your apple tv device into a full-fledged television set. About 100 TV channels in various languages from around the world are available here. It provides high-quality video and legal material for free.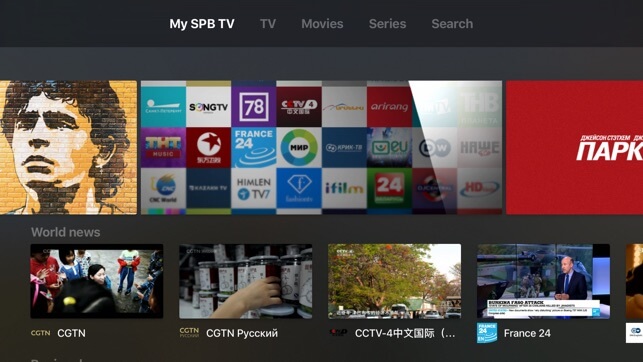 It is compatible with all networks, including Wi-Fi, 4G, 3G, and Edge. However, if you stream video content outside of your home city, you can be paid an additional fee. You will browse at the TV guide and watch TV at the same time here.
SPB TV World: Features
– Has accounts as well as parental control options.
– Facilitates the learning of foreign languages by providing convenient access.
– Allows you to control the volume and brightness with a single click.
– Chromecast allows you to watch TV on a big television.
Click Here for SPB TV World App
With this we conclude our post on the Best IPTV Apps for Apple TV device. The way people watch television has changed dramatically with the best IPTV applications for Apple in 2023. If you're already watching TV the old way, it's time to update the IPTV player on your mobile devices and start enjoying video streaming, world broadcasts, and TV channels in a whole new way.