Still, looking for the best Android TV Box for Canada? Then consider the SkyStream 3 Android Tv Box Canada Edition.
We'll drill down and review the SkyStream Android TV Box for Canada and see if this is the right device to consider for streaming entertainment on your TV.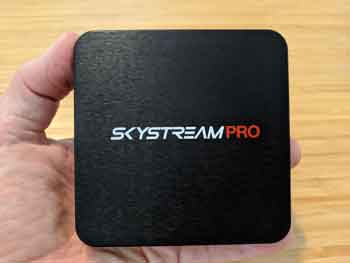 SkyStream is the leading name in the manufacturing of streaming boxes and you can also see that the company is now focusing on providing cutting-edge tech Android streaming boxes for everyone.
They have grown quite considerably in the USA and are quite different, compared to the Chinese Android TV boxes in the market today. Moving ahead, today, we will review the SkyStream Pro 8k box – one of the kinds of streaming IPTV boxes in the market.
We were presently surprised with the devices made by the company as the streaming boxes are known for their high-quality design and superior performance.
You can also read our most read posts:
Let's find out how the SkyStream Android boxes live up to their reputation of being known for their impressive performance and speed.
SkyStream 3 Android TV Box is an outdated device. In this post, we'll be reviewing the SkyStream 8K Android Streaming Box for Canada.
More on SkyStream – What they Offer
Before we begin, let's look at what SkyStream as a company has to offer on its streaming options.
SkyStream as a streaming company provides superior media streaming players through which you can watch your favorite movies, TV shows, and sporting events including the Live TV service using the Google Play Store.
SkyStream TV provides you the following entertainment highlights, which you can do with your box:
Watch live TV channels from across the world the US that is streamed in high definition and up to 8k resolution to your TV
Get 50 hours of DVR service to record your favorite shows that are streamed on TV
Access 7-days IPTV catch-up option to go back and watch your favorite TV shows and movies which you may have missed in the week
Design & Tech – SkyStream Android TV Box Canada
The SkyStream 8k Pro is a standard-looking android tv box that fits nicely in your house. It is a more rectangular-shaped streaming device that is standard like the one you get with the Chinese OEMs Android boxes.
The shiny look and feel of the SkyStream box makes it look more premium design and more in line with the Nvidia Shield. You can find the review at: Nvidia Shield TV Canada Edition Review + Buying Guide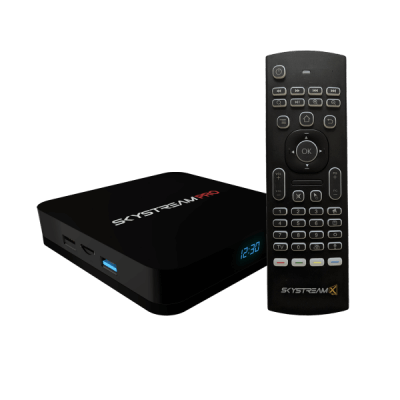 Inside, you get a 64-bit Quad-Core processor amongst the S905X3 latest processor from Amlogic, which is more than sufficient for any media streaming player in the market.
Along with the powerful processor you get about 4GB DDR3 RAM and 64GB internal storage that is more than enough to store and watch your favorite movies and series.
To go with these superior hardware specs, you get the latest Android 9.0 TV edition as the software for your streaming device, which is smoother and less glitchy than its previous edition.
The company has promised that they are working on getting the latest Android 10.0 TV edition, which may be possible soon.
With the box, you get a standard remote that is much more improved than its previous edition. You can use Bluetooth technology that automatically connects with the box.
The remote is quite simple to use with an easy to use button just like you find on any Smart TV or streaming player.
You can also configure Google voice commands on the remote to quickly set up your favorite buttons on the remote with your voice and you can easily control your TV using your voice.
One thing we didn't like was the remote which was pretty basic and in today's tech age, we need an air mouse with a keyboard to easily and more intuitively control various functions on our box and eventually the content we stream on the TV.
SkyStream has done a brilliant marketing strategy and sells a more advanced TV remote as an add-on. You need to pay an additional cost with the device.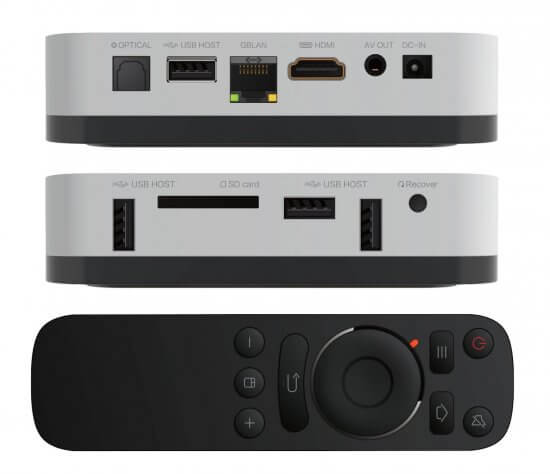 The air remote with the SkyStream box also functions like an air mouse that makes it a great buy. You get a dual keyboard on the other side, a fully functional remote coupled with the function of a QWERTY keyboard and air mouse.
It is worth the investment for such a sophisticated product you buy as a streaming box. Unfortunately, the air mouse is out of stock, so it is recommended to pick another wireless air mouse so that you can operate this streaming box easily.
You can find more info at: Best Android TV Box Remote – Canada Edition
Overall the design and tech of the SkyStream streaming media player are quite impressive and it performs well for your IPTV and media streaming.
Performance – SkyStream 8k Streaming Box
One of the highlights of SkyStream's streaming box is the user interface. You get a clean, minimal user interface, and is completely stock Android, without any bloatware or malware.
You can easily and intuitively navigate on the home screen and access your apps. Anyone with Android experience can easily operate this streaming box.
We didn't get any lag while using our remote to navigate to our apps and each app was installed and opened very quickly.
The RAM management on the device is quite good and the apps remained open, even if we minimized the apps in the background.
You get the Google Play Store from which you can install thousands of streaming apps and get started to view your favorite streaming service on your TV.
Another highlight we wanted to test is the 8k support. Note here, the 8k term is just a term used for marketing as currently there is no content available on the internet to test the 8k streaming capability.
So rather we tested the 4k streaming capability using YouTube, Netflix, and Amazon Prime. And, the streaming device does stand its ground and play very efficiently without any freezing, lag, or buffer.
We did not get any frame drop as well and the picture and audio quality were extremely terrific to be played on our TV.
However, we always prefer to use the Full HD resolution for better streaming performance and to save on our internet data. We next tried our favorite IPTV service, and the performance was great.
The WiFi support on the SkyStream box was exceptional, thanks to the dual wifi setup and we got a great range to support our streaming needs.
We would recommend connecting over an ethernet cable so that you do not have any interference or packet drops during streaming.
Along with a great WiFi reception, we also got 64GB storage that is more than enough to install your favorite streaming apps and to house your online media like movies, music, and TV shows.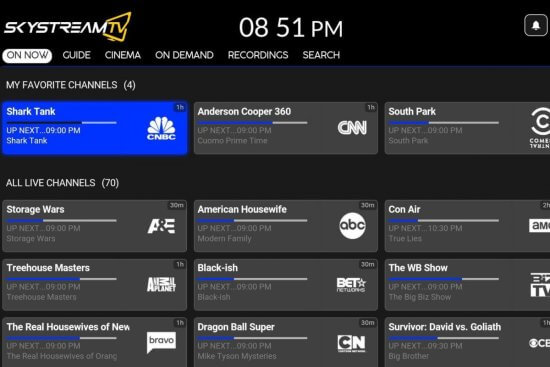 Finally, the Bluetooth reception with the remote was great and the battery life of the remote too was decent enough for our use.
You also get 2 x USB support, one USB 2.0, and the latest USB 3.0 port that allows you to quickly read your media content or even fast write your media back to the USB drive.
Also, you get an SD card slot that supports SD cards up to 512GB to access more media content on your SkyStream media player for your entertainment needs.
What Does the SkyStream Box Costs?
Pricing is one of the major factors you should consider when you plan to buy any Android media streaming player. The idea is to pick a streaming box that brings value to your money and the SkyStream box is truly one of them.
The base price costs USD $149.99 for the latest SkyStream 8k streaming box. But if you use our coupon, you will get a flat USD $25 discount and get the 8k streaming box at only USD $124.99.
The website accepts all forms of payments including credit/debit cards, Google Pay, Apple Pay, PayPal, Amazon Pay, etc.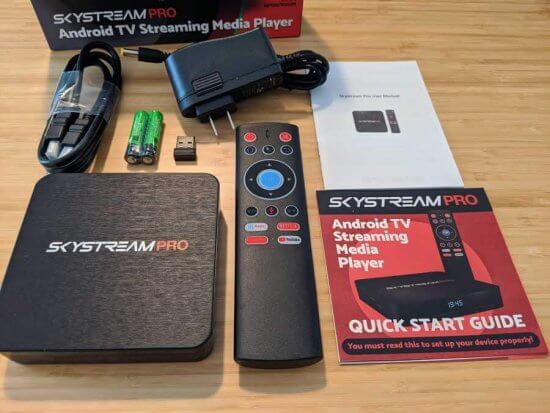 SkyStream is also available on Amazon, but we mostly found the stock is unavailable, so the best option is to buy direct from the manufacturer's website.
With the package, you get the SkyStream 8K streaming box, 1 x HDMI cable, 1 x Power cable & adaptor, and 1 x standard Bluetooth powered remote.
Conclusion – Our Verdict
The SkyStream 8k streaming player is an all-around device and a must-buy if you are looking for an Android box for the long term. The cost and availability may be an issue, and the remote may be too basic for your liking, but as a whole, the entire package is an excellent box.
The streaming player comes with exceptional 4k support, with great picture & audio quality, and a stable internet connection even through Wifi and ethernet connection.
The best part is the interface that is quite butter-smooth, all thanks to the Android TV experience that is free from any malware or bloatware. You can easily install any apps that you wish to install for your media entertainment.
The company claims to ship the box worldwide and does not accept additional shipping costs. But consider that you should get your android media box within 2-weeks as they ship from the USA.
Do consider the SkyStream Android TV box for Canada as a replacement for your cable set-top box and use this device as the best IPTV box and experience the cord-free culture.
---