Are you a retired senior living the American dream in the US or do you know a family member that is looking for an Amazon Prime Senior Discount in the year 2022?
Then this is the article you must read, which will help you benefit from Amazon and get you exciting discounts and offers through the Amazon Prime Program.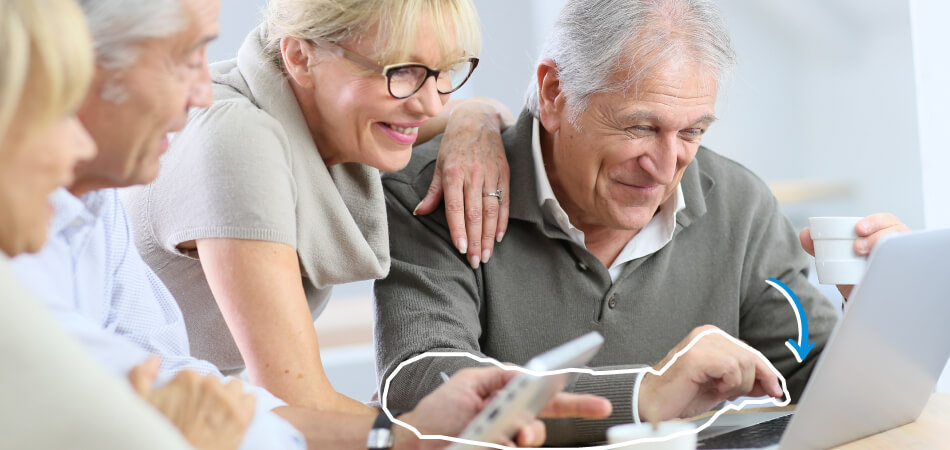 Let's begin and see how you can redeem the exciting Senior Discount on Amazon Prime.
Do American Seniors Get A Discount On Amazon Prime?
Before we begin, we come to the first and most important question: "Do Seniors Get Discounts on the Amazon Prime Membership?". The answer to this question is a BIG NO. Unfortunately, Amazon does not have any Amazon Senior Discount program, which they sell to the students.
However, there is a catch. If you have a valid EBT card or you are on the Medicaid program, then you are eligible to redeem the Senior Discount on your Amazon Prime membership.
But, what about a 70+ year-old healthy senior who has retired and is living a life on their mere savings, then I am afraid to say that you will not be eligible for the Amazon Senior benefit.
We sincerely, like many Americans, feel this is quite unfair and every senior or elder in their 60s must have an option to get Amazon Prime Discounts, even if they do not have an EBT card or are on the Medicaid program.
There is a chance opportunity that you can sign up for and make Amazon understand your voice and make the change. Visit https://shorturl.at/nAILR
How to redeem Senior Discount on Amazon Prime Program?
If you have a valid EBT card or if you are on the Medicaid recipient program, you can get Amazon Prime for only $6.99 per month, when you apply the discount coupon.
Sorry, the Senior discount isn't valid, if you are on the Medicare recipient program.
Click to Activate Senior Discount on Amazon
To use the Senior Program discount On Amazon Prime:
First use the Amazon Prime 30-day trial option. You can use any of your credit cards to use the program for a 30-day free option.
Once your trial is completed, visit the following link to apply to the Amazon Senior Discount Program for your account: https://www.amazon.com/58f8026f-0658-47d0-9752-f6fa2c69b2e2/qualify
Enter your Medicaid, SNAP, WIC, or the TANF Card number, and next, upload an image of your card.
Once you are done with the process, Amazon will review and process your application in 3-business days.
Once your membership is approved, your Amazon Prime membership will be discounted to $6.99 per month.
Keep verifying your card number and upload your card info to get the senior discounts for every month during the year.
With the Senior Discount Program, you can avail the Amazon Prime benefits for 4 years. Ensure you update your EBT or Medicaid card every year and upload the picture of the card to Amazon.
But unfortunately, you will not get any Amazon-specific discount for healthy seniors.
Regular Amazon Prime membership costs about $139 per year, but once you apply the senior discount, you can get the same membership for $84 per year.
Also, it is very important to check if you are still qualified for the Amazon Senior Program as the Amazon plan will verify to see if your EBT, Medicaid, or other government membership is active for the program.
Who is eligible to apply for a Senior Discount on the Amazon Prime program?
The Senior Discount program for Amazon Prime applies to every individual in America that is under a government assistance program like the EBT, Medicaid, TANF, and others. However, seniors on the Medicare program aren't eligible for the senior discount.
If a senior is eligible for the program, then you get the Amazon Prime membership for only $6.99 per month, instead of the usual $14.99 per month.
There is no age restriction to apply the discount option and every Senior on the above eligible government programs can enjoy the discounted Amazon Prime pricing, including the 30-days free Amazon Prime trial offer.
Sign up for Amazon Prime Senior Offer on EBT or Medicaid
How Much Does Amazon Prime Cost For Seniors?
The original Amazon Prime subscription costs $14.99 per month. This price has been increased from the previous $12.99 per month. You also get a 30-days free trial option, if you are a new user.
With the government-enabled programs like EBT and Medicaid, you can get the Amazon Prime membership for only $6.99 per month, which is an increase from the previous $5.99 per month option. Thus, helping every senior American save on their retirement funds and enjoy savings.
However, to reiterate, Amazon Prime is not FREE for Seniors, but it does have a discount pricing after you apply the Senior Citizen Discount coupon.
What are the Amazon Prime Senior Discount Requirements/Details?
As part of the Senior Discount program, you will get special discounts and offers specially for Senior Citizens, as a part of the Amazon Prime membership.
You can also take the yearly membership that has more benefits like exclusive deals/offers, free one-day delivery, access to Prime Video and Prime Music, unlimited ebooks on kindle, and unlimited photo storage on Prime.
The only requirement is that a senior should have a valid EBT or Medicaid card which needs to be applied to get the yearly Prime membership at $84.99 per year. Amazon will verify your card information and then only apply the discount to your Amazon account.
You can also take the 30-day trial option, by using your credit card info which is only valid for new customers.
Amazon has also greatly improved the senior discount program and also included other government assistance programs like TANF, SNAP, and WIC, which you can further apply through the Amazon support group for a discount on your membership fee.
Who all are eligible for the Amazon Prime – Senior Citizen Discount?
If you are an American senior citizen of any age and possess the following cards, you can then avail the senior discount on your Amazon Prime Membership.
– Supplemental Nutrition Assistance Program (SNAP or Food Stamps)
– Temporary Assistance for Needy Families (TANF)
– Women, Infants, and Children (WIC)
Also, if you have a Medicaid card, you can avail of the offer for 48 months at $6.99 per month. Upload your membership card to the Amazon portal to get a cheap Amazon Prime membership.
What are the benefits of Senior Discount on your Amazon Prime Membership?
After applying the senior discount on your Amazon Prime account, you will get the following benefits from Amazon:
Free one-day shipping on most items on Amazon
Same-day shipping or 2-hour delivery facility on fresh foods and whole food
Free grocery delivery through Amazon Fresh – same day/next day delivery for Prime members
Access to exclusive Live TV channels with the Prime Video option
Watch film festivals on Amazon Video
Listen to unlimited ad-free music with Amazon Music
Special offer and discount on Twitch Games
Free unlimited ebooks on the Amazon Kindle app
Get the Washington Post with 6-months free trial
Exclusive cashback and discounts with Amazon pay
Unlimited photo storage on Amazon and file storage of 5GB
Summary – Senior Discount on Amazon Prime Membership
To be honest, there is no special senior discount applicable on Amazon Prime Membership, and is only valid for seniors that have valid EBT or Medicaid cards.
You can also try the 30-day free trial of the Amazon Prime membership before moving to the paid plans.
With your Amazon Prime Membership, you can shop for unlimited items at a steep discount/price, and buy daily essentials from Amazon, with a free 1-day delivery option. You also get Amazon Video, Amazon Music, and Kindle eBook options.